Shine's "What Pet Should I Get?" Book Review
Is What Pet Should I Get By Dr. Seuss the kids' rendition of Harper Lee's Go Set A Watchman?
T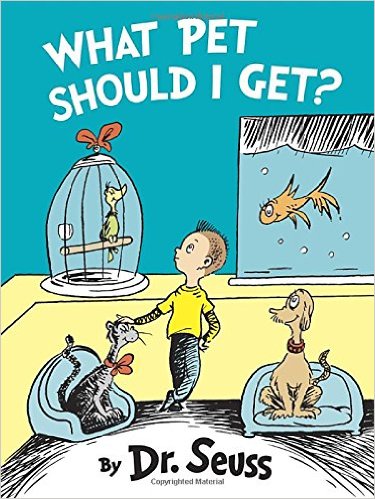 he first Dr. Seuss book I ever read was How the Grinch Stole Christmas. I can't exactly remember my initial reaction, but I am fairly certain it went along the lines of, "What the heck! Whoever wrote this is a big fat weirdo." I mean, let's face facts. It's a terrifying tale about a sinister loner with "a heart two sizes too small" who wants to take away Christmas!
And while there is some redemption in the end, as the Grinch has an epiphany and realizes he was acting like a jerk, why did the Whos reward him for misbehaving in the first place? Shouldn't he have gone to Whoville's County Correctional Center for stealing, identity theft of Santa Claus, and animal cruelty towards his dog Max? Where was the justice? Of course these ranting questions were coming from a five year old whose English was her second language.
It took me years and a substantial amount of English classes to get me to fully appreciate Dr. Seuss – his zany, outlandish, and creepy characters and the rhymes that tickled my tongue. From Green Eggs and Ham and the ever-so-relevant The Lorax, I relished them all. And still do. Thank you, Dr. Seuss, and a shout out to the City of Angels Public School System!
This brings me to the newly published What Pet Should I Get?, which is kinda, sorta by Dr. Seuss. [Seuss died in 1991; the new book was put together using a collection of sketches and drafts rediscovered by his widow.] Given the backdrop to how it came to be, one cannot help but compare this to Harper Lee's Go Set a Watchman, which is based on a newly uncovered first draft of To Kill a Mockingbird. Both works were long forgotten treasures from two revered legends who couldn't possibly surpass the success they had in the past. With the hype that surrounded the two books, in addition to the mixed reviews, you could say Pet is the Watchman for the five-to-six year old set.
The premise of What Pet Should I Get? is simple but with an important lesson: it takes contemplation and thoughtfulness to make tough decisions.
A brother and sister have their parents' permission to choose an animal from the pet shop as long as they're home by noon. They teeter back and forth from wanting a dog, a cat, a goldfish, and even a huge "snoozing Yent." The end of the story is ambiguous, leaving the readers wondering which pet the siblings finally decide to take home.
Illustrations are familiar and evoke the same essence as Seuss' other books. So in many ways, all who were involved were successful on that front. But I can't help feeling that there is something diluted and too obvious about the book. For example, the four potential pets holding up a banner reading "Make Up Your Mind" just knocks you out with the moral of the story. Even Grinch had to go through some inner complications before easing into the conclusion "Maybe Christmas, he thought, means a little bit more."
If you are a super Dr. Seuss fan, you will find this book offers just enough to enjoy. And if your kids are animal lovers, this book should be added to your collection. I also think you can use the unusual back story on how this book got published in the first place to coerce your kids to enjoy it. "But Johnny, didn't I say this is a long lost treasure?"
For the rest of us, you just can't help but feel that maybe the missing element in What Pet Should I Get? is the magic touch of Theodor Seuss Geisel.
By Claudia Chung, Shine PR and Marketing Manager and Assistant Teacher
https://shinenyc.net/wp-content/uploads/2021/02/Shine-logo-300x220.png
0
0
Shine
https://shinenyc.net/wp-content/uploads/2021/02/Shine-logo-300x220.png
Shine
2015-09-20 00:17:08
2021-09-23 18:58:24
Shine's "What Pet Should I Get?" Book Review