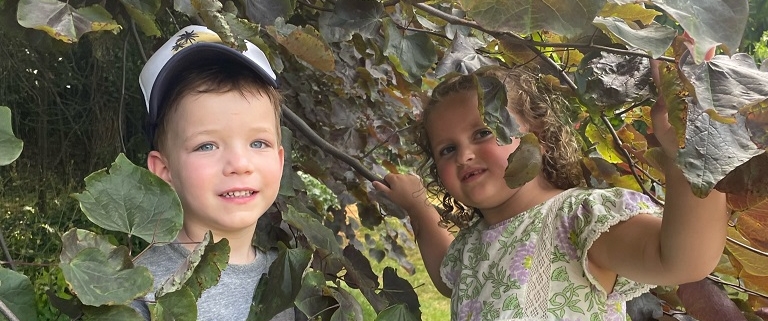 Long Island Family Camping Adventures: Benefits, Activities & Destinations
From the wonder of a red-bellied salamander to the ooey gooey goodness at the end of a stick, camping delivers an incredible family bonding experience filled with adventure, relaxation, and quality together time. Unlike posh hotels, camping uniquely implores us to unplug from the daily stresses of life, connect with nature, and soak up the ordinary moments of life.
In this article, we'll explore the benefits of engaging in exciting adventures with your family, suggest a few fun activities, and recommend the top family-friendly camping destinations near New York City, the Hamptons, or the Tristate Area.
The Power of Camping with Your Family
While it's easier to organize a trip to the playground or a day hike, overnight camping offers your family unique advantages that are well worth the effort. Here are a few:
Prolonged Disconnection from Technology: Camping encourages your family to disconnect from technology and spend quality time together. Without the distractions of TV, video games, and social media, you'll have more time to create memories that will last a lifetime.
Learn New Skills: Camping can be a fun and educational experience for kids, as they learn new skills. From building a fire and campfire cooking to pitching a tent and orienteering with a compass, valuable life skills are a form of intergenerational education that builds confidence and independence.
Enjoy Nature on a Deeper Level: Camping immerses your child in the beauty of the outdoors with ample opportunities for unstructured play and exploration. Climbing trees, wading in streams, discovering new plants and animals uncovers a sense of wonder and curiosity about the world. Hiking, fishing, and wildlife viewing can be fun ways for parents to share their love of the outdoors.
Encourage Healthy Habits: Spending time in nature—with all its fresh air, sunshine, and exposure to immune-boosting microorganisms—is good for our mental and physical health. Hiking is a great cardiovascular workout that strengthens muscles at the same time.
Teach Conservation and Responsibility: Nature-based activities offer firsthand learning experiences that inspire a deep appreciation for the natural world and a desire to protect the environment for future generations. When camping, you can teach your child about conservation principles like "leave no trace" by using established campsites, picking up all trash, and respecting wildlife and natural resources. Nature hikes are a great opportunity to role model good behavior and share your values about environmental stewardship.
3 Super Fun Family Camping Activities
Once you've decided to take the plunge, you'll need to plan a few activities to ensure your kids have a truly magical time out in the wilderness. After all, it can be difficult to detach from the comforts of screentime—and rest assured, you'll encounter some resistance early on. Having these ideas in your back pocket will ease the transition and provide the much-needed respite your family seeks.
1. Hiking Games
For many parents, the hike is the most exciting camping activity. While some children are true Ralph Waldo Emersons —stopping to smell every rose and investigate every rock — others prefer to trailblaze and run ahead to see what's around the bend. A third cohort of outdoor adventurers may find it truly arduous to overcome tired legs and boredom. Be sure to bring plenty of drinks and snacks to break up the hike. A nature guide can give older kids something interesting to look at and learn about on these stops.
Sending the kids on a Trail Scavenger Hunt is one of the easiest hiking games to play. Give each child a small bucket and send them looking for a list of items: a pinecone, a leaf with a bug on it, or a rock shaped like a heart. For younger ones, Go Find It is an easy card game to unbox, asking kids to find "something dry" or "something red," for instance. If your child finds everything on the list, make it more fun with a surprise prize — like nature stickers to decorate the bucket, a new stuffed animal, or a small set of wildlife figurines that can "walk" along the trail too.
Other games include: Nature Bingo (where the first person to spot five items on their card in a row wins); Alphabet Hike (where you look for something that begins with the letter A, B, C, and so on); I Spy (where you try to get someone else to guess what you're looking at with a series of clues); or 20 Questions (where you try to get someone to guess what you're looking at by answering up to 20 questions with a "yes" or "no.")
If rain drowns out your hiking plans, you're sure to save the day with fun board games like Spot It: Gone Camping, Sloths in a Hurry, Outfoxed, Trekking the National Parks, Bear Stare Down, Slappy Camper, Go Fish, or Wild Craft!
2. Arts and Crafts
Crafting together promotes social skills, while incorporating natural materials cultivates creativity and problem-solving skills. Besides, crafting outdoors allows kids to be as messy as they need to be, without worry.
Craft ideas include:
Pinecone Bird Feeders: Collect large pinecones and tie string or yarn around the top. Cover the pinecone with peanut butter and then roll it in birdseed. Hang the pinecone from a tree branch and watch as birds come to feed.
Nature Bracelets: Cut a piece of duct tape or masking tape to fit around a child's wrist, sticky side out. As you go on a nature walk, collect small items such as flowers, leaves, or twigs, and stick them onto the tape to make a bracelet.
DIY Binoculars: Use toilet paper rolls or cardboard tubes and decorate them with markers, stickers, or paint. Glue two tubes together side by side and attach a piece of string to wear around the neck while exploring the campground or watching wildlife.
Rock Monsters: Collect smooth rocks and use acrylic paint to create monsters with different colors and patterns. Googly eyes, pipe cleaners, and pom poms make each monster unique.
Firefly Jars: Poke holes in the lid of a mason jar and have kids decorate the outside with glow-in-the-dark paint. On a nighttime nature walk, collect some fireflies and put them in the jar for a magical glowing effect. Remember to release the fireflies back into nature after a few minutes.
Leaf Prints: Collect some leaves from around the campsite and place them between two pieces of paper. Use crayons or colored pencils to rub over the paper and create leaf prints.
3. Campfire Fun
Campfire cookouts—s'mores in particular—are another highlight of any trip for kids. Elevate your s'more game by subbing Reese's Peanut Butter Cups for the chocolate sandwiched between marshmallow and graham cracker. As the kids enjoy their tasty dessert, bust out a good campfire story. Check out Cool of the Wild or the KOA website for a variety of scary, funny, and traditional campfire tales written in full so you can simply read them aloud.
You might also consider adding shadow puppets to the story. You can make simple shapes like birds, rabbits, and dogs, and use props like sticks or leaves to add to your show. The Ranger Rick website includes templates for making shadow puppets of animals you might encounter on a camping trip, such as a raccoon, a bear, and an owl. If you don't have time to craft before you go, you might consider buying a shadow puppet set themed around The Little Prince, The Jungle Book, or monsters. These sets come with apps linking to music, sound effects, and stories you can play or read aloud.
If the activity level's a bit higher and your kids love to be star performers and the center of attention, you might start up a singalong. Campfire song favorites include "Kumbaya," "Down by the Bay," "This Land is Your Land," "The Ants Go Marching," "On Top of Spaghetti," "I've Been Working on the Railroad," and "Five Speckled Frogs." Make the show more exciting with portable microphones and flashlights.
As darkness falls, it becomes the perfect setting for glow-in-the-dark gameplay. Hand out glow sticks and glow necklaces, while playing games like glow-in-the-dark soccer, frisbee, ring toss, or laser tag. This can be the perfect way to run off all that sugar and get the kids ready for bed.
Once you've finished your s'mores and running around, encourage your kids to look up into the sky. Maybe it's "cheating" a bit, but smartphone apps like Night Sky can be really cool for identifying constellations and planets. If unplugging is very much part of the plan, you might alternately use a constellation card deck to point out different star arrangements and learn the stories behind them. A telescope or binoculars can be a handy tool to bring along for a closer glimpse of the moon's craters or the milky way. If you're lucky, you might even catch a shooting star or two!
Best Summer Camping Breaks in New York City, the Hamptons, or the Tristate Area
The East End of Long Island offers many beautiful places to camp. Here are a few to consider:
Cedar Point County Park: Located in East Hampton, Cedar Point County Park offers 607 acres of scenic woods and shoreline with 61 RV and tent campsites as well as cabins with electricity and bunk beds in a secluded section of the park. Popular amenities include picnic areas, playgrounds, and hiking trails.
Hither Hills State Park: Hither Hills State Park is a popular camping destination located in Montauk. Here you'll find 166 campsites and oceanview cabins to rent with electricity, bunk beds, fire pits, picnic tables. Amenities include a beach to explore, sport fishing, and hiking trails.
Wildwood State Park: Wildwood State Park offers 600 acres of forest and beachfront in Wading River. Stay at one of the 314 campsites or cabins fully equipped with kitchens, private bathrooms, and HVAC. Spend the day at the swimming beach, climb on the playground, take the boat out, or hike the trails.
Shinnecock East County Park: Shinnecock East County Park offers a beach with 80 oceanfront campsites and rustic cabin rentals in Southampton. When you're not hiking, try to catch a few fish.
Montauk County Park: Montauk County Park—located in Montauk—offers a beach, hiking trails, playgrounds, and 80 campsites featuring ocean views.
If you're looking to get outside the East End, cast a wider net and visit one of the Tristate Area's top family camping destinations:
Harriman State Park: Here you'll find dozens of campsites, 38 rustic cabins, and two cottages. The second-largest park in the New York parks system features 31 lakes and reservoirs, 200 miles of hiking trails, and 3 beaches.
Catskill Mountains: Renowned for its natural beauty, you'll find ample camping options from tent sites and rustic yurts to RV hookups and luxury cabins. North/South Lake is an ideal spot for camping, kayaking, hiking, fishing, and swimming.
Bear Mountain State Park – This park offers plenty of family-friendly outdoor activities, including hiking, boating, fishing, beaches, and playgrounds.
Watkins Glen State Park – Known for its scenic waterfalls and hiking trails, this park offers a variety of camping options for all levels of experience.
Lake George – Located amid the six million acres of wilderness in upstate New York's Adirondack Mountains, Lake George is a popular destination for camping, swimming, boating, and hiking. The area offers a variety of camping options, including tent and RV sites, cabins, and cottages for rent.
Black Rock Forest – This forest offers a variety of camping options, from primitive to full-service, and is located just an hour from NYC.
Clarence Fahnestock State Park: Located in the Hudson Valley, Clarence Fahnestock State Park offers over 80 campsites, including both tent and RV camping, as well as a range of outdoor activities like hiking, fishing, and boating. The park also has a sandy beach, picnic areas, and playgrounds, making it a great option for families with children of all ages.
Nickerson Beach Campground: Located in Nassau County, Nickerson Beach Campground is a popular destination for families seeking a beach camping experience. The campground is located right on the beach and offers a range of activities, including swimming, fishing, and surfing. The campground also has plenty of family-friendly amenities, including showers, laundry facilities, and a snack bar.
Delaware Water Gap National Recreation Area: The Delaware Water Gap National Recreation Area is located on the border of Pennsylvania and New Jersey. The park offers camping options, including tent and RV sites, as well as cabins. The park is known for its scenic views of the Delaware River and range of outdoor recreational activities, including hiking, fishing, and boating.
Whether you're looking for a beach camping experience or a forest retreat, these destinations have something for everyone. Now that the warmer weather has finally arrived, camping is a great excuse to get out and enjoy it. Staring up at the starry skies, you'll wonder why you ever spent the majority of your time staring at screens instead. Exploring new trails, learning new skills, and indulging in novelty—these are all the ingredients you need to cement your family bonds and create lasting memories.
https://shinenyc.net/wp-content/uploads/2023/05/IMG-0234.jpg
527
768
Shine
https://shinenyc.net/wp-content/uploads/2021/02/Shine-logo-300x220.png
Shine
2023-05-17 22:51:25
2023-05-17 22:51:26
Long Island Family Camping Adventures: Benefits, Activities & Destinations