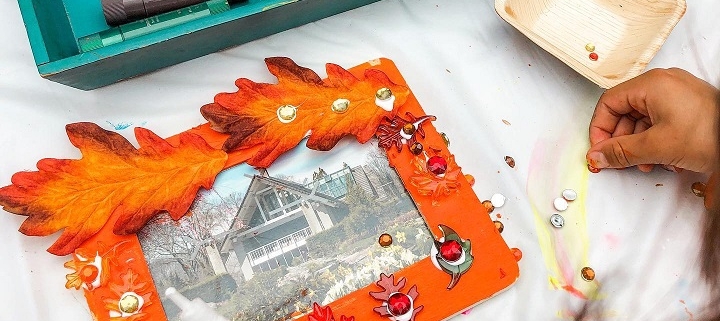 10 Ways for Families to Practice Gratitude
Thanksgiving comes but once a year, reminding families that it's healthy, practical, and helpful to take a moment to be thankful for all the blessings in life. As parents, it's easy to get lost in dirty diapers, toddler meltdowns, pre-teen attitudes, and the stress of juggling work/home life, but gratitude gives us the ability to slow down, absorb some good from each day, and invite more positivity our way.
Best-selling author Melody Beattie explains, "Gratitude makes sense of our past, brings peace for today, and creates vision for tomorrow." This mental organization is not only helpful for us, but vital to growing young minds, too. Finding fun ways to incorporate gratitude into every day – not just once a year – can help create resilience, positivity, humility, and kindness in our children, which are all powerful forces for inner growth and adaptability.
The Appreciation Chair
Designate a chair at the dinner table as "the appreciation chair" and take turns sitting in it. Go around the table and have everyone say something they admire or appreciate about that person. Share praise and encouragement to lift that person up.
Nature Walks
Make a morning, after-school, or evening walk around the block or local park part of your daily ritual. Kids love scavenger hunts! Before departing, explain that you want everyone to find something they are thankful for on the walk.
Thankful Rocks
You can choose to paint your own rocks or buy polished special rocks. Children can carry these special tokens with them in a pocket for a visual reminder to be thankful that someone loves them. Younger children can read "Being Thankful" by Mercer Mayer, where Little Critter is perpetually unhappy until he spends a day on his grandparents' farm and receives his own gratitude rock.
Bedtime Rituals
Whether you are religious or not, it's easy to reflect on the day at bed time and think about the silver linings. Kids often find it challenging to come up with ideas, so you might prompt your child: "Name someone who helped you today." "Who taught you something today?" "Who supported you today?" "Who challenged you today?" "Who showed they cared about you today?" "Who cheered for you today?"
Alphabet Memory Game
Like the "I'm Going on a Picnic" game, try going around the table and taking turns listing something you can be grateful for that starts with every letter of the alphabet. Maybe you are grateful for Apple pie, Bedtime stories, and Cozy sweaters, for example!
Send a Card
Instead of connecting with family and friends by sending out hundreds of Christmas cards all at once, choose someone from your list each week to mail a random "thank you" card to. Have everyone share their thoughts on why they're grateful to know this person. Kids can add drawings that will be forever cherished or you might add your favorite photo memory of the year.
Workbooks
Doing one page from a workbook can be a fun activity to do with a child (ages 8-12), either daily or on the weekends when there's no homework. The Growth Mindset Workbook for Kids contains inspirational stories, writing prompts, exercises, and activities that not only help with gratitude, but with creative problem-solving and developing a positive attitude, too. You can also try the simple Three Minute Gratitude Journal for Kids, which reminds kids to focus on the good they experience each day.
Paper Chain Craft
Perhaps you remember making paper chains in school as a child. Every day someone in the family can write down a daily blessing on a piece of paper that looped and glued to the next one into an interlocking chain. This home decoration then serves as a visual reminder of all we have to be thankful for.
Service Projects
Subscribe to Doing Good Together, a fantastic resource to help you find family-friendly volunteer service projects in the NYC area. From fighting racism and poverty, to saving the Earth and providing comfort, choosing one or two projects to focus on each month can strengthen your family's bond, remind the kids that not everyone has such abundance, and provide a way to share good fortune with others. 
Going Without
Lastly, this isn't exactly "fun," but it can be useful: try choosing something each month that your family goes without. Maybe it's foregoing weekly pizza night or desserts, opting for board games instead of tablets, or walking places that are less than two miles away instead of driving. We live in a culture of plenty and it can be easy to take the things we have for granted. Going without reminds us of all that we have.
https://shinenyc.net/wp-content/uploads/2021/11/123613323_3691066837584518_788534581492316415_n.jpg
601
720
Shine
https://shinenyc.net/wp-content/uploads/2021/02/Shine-logo-300x220.png
Shine
2021-11-11 20:48:21
2021-11-11 20:48:23
10 Ways for Families to Practice Gratitude