Shine's "Brief Thief" Review
We at Shine love books. Early literacy and creating a foundation for the love of reading is one of the main missions of our work with children. Beginning this month, our teachers and partners in publishing will be offering reviews of some of our favorite children's books. For our first installment Shine PR and Marketing Manager and Assistant Teacher, Claudia Chung, reviews one of her favorite books: Brief Thief by Michaël Escoffier. We encourage you to let reading take you and your family on a lifelong adventure.

Continue to shine your light and keep reading –
Aaron Goldschmidt, founder & director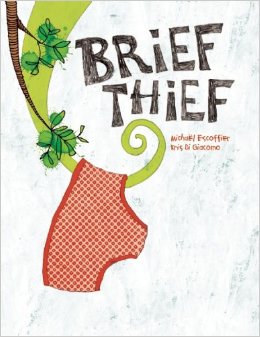 An import from France, Brief Thief by Michaël Escoffier, has been around since 2013, but this quirky picture book was an obvious choice for me to review for Shine as after two years it still makes me laugh out loud every time I read it.
Brief Thief is the tale of Leon the lizard, who is having a lovely morning of eating breakfast and sunbathing when has to go poo. After finding a place to go on a nice tree, he discovers that he's out of toilet paper. He looks around, but all he sees are prickly leaves and messy grass. That is, until Leon discovers a pair of old underpants hanging on a nearby branch. With no one around, and the underpants full of holes anyway, he uses them to wipe himself and throws them back into the bushes. No harm done, right? Wrong.
That's when a loud voice, his conscience, starts to talk to Leon. "Since when are you allowed to touch other people's things? What do they teach you in school, anyway?" His inner voice continues nag until Leon finally succumbs and washes the underpants, hangs them up to dry and "gets lost," just as his conscience tells him. In one final twist that I would never dare reveal, his inner voice turns out to be something else entirely.
Brief Thief is funny, whimsical, and surprising. While the moral or lesson of the story is quite clear, it's done successfully while taking bathroom humor to a new and sophisticated level that even the snottiest adults can appreciate. Think Walter The Farting Dog elevated to Lassie.
By Claudia Chung, Shine PR and Marketing Manager and Assistant Teacher
https://shinenyc.net/wp-content/uploads/2021/02/Shine-logo-300x220.png
0
0
Shine
https://shinenyc.net/wp-content/uploads/2021/02/Shine-logo-300x220.png
Shine
2015-06-15 02:13:54
2021-09-23 18:58:24
Shine's "Brief Thief" Review