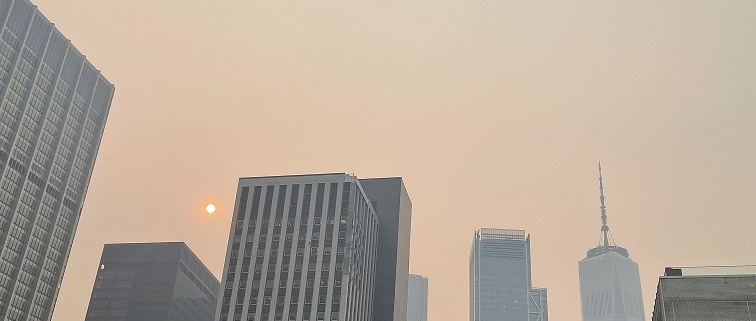 The Summer of Canadian Wildfires: How To Explain the Effects of Climate Change With Your Child
The summer of 2023 has been marked by devastating wildfires sweeping throughout Canada, sending the smell of barbecue and a thick, apocalyptic haze that affected more than a third of the U.S. population. These wildfires have not only caused immense ecological damage but also left a lasting impact on the lives of communities, wildlife, and the environment.
As parents and caregivers, it can be challenging to explain the gravity of these events to young children and help them navigate feelings of fear, confusion, and concern. In this blog, we explore how to approach the topic of climate change with your child, explain the recent Canadian wildfires, and empower them to take positive actions to protect the environment.
Choose Age-Appropriate Language and Concepts
Younger children may not fully understand complex scientific terms, but they can comprehend simple explanations about how human activities impact the Earth. Out of the Fires: A Journal of Resilience and Recovery After Disaster is a helpful and inspiring resource for parents and kids alike. Use this opportunity to discuss the importance of strength and resilience when facing any type of change.
Connect to Their Experiences
Children often understand concepts better when they can relate them to their own experiences. Talk about the recent heatwaves, changes in weather patterns, or extreme events they might have noticed in their local area. Ask questions and encourage them to share their observations and feelings about these occurrences. You might ask an older child to write an essay in response to the question, "Do You Experience Climate Anxiety?" or have a younger child divide a piece of paper in two and draw a picture of a polluted world vs. a clean world.
Encourage Questions and Provide Honest Answers
Children are naturally curious, and they may have many questions about the wildfires and climate change. Encourage them to ask questions and provide honest, age-appropriate answers. If you don't know the answer to a question, take the opportunity to learn together. While it can be scary to think of a fire that can't or won't be extinguished, explain that, in some cases, allowing the fires to burn is part of the recommended long-term solution.
Teach Compassion and Empathy
Teach your child about the importance of compassion and empathy towards those who have been impacted. Donate to the Canadian Red Cross to show that there are ways ordinary citizens can help members of affected communities cope.
Highlight the Importance of Climate Action
Empower your child by explaining that everyone can make a positive impact on the environment. Discuss simple lifestyle changes such as reducing waste, conserving energy, and supporting sustainable practices. Encourage them to be eco-conscious and proactive in protecting nature.
Engage in Environmental Activities
Engaging in hands-on environmental activities can help your child connect with nature and develop a deeper understanding of the impact of climate change. Consider planting a tree together, starting a small garden, or participating in a local beach or park cleanup. Attend or host an event that raises donations for the World Wildlife Federation.
Focus on Hope and Solutions
While it's essential to be honest about the challenges posed by climate change, it's equally important to focus on hope and solutions. For instance, you can choose an indoor activity when the air quality alert is "unhealthy for sensitive groups," and you can install an air purification system in your home. Share positive environmental news stories of individuals and communities taking action to address climate change and protect the planet.
Take a Break from Anxiety
Lastly, it can be helpful to move past anxiety by focusing inward with relaxing art projects and getting out to socialize. The Shine Studio in Sag Harbor is always open to you and your family. With classes, workshops, parties, and camps geared toward ages 0-12, there's never a dull moment. We can also send creative supplies to your home to keep the kids busy and lighthearted. Learn more.
https://shinenyc.net/wp-content/uploads/2023/08/Image_20230806_123339.jpg
649
756
Shine
https://shinenyc.net/wp-content/uploads/2021/02/Shine-logo-300x220.png
Shine
2023-08-06 16:36:41
2023-08-06 16:53:00
The Summer of Canadian Wildfires: How To Explain the Effects of Climate Change With Your Child