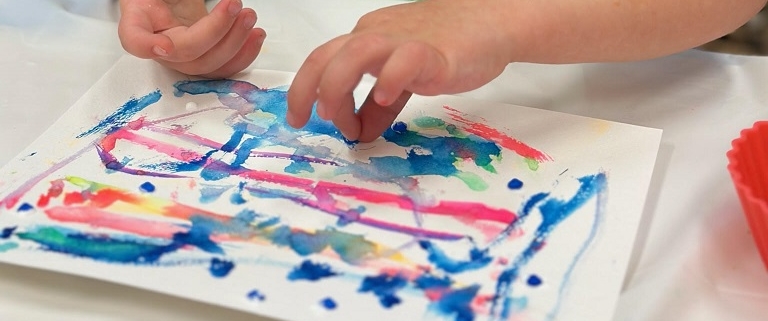 How To Throw a Spring Color Party
Color parties are trending hot for spring and summer birthdays and events. In fact, posts labeled #colorparty have garnered over 48 million views on TikTok. If you've never been to one but are looking for a unique theme for your child's birthday, continue reading for ideas and inspiration.
Why a Color Party?
There's nothing more refreshing than the assembly of colors after a long winter! Color parties have roots in Holi, the Hindu festival celebrating the arrival of spring and the triumph of good over evil. The main rituals involve flinging colored water and powders onto friends, family, and festivalgoers as a reenactment of a game Hindu god Lord Krishna played with his consort, goddess Radha. Borrowing a similar spirit, Color Run 5Ks are celebrated around the world, including New York's Citi Field.
Psychologically, colors can symbolize many different ideas emotions — red for love, orange for sociability, yellow for happiness, green for money, blue for tranquility, or purple for opulence. Taken as a whole, the rainbow is the sum of its parts —a celebration of diversity, inclusivity, hope, and friendship. In some circles, rainbow colors represent God's covenant with Noah after the Great Flood destroyed much of the world — and in others, a rainbow signifies LGBTQ+ identity and pride.
Studies show children are naturally drawn to bright, saturated colors — and that these colors can affect their moods. So for your next event, consider the crowd-pleasing color party to create memories for years to come.
How To Prepare for a Color Party
Buy the supplies. One of the easiest ways to set up your color party is to buy packets of loose, dry powder and put them into Dixie cups. Skip squeeze bottles or squirt guns, which tend to jam up. Another fun option is to use color powder cannons, which use compressed air to blast partygoers up to 20 feet away.
Put safety first. The powder itself is non-toxic, typically made of food dye and cornstarch, but it's best if you don't directly inhale it or get it in your eyes. So, no matter which option you choose, we recommend passing out colored bandanas and sunglasses to serve as protective gear and keep everybody safe.
Secure the venue. The ideal location for a color party is in your own backyard or on private country land with the expressed permission of the property owner. Color parties might not be welcome in public spaces due to cleanup considerations.
Have cleanup supplies on hand. If you're doing the cleanup, you'll want brooms and dustpans or leaf blowers to move dry powder from your sidewalk or driveway. A sprinkler, hose, or pressure washer will clean up the grass if necessary. A soapy water bucket and sponge can clean your tables and chairs. A vacuum cleaner will pick up any stray colors tracked into the house.
Send the invitations. There are several approaches to a color party. Some events have each person pick one color — and they dress from head to toe in that color and bring a matching dish to share. For the main color-tossing event, we recommend handing out white t-shirts as practical party favor keepsakes. Even though the color powders typically wash out of clothing, it's best to forewarn guests on the invitation that the party could get messy.
Decorate. To add vibrancy, you can hang rainbow garlands in trees, hang colorful leis on each chair, tie up helium-filled balloons, set out colorful plastic tablecloths, add LED lights to mason jars as centerpieces, freeze water balloons and place them into a cooler with bottled water.
All that's left now? Have fun!
Color Party Games and Activities
For the main event, divide your group into two teams (each with their own color), put on the high-energy tunes, and let them run wild with the goal of coating the opposing team while evading their retaliation. If you prefer, each person can have a different color and the game can be played warrior-style.
While the color war is the main event, there are many other activities:
Art: Art naturally lends itself to a rainbow of colors, so you might consider setting up a painting station or place colored confetti, construction paper, and glue on the table to see what the kids come up with — or even just simple sidewalk chalk can add to the party décor.
Color Powder Alternatives: Instead of "war," you might set up obstacle courses the kids have to run through while others try to hit them with powder. Or you might divide into two teams, fill black balloons with two different colored powders, and play a roulette-style game where you pop a balloon over a player's head. If it's their team's color, the team gets a point. If it's the other team's color, the team loses a point. If it's the magic gold powder, they earn their team five points.
Wet and Wild: Bust out the sprinklers and slip-and-slides to make those colors even more saturated! And remember those frozen water balloons? Once they've thawed out in the hot sun and all the water's been consumed, they're fair game for another fun round of friendly competition. Or perhaps you organize a calmer tossing event for the chance to win a colorful prize.
Hula Hoop Contest: Hula hoops come in bright colors, so they make the perfect contest.
Scavenger Hunt: Create a list of colorful items hidden around the yard kids need to find to win a prize.
Dessert Station: A vanilla cupcake decoration station with colored sprinkles is always a hit.
Plan Your Next Event
Want help orchestrating your next party in New York City, the Hamptons, or the tristate area? Shine educators travel to your location of choice, bring themed supplies, set up decorations, entertain the kids with guided activities, and cleanup when the event's done. No fuss, no muss — only fun! We also offer creative programming that includes summer camps, classes, field trips, and more. Contact us for details.
When dodgeball had run its course, we handed out cheap goggles to act as protective eye gear and got the color fight under way.
---
https://shinenyc.net/wp-content/uploads/2023/03/unnamed.jpg
488
768
Shine
https://shinenyc.net/wp-content/uploads/2021/02/Shine-logo-300x220.png
Shine
2023-03-23 16:04:12
2023-03-23 16:05:08
How To Throw a Spring Color Party