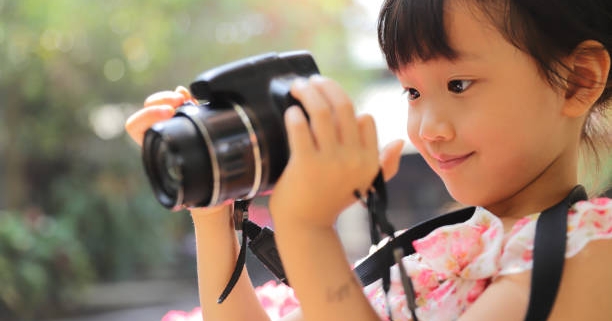 12 Reasons to Introduce Your Child to Photography as a Hobby
As parents, we all know that time flies fast and our children are transforming – physically, mentally, and emotionally – from day to day. But why should we be the only ones chronicling this journey? Introducing photography as a hobby for your child is part of a powerful process of building self-esteem.
"We cannot underestimate the power of photographs to keep us feeling linked to others and belonging," says Professor Geoff Beattie, Head of School and Dean of Psychological Studies at the University of Manchester. He adds, "For children in particular, looking at photographs is part of the socializing process: learning who you are and where you fit into the family." By displaying their photos, we show our pride – and by commending the photos they take, we double-down on the sentiment.
Consider the many advantages of encouraging your child to explore photography:
1. Enhanced Creativity
Photography encourages children to think creatively and see the world from different perspectives. They learn to frame shots, experiment with lighting, and find unique angles to tell a visual story. Creative thinking benefits them in various aspects of life, from problem-solving to artistic expression.
2. Improved Observation Skills
Photography requires keen observation of details, patterns, and moments that others might overlook. As children hone their skills through photography, they become more attuned to the world around them, which can lead to greater situational awareness and appreciation of their surroundings.
3. Self-Expression
Photography allows children to express themselves in a visual language. They can convey their emotions, thoughts, and ideas through the images they capture. This connection can be particularly valuable for children who may find it challenging to express themselves verbally.
4. Boosted Self-Esteem
As children develop their photography skills and produce images they are proud of, it can significantly boost their self-esteem and sense of accomplishment. Positive feedback and recognition for their work can further reinforce their self-confidence.
5. Patience and Discipline
Photography teaches patience and discipline, as it often requires waiting for the right moment, adjusting settings, and paying attention to detail. These qualities can translate into improved focus and perseverance in other areas of life.
6. Storytelling Skills
Photography is a form of visual storytelling. Encouraging your child to narrate stories through their photos can enhance their storytelling abilities, which is an effective form of communication.
7. Technical Proficiency
Learning photography involves understanding camera settings, composition, and the basics of image editing. These technical skills can be applied in various academic and professional contexts, from graphic design to science projects.
8. Appreciation for the Arts
Through photography, children can develop a deeper appreciation for the visual arts. They learn about famous photographers, different photographic styles, and the history of photography, broadening their cultural horizons.
9. Connection to Nature
Photography often leads children to spend more time outdoors and develop a closer connection to nature. They become more attuned to the beauty of the natural world, which can foster a sense of environmental stewardship.
10. Memories and Keepsakes
Photography allows children to capture precious moments and create lasting memories. Looking back on their photographs can evoke nostalgia and serve as a personal archive of their life experiences.
11. Social Interaction
Photography can also be a social activity. Children can join photography clubs, attend workshops, or share their work on social media platforms. This can help them connect with like-minded peers and develop social skills.
12. Career Opportunities
While not every child who takes up photography will pursue it as a career, it can open doors to various professional opportunities. Photography skills are in demand in fields such as journalism, advertising, marketing, and the arts.
Introducing your child to photography as a hobby offers a wealth of benefits beyond preserving memories. Snapping photos nurtures creativity, hones valuable life skills, encourages self-expression, and serves as a source of joy and wonder as your child explores the world through the camera lens.
"Click, Snap, Flash" is Shine's new photography class for kids ages 5-11. Students will work with a professional photographer to view the world with a creative eye and capture the perfect shot, while creating a portfolio they can proudly show family, friends, teachers, and classmates. Enrollment is always open. Contact us to learn more.
https://shinenyc.net/wp-content/uploads/2023/10/istockphoto-1323301690-612x612-1.jpg
390
612
Shine
https://shinenyc.net/wp-content/uploads/2021/02/Shine-logo-300x220.png
Shine
2023-10-21 20:13:27
2023-10-24 20:28:11
12 Reasons to Introduce Your Child to Photography as a Hobby