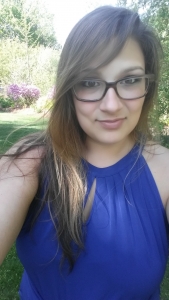 Welcome to the Shine 9! In honor of Shine's first adult craft night at Baked Tribeca on June 10th, we are profiling teacher and resident Shine adult crafter, Sarah Rinaldi. Following her mother's footsteps Sarah has always had a passion for the arts. Her parents registered her for private art lessons at the age of three and she continued with her mentor until high school.
Sarah attended a small private boarding school called The Gunnery where she found an art community and held frequent art shows throughout the campus. Sarah later received her BFA in Art Education from Manhattanville College in 2008 with a concentration in painting and her Masters of Studio Art from The College of New Rochelle in 2011 with a concentration in printmaking. As an undergrad, Sarah was the director of a youth program called Creative Expression Through Art and interned at the Metropolitan Museum of Art in the Education Department. After college, Sarah was the manager of Gymboree in Scarsdale where she taught classes ranging in age from 2 months through 5 years and was the Head Teacher in their School Skills program. Sarah has also taught several mixed media art classes at the Rye Art Center and teaches art privately. Sarah has been head teaching with Citibabes since 2010 and in 2014 created and launched CitiBox, a subscription based art box that allows all families to bring home age appropriate crafts. Sarah continues to work on commissioned art and has a shop on Etsy called SarSarDesigns, where sells hand painted silk scarves.
1. What is your favorite children's book to read with your kids? What was your favorite children's book when you were a child?
When I was a little girl I loved two very popular books. One being "Where the Wild Things Are" and the second being "The Giving Tree." Both these stories hit home for me and related to me on an emotional level. I remember feeling sad when my mother read me "The Giving Tree" and how I had a fear of getting old which isn't too far from the truth now a days. When I was a child "Where the Wild Things Are" at the time was a real magical place that existed if you were naughty and never realized until later in life this whole story took place in a dream. As a child and even as an adult I dream very vividly and I enjoy stories that take you to another world or time and I feel that both these books did that for me. Now as a teacher I love reading both these stories to my classes in hopes in touches them as much as it touched me.
2. What children's movie or TV show holds a special place in your heart?
To this day I love all children's movies. I just can not help it. I am fascinated by the art and skill it takes to create an animated movie but I also love the magic and underlying message it has. It is so hard for me to choose just one so my top three movies are "The Lion King," "Beauty and the Beast," and "Aladdin." I feel like I am missing so many other great movies even more recent ones such as "Finding Nemo" or "Up." The way all these movies create beautiful imagery while allowing the viewer to feels all sorts of deep emotion from happy to sad to surprised to scared. The anticipation was always there even when I have watched them over and over again.
3. What do you do creatively for yourself?
Being a teacher I am constantly creating and thinking of art projects but it doesn't stop there. I am relentlessly searching and trying the next best DIY project. Art is my life and I am constantly drawing and painting for sanity's sake. I create hand painted scarves and tote bags that I sell on Etsy and I also create flower headbands for family and friends. I have found that my second favorite thing to do in the summer (besides the beach) is going to flee markets and searching for my next make-over project. I am always trying to find a way to get my creative juices flowing not only through the more typical art processes but through cooking, or wood burning and believe it or not shopping.
4. What children's TV show or character you wish would just quietly go away and never be seen or heard from again?
I was a bit too old for this show when it came out but I remember not getting it at all and felt it was a giant joke to the rest of the world. I am sad to say "Teletubbies."
5. What is the funniest thing you have ever heard a kid say?
Oh there are just too many. It is what makes my day so much fun and so unexpected! One that I was recently talking about with a colleague was when one of my students, a three year old boy, was sitting during morning meeting right after Thanksgiving. I asked everyone if they would like to tell me about there Thanksgiving. He raised his hand immediately and said in the most sincere, satisfied voice, "Well… I went to Vermont and we ate a special dead bird." At first I wasn't expecting that terminology but I was so impressed at how it was described.
6. If you could become an expert at something, what would it be? OR what else did you think about becoming when you were a kid? Do you still dream of this?
When I was a child I always wanted to be a pop singer. At 3 years old I would dance around the living room to "Cold Hearted Snake" by long time favorite Paula Abdul. In high school my friends and I would choreograph whole routines to Britney Spears. There will always be a piece of me longing to be the next pop superstar.
7. What was your favorite dessert as a child? Now?
Ice cream for sure! My parents would always buy that napoleon flavor with the chocolate, strawberry, and vanilla as a child. I always liked the vanilla, strawberry combo. My brother ate the chocolate. Nowadays I still love ice cream especially from CT's favorite Rich's Farm and always get the raspberry chocolate chip!
8. What was your most memorable birthday party?
It has to be my 7th birthday when my mom got Sparkles the Clown to come to the house. I remember loving Sparkle and was so excited she was in my living room! Later that birthday we were all playing tag and I was running away from some friends and went to hide behind a door and got my fingers slammed and had to go to the ER. I remember not even crying too much but didn't want the party to end. Maybe at the time it was not a great experience but to this day my family still jokes about the irony.
9. What was your favorite trip you've ever taken?
One of my favorite trips occurred when I was in high school. My entire family, grandparents, aunts, uncles, cousins all went on a cruise to the Caribbean. It was not so much about the location, although it was beautiful, but most importantly the people I was with. I have so many wonderful stories from that trip that I will forever remember.
https://shinenyc.net/wp-content/uploads/2021/02/Shine-logo-300x220.png
0
0
Shine
https://shinenyc.net/wp-content/uploads/2021/02/Shine-logo-300x220.png
Shine
2015-05-27 01:17:05
2021-09-23 18:58:25
Shine 9: Sarah Rinaldi