International Kid-Friendly Food: Top 5 Italian Recipes for San Gennaro Day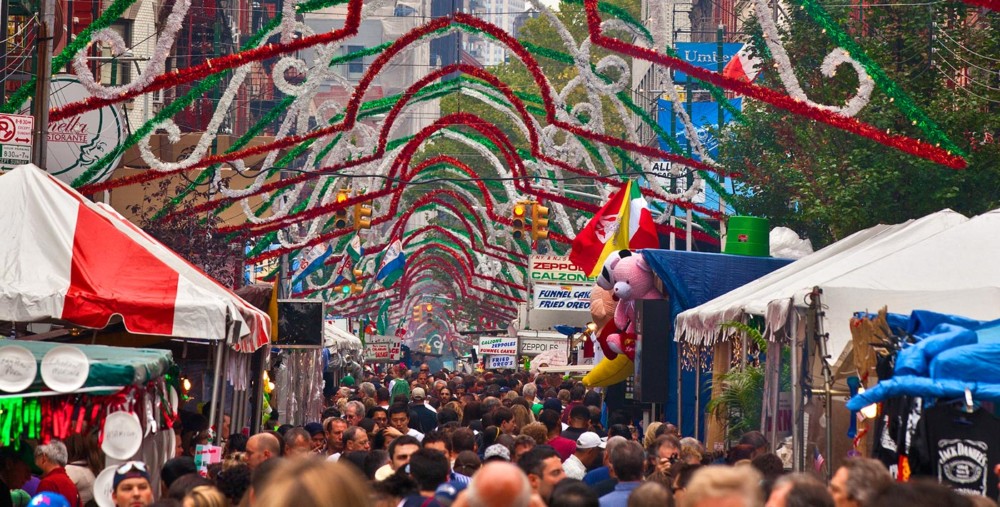 The Feast of San Gennaro has evolved from a one-day religious commemoration in the Old Country to an 11-day celebration of food and culture in the Little Italy section of Manhattan. Saint Januarius — a bishop, martyr, and the Patron Saint of Naples – is most famous for the miraculous liquefaction of his blood. The Feast is celebrated on September 19th by the Roman Catholic Church and the 21st in the Eastern churches. If you can't make it down to the cannoli-eating contest on the 14th or the many other events taking place in NYC, consider using this excuse to have an ethnic feast day at home with your kids. Cooking is a fantastic way to solidify the familial bond and teach your children important skills.
Rao's Meatballs
Rao's Restaurant in East Harlem
Your family may never see the inside of the legendary Rao's. The 119-year-old East Harlem restaurant take neither reservations, nor walk-ins. There are only 10 tables and you need to "know-a-guy-who-knows-a-guy." However, you can prepare and taste their most iconic dish at home! Rumor has it, their in-house secret is that they use all veal, but the recipe they share includes ground beef and pork as well – perhaps because it's more likely to hold together. Pecorino Romano cheese, garlic, and oregano add savory flavor. Meatballs are always a kid-favorite! You can pair these with Rao's Homemade Marinara, which can be purchased by the jar at Target and on their website — or made at home.
Veal Cutlets Milanese
Patsy's Italian Restaurant
The Scognamillo Family owns a well-known dynasty of food. Their beloved restaurant, Patsy's, was a favorite of famous crooner Frank Sinatra. One of Frank's favorite dishes was the Veal Milanese. It's a simple recipe flavored by fresh herbs like parsley and oregano, as well as Parmigiano-Reggano and lemon, which makes it an easy weeknight meal. Chef David Rocco recommends serving veal alongside carrots and spinach with vinegar.
Prosciutto & Fig Bruschetta
Felidia & Becco
Felidia & Becco opened right in the heart of the theatre district's Restaurant Row in 1981.Today it's still the sort of place that inspires foodies to become chefs. Generally speaking, Bruschetta is the perfect size for little hands. This recipe's innovative add — sweet fig — inarguably appeals to tiny tastebuds. At the same time, you can Introduce your kids to more sophisticated flavors with lesser-used ingredients like prosciutto and sage honey. There are many ways to cook this – in a pan, over a charcoal fire, or in the oven.
Eggplant Parmesan
Fresco by Scotto
Local Restauranteur Rosanna Scotto told Hamptons Magazine her mother knew Parmigiana so well, she could make it with her eyes closed. She and her siblings, Anthony and Elaina, first thought their family dish wasn't "glamorous" enough for their Manhattan restaurant, but they continued to wow friends at home in Southampton with it. After much soul searching and after hearing the kids ask grandma for "chicken pajamas" again and again, they "came to a Parmigiana moment" and decided to "do it big" for all to share. Even though the kids may not be able to pronounce it, you'll be surprised by how willing even the fussiest eaters are to gobble up vegetables with this Eggplant Parm recipe. The best part for little chefs is all the fresh cheese grating action.
Chocolate Biscotti
Union Square Café
Children old enough to fully appreciate Play-Doh and roll long "snakes" out of it will enjoy fashioning this classic Italian treat. Made with cocoa, an extra egg, chocolate chips, vanilla extract, sugar, a touch of espresso, and all the usual mix-ins, whipping up Biscotti with the family is a labor of love. Each recipe makes 60-80 biscuits, so if you have extra give Biscotti as a gift. They will stay fresh for two weeks in an airtight container or you may freeze them for a few months and serve as an after-school snack or quick breakfast treat.
We hope you enjoy these Italian-American recipes with your family and all the 92nd San Gennaro Day celebrations throughout the city. For more information, visit https://sangennaro.nyc. If you're looking for Italian language lessons or more cultural activities for your children, contact Shine to ask about our current offerings, which includes trips, workshops, classes, and parties.
https://shinenyc.net/wp-content/uploads/2021/02/Shine-logo-300x220.png
0
0
Shine
https://shinenyc.net/wp-content/uploads/2021/02/Shine-logo-300x220.png
Shine
2018-09-12 19:58:36
2021-10-18 14:03:15
International Kid-Friendly Food: Top 5 Italian Recipes for San Gennaro Day