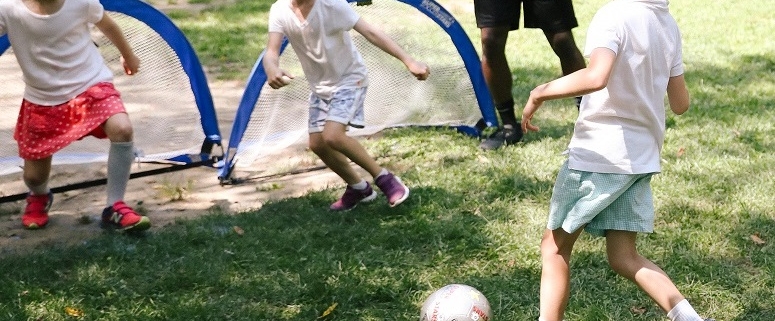 Why Soccer is a Good Choice for Early Sports Development
More than 2.3 million children ages 6-12 play youth soccer in America. This does not include the growing number of 2-5 year-olds joining programs like Soccer Shots, Pee Wee Sports, Lil Kickers, and Tiny Tykes.
Choosing the right sports for your child is about more than a popularity contest, though. You likely have many questions, including: Is it physically safe? Is it good for my child's physical, mental, and emotional state? Science tells us it's best not to specialize in any one sport at a young age, but continue reading to see if soccer may provide the right mix of developmental skills your child needs at this time.
What Science Says About The Benefits of Soccer for Kids
"Green time" reduces ADHD symptoms. A study of more than 400 children diagnosed with Attention Deficit Hyperactivity Disorder identified a link between children who played in a "green and open" outdoor environment like a soccer field. Researchers at the University Illinois Urbana-Champaign called green time a "low-cost and side-effect-free" way of managing symptoms of hyperactivity, poor impulse control, and difficulty concentrating.
Aerobic activity boosts brainpower. Concordia University found that certain activities can increase brainpower in children. For toddlers, preschoolers, and elementary-aged kids, breathing exercises and guided meditation had noticeable beneficial effects. In older kids, "vigorous aerobic activity, such as soccer, basketball, and jumping rope" have had a positive impact on concentration, recall, and memory.
Soccer provides broad-spectrum health and fitness benefits. A three-year study involving seven countries and over 50 researchers at the University of Copenhagen concluded that soccer is an excellent way to maintain a physically active and healthy lifestyle from age seven through adulthood. They compared the physiological health effects to running, but found soccer to be superior; men "worried less" playing soccer, while women benefited from the social aspect of the team sport. Participating in soccer for two or three hours per week caused "significant cardiovascular, metabolic, and musculoskeletal adaptations," no matter the player's gender, age, or experience level. Some go so far as to say, "Soccer is medicine," particularly in the treatment of hypertension.
Soccer Offers Unique Physical Benefits and Skills For Developing Young Athletes
Physiologically, soccer players develop a high aerobic-anaerobic threshold and endurance, as their bodies must adapt to run for long periods of time without the ball. The average soccer player runs five to seven miles over the course of a game. Soccer promotes what the Germans call "Schnellkraft" – the sort of speed elasticity and strength that enables sprinters to achieve a high level of performance.
Generally speaking, active kids build stronger bones and muscles, and they are less likely to become obese or develop Type II diabetes. Children develop strength to kick the ball hard enough to pass and score. Soccer is a fine sport for agility and motor skill development, as it involves running, kicking, jumping, twisting, turning, changing directions and manipulating objects. Through repetitive motion and activities, the feet acquire greater balance and coordination they may not otherwise achieve through daily walking.
Soccer is unique as a team sport in that its activities are largely self-directed, and not dependent on a player's position. By comparison, football players take direction from the coach for each play. Soccer players decide for themselves and learn to trust their own intuitions — for up to 90 minutes on the field. Individuals continuously flex their visual-spatial awareness, innate problem-solving skills, and cognitive flexibility.
Unlike baseball or football, where teams take turn playing offense and defense, soccer is a dynamic game that switches between the two rapidly, more like basketball. Yet, basketball players' activities are limited to position, with guards doing more passing, picking, and three-point shots, and forwards concentrating on rebounds, dunks, and lay-ups. Soccer requires a broad range of skills, no matter what position is played, with the exception of the goalie. As a general rule, soccer players tend to be some of the most adaptable and quick-thinking on their feet than any other team sport player.
Soccer Provides Essential Life and Social Skills
Parents know mental and emotional health are just as important as physical health. Soccer lends itself to:
Endless fun, from fancy foot dribbling to knee ball-juggling tricks that improve over time.
Better evaluation of time and space, as the ball arrives to them or speeds toward the net.
The cultivation of life skills like teamwork, coordination, and playing by the rules.
The development of work ethic, as individuals learn to function as part of the team.
Management of disappointment and the building of perseverance, as teams win some, and lose some.
Confidence building, honing physical abilities, and cultivating self-esteem.
Finding social support and forming lasting, quality relationships with peers.
Mentorship opportunities to find adults they respect and want to emulate.
Interested in Soccer in NYC's East End?
We're pleased to offer soccer as part of our Hamptons summer camp geared toward ages 4-10. Shine's summer camp features outdoor science and exploration, art and nature projects, gardening, music and movement, sports, yoga, chess, and soccer through a partnership with Super Soccer Stars. We meet Monday through Friday from 9:15 to 2:30, but we're flexible. You can come daily or weekly. Locations include the Children's Museum of the East End (Monday and Wednesday), the LongHouse Reserve (Tuesdays), Bridge Gardens (Thursdays), and a rotation of other iconic East End locations like the South Fork Natural History Museum on Fridays. Email info@shinenyc.net for details.
https://shinenyc.net/wp-content/uploads/2019/04/ShineSummer2018_260-2-1.jpg
412
775
Shine
https://shinenyc.net/wp-content/uploads/2021/02/Shine-logo-300x220.png
Shine
2019-04-18 21:57:52
2021-10-18 14:03:11
Why Soccer is a Good Choice for Early Sports Development