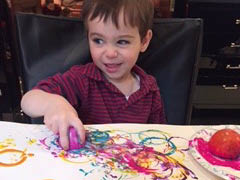 Cultural Kid-Friendly Food: Top 5 Eastern Orthodox Recipes For Easter
Eastern Orthodox churches base their Easter on the Julian calendar, which differs by the Gregorian calendar used in Western countries. Therefore, Christians who attend mass at Orthodox churches will end up celebrating "the miracle of Jesus Christ's resurrection" on April 28thinstead of April 21stin 2019. Countries that observe Orthodox Easter include: Bulgaria, Cyprus, Greece, Lebanon, Macedonia, Romania, Russia, and Ukraine. Whether you are part of New York City's orthodox community or you like to educate your children about different religious and cultural observations, cooking authentic holiday feasts is a meaningful way to share all that life has to offer with your children.
---
Russian Kulich with Paskha
Recipe Courtesy of the NY Times
Russian Easter coffee cake is a lightly sweetened, egg-glazed mix between challah and brioche, baked in a coffee cylinder for height. Though it's time-consuming to make, the kulich sits prominently in the center of the family Easter basket, amid meats, cheeses, butter, and eggs. Any time after 4:00 am, the family matriarch may slice up the kulich, spreading the slices generously with unsalted butter or with creamy paskha made of vanilla bean, cream, butter, sugar, egg yolks, and large-curd pot cheese. Candied cherries and ground almonds are optional, but most kids love it. The kulich may also be served as a dessert.     
---
Romanian Easter Lamb Soup
Recipe Courtesy of Patty Inglish at Delishibly.com
Since lamb is the main course of choice, it makes practical sense to use the leftover bits into soup. The Greeks have their own version called magiritsa, but this particular Romanian version is a bit more kid-friendly because you can use leg of lamb if you don't want to throw the whole head in. Soups are always a labor of love, taking up to two hours in the kitchen, so this recipe may work best with your little big kids who are in prime helping mode. With amaranth, kale, and dock greens, combined with garlic, scallions, parsley, and lovage, the recipe author likens this dish to "gyro meat in a soup."
Get the recipe here.
---
Greek Arni Sto Fourno
Recipe by Michael Psilakis, Courtesy of Delish
Michael Psilakis is the Greek-American NYC restaurateur behind Ecco, Onera, Anthos, Kefi, Mia Donna, MP Taverna, and Allora Italian Kitchen and Bar. You may have seen him on "Iron Chef," "Ultimate Recipe Showdown," or "The Best Thing I Ever Ate." You don't need an "animal roasting temple" in your backyard to roast a good lamb like Psilakis' family did. You can bake a tasty leg of lamb in your oven in just a few hours with vegetables like carrots, fennel, and potatoes, along with oregano, rosemary, thyme, and sage.
---
Lebanese Maamoul Cookies
Recipe Courtesy of "Julie Taboulie"
Making maamoul is a multi-generational Easter tradition amongst Lebanese mothers, grandmothers, and granddaughters. The unique aroma of orange blossom water conjures memories of this springtime holiday like no other. After months of giving up dairy, sugar, and meat, this decadent dessert is a must for the post-Lenten feast. Maamoul is also served with chocolate and Arabic coffee during Eid. You'll need a special mold for this melt-in-your-mouth butter cookie recipe (which you can buy online). Every family has their own secret recipe, but we liked this one from Julie Ann Sageer, a cookbook chef hailing from Marietta, New York because she gives you three different fillings – pistachio, date, and walnut.  
---
Romanian Cheesecake
Recipe Courtesy of Simply Romanesco
Tired of American cheesecakes with too much cream cheese and not enough crust? "Grandma Vicki's" Romanian version couldn't be more perfect with the perfect balance of smooth ricotta cheese custard layered between two rows of sweet doughy crust. Cream of wheat adds a slightly dense texture to the filling. Lemon juice provides a punch of tartness, while the shower of confectioner's sugar delivers the sweets.
---
Don't forget to dye your Easter eggs red to symbolize the blood and sacrifice of Christ. You might enjoy a traditional Greek Easter game known as tsougrisma, which involves tapping the dyed eggs to see which ones crack.
If you like these recipes and your child enjoys cooking, CONTACT US  to inquire about our monthly workshops (which can include cooking).  
https://shinenyc.net/wp-content/uploads/2019/04/Untitled-1.jpg
180
240
Shine
https://shinenyc.net/wp-content/uploads/2021/02/Shine-logo-300x220.png
Shine
2019-04-20 15:40:46
2021-10-18 14:03:10
Cultural Kid-Friendly Food: Top 5 Eastern Orthodox Recipes For Easter