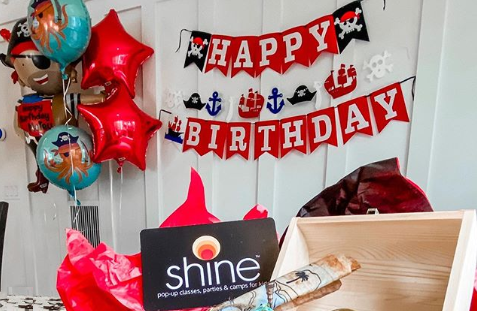 Everything You Need To Know About Kid Parties in a Socially Distant NYC
There's good news if your child has a summer birthday: New York City moving toward reopening after the statewide PAUSE. As of June 8th, our region entered phase one, meaning that 10 or fewer people may gather. By phase three, we'll be allowed to gather in groups up to 25.
Is a Kid Birthday Party Risky During a Coronavirus Pandemic?
At this point, any contact outside your home pod elevates your risk of COVID-19 transmission, but the 1 percent virus positive test rate is minuscule enough that having a small backyard gathering may not raise the hairs on the back of your neck, especially if you're friends with several other families that generally minimal contact with others and practice social distancing.
True social distancing can be a challenge with young children. Ideally, each guest would remain six feet apart and wear masks in close passing or when dishing food. Older kids may be able to follow these guidelines, but you may want to consider hosting a Zoom party or a more structured format for younger kids.
Socially Distant Kids' Birthday Party Ideas
There are many ways to celebrate a child's birthday, even with social distancing in place:
Shine Party Boxes Make Your Social Distancing Event Special
This summer, we are pleased to offer the best in high-quality child birthday entertainment, whether you're celebrating in the backyard with a small group or connecting virtually with friends from afar.
Custom Curated Birthday Party Boxes have been in high demand during quarantine. It's the next best thing to a fully hosted event. We'll create custom curated party boxes based on whatever theme you'd like and send them out to all the kids attending your virtual party.
Our first-ever party box, delivered to the birthday child and each invited guest, featured a jolly good pirate theme, complete with costumes, props, treasure maps, gold doubloons, treasure, stickers, tattoos, and all the art supplies needed to make our signature treasure chest craft.
On the day of your event, we'll dress the part, singing, dancing, and performing live music to complement your theme. Our programming is highly customizable with games, surprise character visits, and baking or crafting activities. We'll work with you to ensure your child feels attended to on this momentous occasion.
Other Shine birthday options include:
Online classes – Enjoy our signature mix of art, music, cooking, crafts, exercise, and more from the comfort of your own home – in a private family session or with friends!
Craft bags – Shine Director Aaron Goldschmidt leads engaging Zoom classes paired with craft bags delivered to the homes of all party attendees. Complete up to four signature Shine crafts. We've done lanterns, wreaths, decorated journals, puppets, masks, flower pots, vases, bird feeders, tie-dye, bridge paintings, sand art, and more. Check out our quarantine craft bag highlight to see some of what we offer.
Private day camps – Host up to eight kids (ages 4-11) with activities ranging from arts and crafts, outdoor science, and nature exploration, to sports and games, percussion workshops, and educational programming. Space is very limited, so email info@shinenyc.net to reserve your spot asap!
We want to help you through this difficult time! Call 212-414-5427 or email info@shinenyc.net to learn more about offerings, options, and pricing.
https://shinenyc.net/wp-content/uploads/2020/07/Untitled.png
311
477
Shine
https://shinenyc.net/wp-content/uploads/2021/02/Shine-logo-300x220.png
Shine
2020-06-25 00:25:00
2021-10-18 14:03:05
Everything You Need To Know About Kid Parties in a Socially Distant NYC