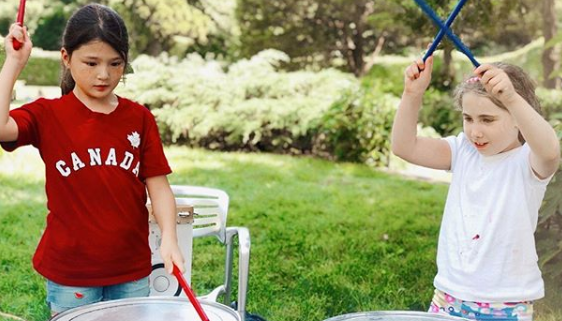 3 Boredom-Busting Enrichment Activities for Kids in Quarantine
Kids are plenty busy with school, but eventually the classes will drop off into the ambiguity of a quarantine summertime. What does that mean? Normally, it's all swimming pools, playgrounds, amusement parks, museums, themed camps, and events. Maintaining structure and "student" status throughout the downtime will help your child return to the daily grind with ease in September.
The Case for Boredom-Busting
NY Times columnists may opine that "Boredom teaches us that life isn't a parade of amusements," while spawning positive traits like creativity and self-sufficiency. However, there is a difference between scheduling a bit of downtime and absolute boredom.
Downtime can be thought of as periods of time where there are no scheduled activities, but the use of devices is not permitted. It is a period set aside for recreation and renewal. Examples of downtime activities include bike riding, playdates, book reading, cooking, digging in the sandbox, dress up theater, or Lego building. There is value in providing room for unstructured activities and stoking creative passions. For younger children, you can provide this atmosphere by rotating toys in and out of storage, mandating outdoor time each day, rotating new books in and out of circulation, including kids in family chore time, and planning quality time activities on the weekends.
On the other hand, boredom can be dangerous. As the Institute for Family Studies points out:
Bored elementary-aged students perform poorer in school, suffer from low attentiveness and poor recall, and generally put in less effort.
Bored teens are more likely to quit school and pick up vices like smoking, drinking, or street drugs. They are at risk of becoming binge eaters, speeders, or depressed.
Bored college students suffer from lack of purpose and diminished life satisfaction.
In one study, participants overwhelmingly chose to self-administer electric shocks than to sit and endure boredom. Think about that for a minute! Clearly, boredom leads to poor choices.
You don't want to be the parent that runs each day like a drill sergeant, scheduled to the minute. However, you don't want your child moping around all summer complaining, "I'm bored." Instead, strive for a moderate approach. Sprinkling a few enriching activities into your child's schedule helps add purpose and meaning to the days. These endeavors build competence, character, capability, and competence. They build bridges of opportunity and keep the mind sharp, while fostering passions and exploration.
How To Enrich Your Child's Education Over The Summer
Shine offers a number of ways to enrich your child's education and bust boredom this summer:
1. Virtual Music Lessons
Shine offers online music classes for:
Piano
Guitar
Bass
Ukulele
Drums
Should your child take music this summer?
Scientists have called music "a breakthrough" for children ages two to nine. After 15 months of weekly instruction, children improve in fine motor skills, spatial intelligence, and sound discrimination abilities.
By age six, young musicians score at least three IQ points higher than their peers. (That three point difference can make the difference between being a clerk and being a manager.) On average, children in music education programs score about 22 percent higher in English and 20 percent higher on standardized math tests.
As we've explained in the past, music gives children a better understanding of themselves by emphasizing how emotions can be expressed nonverbally through music.
Benefits of virtual music lessons
Most students opt for one-on-one lessons, but we can also do group concerts and dance parties for kids who are missing out on the social aspect of school music class.
The video chats are much more fun than solo study and filling out practice charts on Google Classroom. Between lessons, students can use a smart software app to hone the skills they've learned.
Virtual lessons can be tailored for individual students, whether they appreciate the classics or have a penchant for modern music styles. Teacher rapport and real-time feedback ensures that instrument time is a fun, interactive part of the day.
The one-on-one time and personal attention goes above and beyond what kids typically get out of school music education or an app subscription, which makes all the difference in terms of motivation.
2. Second Language Lessons
Shine is offering online lessons at all levels for:
Should your child take language lessons this summer?
There are numerous benefits to learning a second language. Sure, your child will be more prepared for college and job opportunities one day, but language proficiency goes beyond the obvious. Research shows kids who can speak more than one language have denser gray matter – the part of the brain associated with emotional regulation, impulse control, and decision making. They grow up to be more empathic and better at problem-solving than peers who only speak their native tongue.
Why Spanish? With 33 million native speakers, Spanish is the second most common language spoken in the U.S. It's relatively easy to use, as 30% of English words derive from the same Latin roots as Spanish words.
Why Mandarin? Your child will be in good global company, as 873 million people speak Mandarin worldwide. Many kids love learning the beautiful artistic brushstrokes of writing Mandarin. In a sense, Mandarin is easy without verbs, plurals, tenses, or conjugations.
Benefits of virtual language instruction
Online language lessons allows children to learn at their own pace. We not only provide vocabulary, but strive to enhance your child's reading, writing, speaking, and comprehension skills.
We use a variety of multimedia and teach about the cultures behind these languages to spark curiosity and interest. Our classes are designed to engage and inspire.
While apps are gamified and fun, kids do not receive the same individual feedback, social interaction, and self-esteem boost as they do when working remotely with a teacher.
3. Zoom Craft Sessions
Shine is offering:
Curated craft bags geared toward ages 4-11, shipped to your home
Group online art classes
Private online art instruction
Should your child pick up crafting this summer?
Young children gain fine motor skills when they dabble in art. Whether your child is two or a teenager, the sense of emotional gratification of artistic expression is strong. Artistic exploration encourages children to engage in their senses, make thoughtful decisions, reflect upon natural beauty, and express their feelings.
According to PBS, young people who participate in the arts three hours a day three days a week for at least a year are four times more likely to be recognized for academic achievement, participate in math/science fairs, or win a writing award.
Benefits of Zoom craft sessions and craft bags
If you haven't seen our craft bags yet, check out this video on Instagram. They are chock full of creative free-flow materials, unique projects, and curated colors! We save you the time and hassle of researching what to do or going to the store to buy materials. You can use the materials as you wish, follow the tutorial, or hop on a Zoom group class for the social benefits.
Maybe your child has an interest in drawing, painting, fashion design, or culinary arts. Any type of art class can be explored with Shine's individual lessons online. Our art projects make great gifts for birthdays, holidays, end-of-year teacher presents, cheering up relatives, and cherishing as mementos.
Our virtual group parties have been wildly popular for child birthday parties. We can ship out supply bags to your whole crew in advance of your child's birthday and lead the group through a fun and special event, just as we would if we could be there in person. Unfortunately, you'll be in charge of cleanup this time, but we do include plastic table cloths to keep the mess to a minimum. To see the joy on your child's face as they share in a new experience with friends over Zoom will be well worth it.
Don't sit idle all summer. Engage and inspire with Shine's boredom busters including our craft bags and online classes!
https://shinenyc.net/wp-content/uploads/2020/05/Untitled.png
405
562
Shine
https://shinenyc.net/wp-content/uploads/2021/02/Shine-logo-300x220.png
Shine
2020-05-28 20:27:02
2021-10-18 14:03:05
3 Boredom-Busting Enrichment Activities for Kids in Quarantine