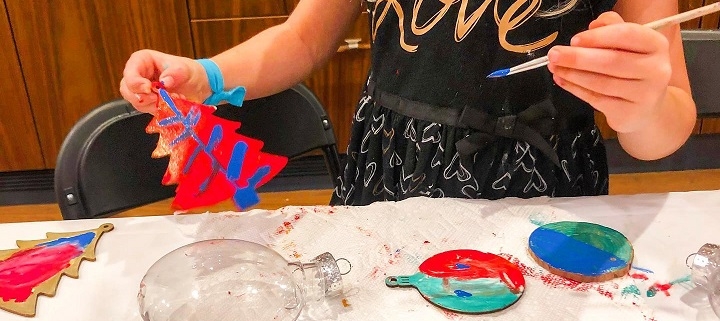 4 Ways To Spread Holiday Cheer
Perhaps this year, more than ever, you have a deep longing to make a meaningful contribution. Maybe the stay-at-home orders have given you more idle time to reflect. Perhaps you've weathered the pandemic well and want to pay it forward with a spirit of generosity. Or you might wish to serve as a positive role model, showing your little ones that it's not the receiving of gifts that brings joy to the heart, but the giving. It's not always easy to donate amid the current crisis. Some organizations are turning away gently used clothing because they're so inundated, while others are turning to corporate sponsors to reduce the points of contact. Here are a few charities still accepting the love and kindness of volunteers to fulfill their missions.
Adopt a Child's Letter to Santa
The Postal Service has received letters to Santa for more than 100 years. In 1912, Postmaster General Frank Hitchcock allowed postal employees and citizens to respond to these letters in what is today known as "Operation Santa.
Here's how to participate:
Visit the USPS Operation Santa website.
Look through the children's letters and find one that speaks to your heart.
Find and wrap the items on the wish-list.
Be sure to follow the shipping guidelines.
Bring your package to a local post office by December 19th so it arrives for Christmas.
On a more local level, Stockings with Care on West 24th Street in Chelsea runs a similar operation, where a volunteer "Santa" is matched with a local child's wish list to spread the magic of the holiday season. Through Amazon's Operation Smile Program, a percentage of what you spend can be automatically donated to Stockings with Care, too.
Make a Holiday Greeting Card for a Lonely Senior Citizen
More than 40 percent of America's seniors regularly struggle with loneliness – a situation that is compounded even more by the coronavirus pandemic and stay-at-home orders. Citymeals on Wheels works with volunteers to craft handmade cards to brighten the spirits of the homebound senior citizens. Last year, the organization delivered 76,106 cards.
Here's what to do:
Make your card out of folded-in-half cardstock or construction paper.
Write a seasonally appropriate greeting in marker or crayon on the front of the card.
Draw mood-lifting images. Avoid glitter or religious symbols or language.
Include a first name inside the card or sign "from your friends at Citymeals on Wheels."
Include a slip with your full name and email or mailing address.
Address the card to:
Handmade Card Project
Liz Cantillo
Citymeals on Wheels
309 Drake Street
Bronx NY 10474
You may also direct questions to Shiela@citymeals.org. Other opportunities exist through City Meals on Wheels throughout the year, including: driving for the meal delivery service branch; helping out at a food pantry, serving and make boxes; making weekly phone calls or visits to seniors; and volunteering in the donations office. As one 80-year-old woman explained: "The beautiful cards from the children adorn my walls. This food nourished my body, but the thoughts and love that come my way touched my soul."
Provide a Gift through Toys for Tots
Toys for Tots Foundation assists the U.S. Marine Corps in providing a sign of hope to economically disadvantaged children at Christmas. The local mission hopes to support 40,000 Long Island families in need. So far, they're a third of the way to reaching that goal, so any assistance you can provide will be much appreciated.
How to participate:
Purchase from popular toy categories like sporting equipment, books, backpacks, electronics, radio control cars and trucks, games, science kits, dolls, and hover boards/helmets.
Host a drop-off box at home if you'd like to have friends, family, and coworkers get involved. This is a great project to organize in memory of a loved one who has passed.
Participate in the Suffolk County Collection Drive on December 13th at 8 am, where a car parade drives from Millers Ale House in Commack, NY to Millers Ale House in Lake Grove NY to raise awareness and charitable donations.
You can also make a financial contribution here. As a top-rated charity, 96 percent of your donation goes directly to providing toys, books, and gifts to children, while the other 4% covers fundraising drives.
If you sell used toys on eBay, you can donate 10 to 100% of your sale price to the Marines Toys for Tots Foundation. Donors receive tax deductions and credit on eBay seller fees.
Host a Zoom Party for the Kids
Children exude resilience, even when they struggle internally to process all that's happening. Whether they vocalize it or not, your children are likely feeling pangs of loneliness and isolation from school cancellations and paused social lives. Throughout the pandemic, Shine has offered craft bags and online classes to bring kids together. Our fully customizable holiday bags are full of goodies from wreaths to treats you can bake. The Shine team of educators sing, dance, perform live music, and guide the party through activities tailored to your theme. We can also staff a private day camp hosting up to eight kids (ages 4-11) with arts and crafts, science and nature, games and sports, music and educational programming. Contact us for details.
Looking for more ways to give back? You might also like:
https://shinenyc.net/wp-content/uploads/2021/02/131431472_3799682993389568_5144267251128982928_o.jpg
417
720
Shine
https://shinenyc.net/wp-content/uploads/2021/02/Shine-logo-300x220.png
Shine
2021-02-04 19:26:28
2021-10-18 14:03:03
4 Ways To Spread Holiday Cheer