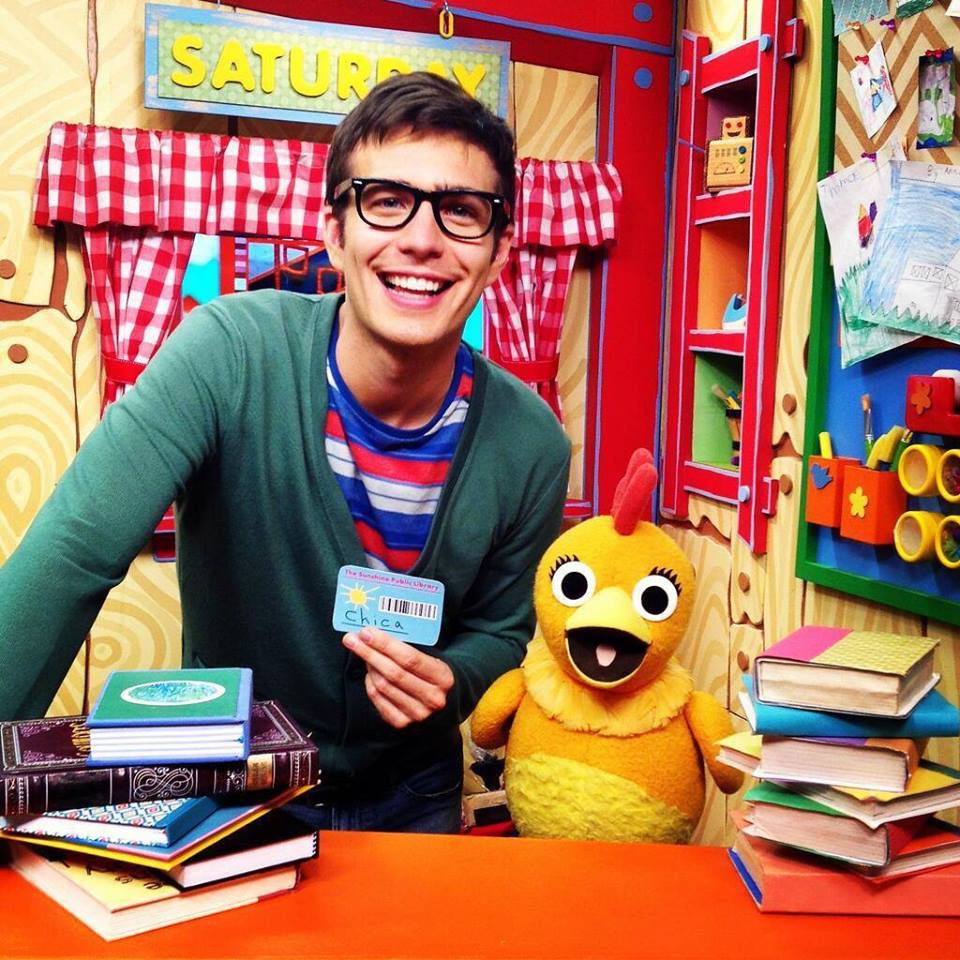 Welcome back to the Shine 9! For our back to school edition we thought we'd feature one of our favorite all around people adored by both kids and adults: Tim Kubart. Probably known best to the adult set as the "Tambourine Guy" from the viral music collective Postmodern Jukebox, Tim has performed with PMJ in sold out shows across the country and internationally. When he's not dancing with his tambourine, he's known best to kids as a host on the only live morning show for preschoolers, The Sunny Side Up Show on NBCUniversal's Sprout Channel. With his co-host Chica the Chicken, Tim sings songs, performs sketches, and celebrates everyday moments for a national audience of kids and their caregivers each day. Tim made his Sprout debut in the Macy's Thanksgiving Day Parade in 2013, and has appeared in NBC's long-standing PSA campaign, "The More You Know."
Tim's main project is music for kids and families. His "indie pop for all ages" aims to entertain without excluding anyone, young or old. Tim and his songwriting partner Matt Puckett weave their own childhood memories through textured pop tunes with lyrics that bridge the gap between innocence and wisdom.
His new album Home was just released September 25th and will include a multi-city tour this fall.
Tim lives and rides his bike in Brooklyn. He loves animals and we love Tim. With a mission in work and in life to spread kindness and joy and to encourage others to do the same, Tim Kubart is letting his light Shine bright.
1. What is your favorite children's book to read with your kids? What was your favorite children's book when you were a child?
"Where the Sidewalk Ends" was the number one book for my sister and me. We both were only allowed to have it for a short amount of time because we needed to pass it to the other one.
2. What children's movie or TV show holds a special place in your heart?
Fraggle Rock I think has instilled a great sense of community in my heart. The final episode Gobo says "Oh, I get it, I'm a part of everything and everything's a part of me" and I try to live my life with that sentiment.
3. What do you do creatively for yourself?
I normally keep this a secret, but I have a keyboard and I'm just terrible at it. I'm practicing, but I also just sit and put together chords and melodies for myself.
4. What children's TV show or character you wish would just quietly go away and never be seen or heard from again?
All I have to say is, I'm Team Grover.

5. What is the funniest thing you have ever heard a kid say?
"I didn't know you were in real life too!"
6. If you could become an expert at something, what would it be? OR what else did you think about becoming when you were a kid? Do you still dream of this?
I actually thought I'd be a kids TV host. I remember watching "Blues Clues" and thinking that I wanted to be Steve.
7. What was your favorite dessert as a child? Now?
Oh, I think I ate a lot of twinkies as a kid. Now I just eat bananas.
8. What was your most memorable birthday party?
There was a clown named Mr. Fun who put on a show in my backyard and I just thought he was the best. Sometimes I wonder what Mr. Fun is doing now.
9. What was your favorite trip you've ever taken?
Last year I traveled Europe with the group Postmodern Jukebox. We played a different city every night and then traveled overnight on the bus. I woke up one day in Paris, the next in London, the next in Prague, something like that. I got to spend all day in places I only knew from the movies, and then in the evening clown around with a crowd in my "Tambourine Guy" character. It was a surreal few weeks.
https://shinenyc.net/wp-content/uploads/2015/09/Tim-2.jpg
478
850
Shine
https://shinenyc.net/wp-content/uploads/2021/02/Shine-logo-300x220.png
Shine
2016-05-29 01:54:04
2021-09-23 18:58:23
Shine 9: Tim Kubart