Welcome to the Shine 9! For our second installment, we chose Sararose Benham, founder and manager of Sidekicks Staffing, one of the tri-states leading nanny referral agencies. For the last 3 years Sararose has been hand selecting the best staff for some of the city's most discerning clients. Prior to that Sararose was the general manager of Citibabes, a family club in NYC. Before Citibabes, she worked as a nanny herself for six years, with two families living in SF, NYC, and London. Sararose now calls Jersey City home and has a family of her own: husband Tom and daughters Willow, 4 and Waverley, 2.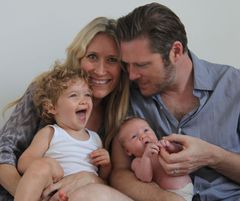 1. What is your favorite children's book to read with your kids? What was your favorite children's book when you were a child?
Currently my kids and I are really into these gorgeous pop up books by Lewis Carroll, with art by Robert Sabuda. We switch off a lot between Alice's Adventures in Wonderland and The Chronicles of Narnia.  When I was a child I fantasized a lot about The Childlike Empress in The Neverending Story. She was the monarch of Fantasia and was so beautiful to me. I loved her dress and her calm like demeanor plus the power she had.
2. What children's movie or TV show is a guilty pleasure now?
I have to say that I really enjoy Dora and Friends or "Big Girl Dora" as my girls call it. She has grown-up, moved to the City, and is just a really cool girl who does great things for the community. I think she is a great role model. My favorite episode the girls go to a Shakira concert and collect donations for charity in exchange for entrance fee.
3. What do you do creatively with your kids?
For creative projects with the kids, there are so many! Today we made a hopscotch down our hallway using washi tape which was fun and great for discussing shapes, numbers, and getting active on a cold snowy day. We bake, cook our own playdough, make colored rice, and do a lot of cardboard box forts and painting.
4. How do you handle your kids' use of media at home?
We are not extremely strict with screen time currently. I grew up with little to no TV and found that when I went to friend's homes that were allowed TV I wanted to binge on it and had little interested in actually playing. I'm trying to create balance. They go to preschool all morning so I'm cool with TV or iPad use especially shows like Super Why, Dora, Blue Clues, and Team Umizoomi. My four year old just watched The Wizard of Oz for the first time so we've talked a lot about that. As long as my kids are still interested in life, are creative and inspired I don't see a problem with shows and games during some quiet times. Plus, I need the electronic babysitter sometimes!
5. What children's TV show or character you wish would just quietly go away and never be seen or heard from again?
The one character the girls love that I could do without is Sofia the First. Although I do love me some Tim Gunn as Bailiwick the Butler, the voices and storylines just irk me to no end. The step-sister of Sofia is constantly having to learn a lesson that is over my kids heads and all they take from it is the naughty behavior and the idea that any girl can become a true princess.
6. What is the funniest thing your kid has ever said?
This is so hard. They say the funniest things all the time and now of course I can't remember when I need to. This isn't as funny as it was unbelievable but one evening my husband was reading our almost four year old a book and a character was feeling nervous. My husband asked her if she knew what nervous meant. She promptly removed her fingers from her mouth and said "Yes, it's a synonym for scared." I couldn't believe it!
7. If you could become an expert at something, what would it be? Or what else did you think about becoming when you were a kid? Do you still dream of this?
I would like to be an expert wildlife photographer in the arctic swimming with polar bears.
8. What was your favorite dessert as a child? Now?
As a child my favorite dessert was pink peppermint ice cream with chocolate sprinkles on a sugar cone. Yum. Now I would say any chocolate/toffee mix will do: Almond Rock, Skor bar, Heath Bar. Give it to me!
9. What was your favorite trip you've ever taken with your family? Or just ever taken?
I have had the great fortune to travel a lot. I grew up with parents who both traveled for work and I accompanied them all over the world at early ages. In college I lived abroad in Central America and Spain and in my work as a nanny I also did a great deal of traveling all over the world. I guess one of my very favorite trips was when my then boyfriend, now husband, and I traveled to Akumal, Tulum and Mexico City. We had such adventures and really submerged ourselves in the culture. Dancing in a local salsa club in Mexico City where the room pulsated and the walls beaded with sweat was a highlight. My girls have traveled a bit to London, Mexico, and California. I'm hoping they too get the travel bug and want to see the world as they grow. Next trip should be Australia since they are half Australian!
https://shinenyc.net/wp-content/uploads/2021/02/Shine-logo-300x220.png
0
0
Shine
https://shinenyc.net/wp-content/uploads/2021/02/Shine-logo-300x220.png
Shine
2015-01-21 00:51:07
2021-09-23 18:58:26
Shine 9: Sararose Benham