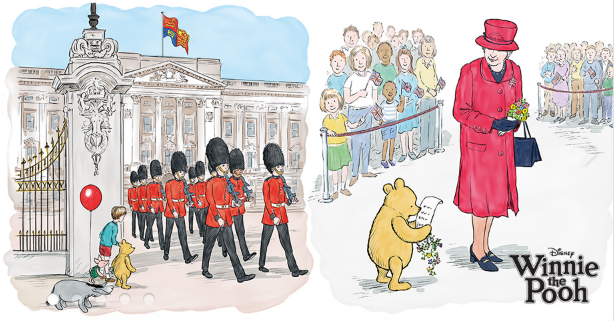 Too Poohtastic to Pass Up!
He has the most recognizable face. He's a style icon in his own right. And he greeted the President of the United States in his robe and slippers.
Yes! It's little Prince George!
And now, the poshest little Prince is getting immortalized again with a cameo in the latest Winnie-the-Pooh book. Available for free here http://winniethepooh.disney.com/.
The Que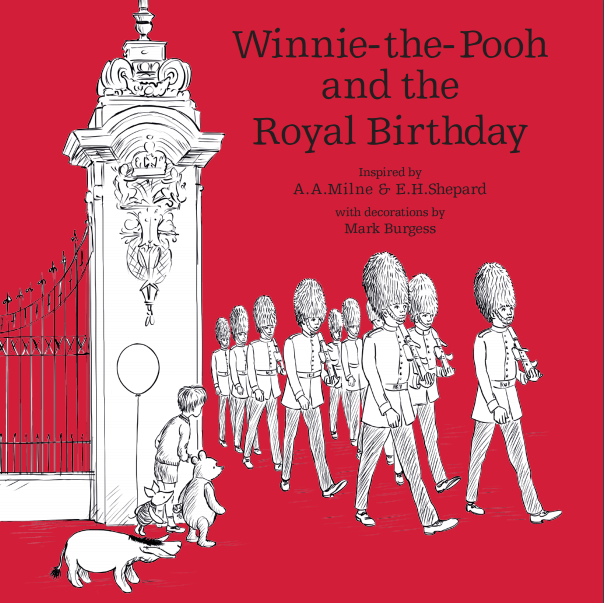 en and Winnie-the-Pooh have been close friends since birth. Not only were they both born in 1926 – making them ninety years old—author A.A. Milne dedicated a book of songs featuring Pooh, "Teddy Bear and Other Songs," to the newborn Princess Elizabeth. Rumor has it the Queen is just nutty for the good-hearted bear.
In the new adventure, "Winnie-the-Pooh and the Royal Birthday," Pooh and his friends receive the "most urgent" letter informing them of the Queen's big birthday. They decide to travel to Buckingham Palace to present the queen with what he calls "a hum." It goes a little something like this…
The Queen lived in her palace, as Queens often do.
Doing all those busy things that busy Queens do.
But The Queen could never know, as you and I do,
That doing nothing much can be the BEST thing to do.
So from a forest far away, for your special day,
We're sending you some quiet and a little time to play.
With the hum in tow, the honey pot-loving bear, Christopher Robin, and his woodland friends Eeyore and Piglet, set off for London. They encounter big-city sights in London, including the Tube and Trafalgar Square. And when they get to Buckingham Palace and see the Queen's Guard, Piglet wonders, "What do you think they keep under their hats, Pooh?"
When they finally meet the Queen, she is with a little boy "much younger than Christopher Robin and almost as bouncy as Tigger." Can you guess to whom who they were referring? It's Prince George! The story appropriately ends with Pooh saying, "It must be a very great thing to be 90 years old."
Written by Jane Riordan, Mark Burgess illustrated, and Oscar-winning actor Jim Broadbent (Professor Horace Slughorn of Harry Potter and Bridget Jones' Dad) narrates the audio story.
It's all perfectly charming—right down to Piglet handing his iconic red balloon to the little Prince.
By Claudia Chung, Assistant Teacher
https://shinenyc.net/wp-content/uploads/2016/07/Winnie-the-Pooh-2.png
329
614
Shine
https://shinenyc.net/wp-content/uploads/2021/02/Shine-logo-300x220.png
Shine
2016-07-22 20:01:32
2021-09-23 18:58:23
Too Poohtastic to Pass Up!