President's Day Activities
There are many holidays and celebrations that are more complicated to explain to children than others.  How do we find meaningful and age appropriate ways to explain holidays like Memorial Day, Labor Day, Veteran's Day and the upcoming President's Day to children under 5? We at Shine believe it can be done in thoughtful and innovative ways using books, music, art, cooking and dramatic play. In this week's post we take take the daunting task of turning President's Day into a creative and historical exploration by making powdered wigs, a coin rubbing collage and of course, eating ice cream (thanks George Washington)!
Shine offers workshops for all major holidays and celebrations and will even custom create a workshop based on your child's interests (dinosaurs, space, bugs, weather, etc.). Please contact us for more information or to set one up for your child and some of his/her friends.
However you chose to celebrate this holiday or any, we hope it is done together as a family utilizing the tools children innately posses… imagination and creativity.
Continue to shine your light –
Aaron Goldschmidt, founder & director
We all know that we celebrate Presidents' Day on the third Monday of February, but what else do we know about Presidents' Day / George Washington's Birthday? Did you know:
The observance of Washington's Birthday was made official in 1885 when President Chester Alan Arthur (our 21st president) signed a bill establishing it as a federal holiday.
In 1968 the Uniform Holidays Bill moved the observance of three federal holidays, including Washington's Birthday, from fixed calendar dates to designated Mondays.
From 1971 onward, Washington's Birthday was relocated to the third Monday in February – which actually guaranteed that it would never be celebrated on his actual birthday since the third Monday in February cannot fall any later than February 21.
The Uniform Holidays Bill proposed renaming the holiday "Presidents' Day" but this version of the bill was never passed.
This means that the holiday is technically not Presidents' Day – the official government holiday is George Washington's Birthday. (Arbelbide 2004)
So with another day off from school, what are some activities that can help teach kids about the importance of Presidents' Day and our first president? Let's start with a story, create powdered wigs and coin collages, and finish by eating ice cream!
Storytime: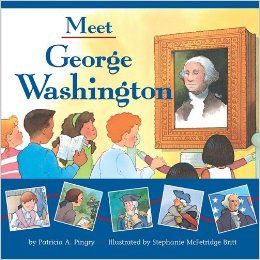 Meet George Washington by Patricia A. Pingry
This book provides a general introduction to George Washington from the time he was a young boy through his death at Mount Vernon.
He was legendary by the end of the American Revolution and is now known as the "Father of Our Country," and he was also:

"a little boy who dreamed of becoming a military officer just like his half brother Lawrence,
the ardent suitor of the beautiful young widow Martha Custis,
commander in chief of the Continental army,
hero of the Revolutionary War, and first president of the United States." (Pingry 2009)
Powdered Wigs Craft:
In colonial America in the 18th century, wigs were very fashionable. They were often made with human, horse, goat, or yak hair. This trend came from Europe where men wore them to appear older and distinguish them from other classes. Many wore wigs to appear older and keep up patriarchal appearance. Different wigs were also worn for different events: evening wear, every day wear, business, and riding. Around 1715 lighter color wigs were very fashionable but it was difficult to stabilize the color of bleached wigs, so powder was used to give wigs a grayish/white tint. Make your own powdered wig with this craft from Holidays Central!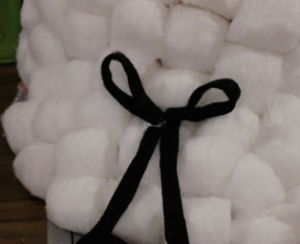 Supplies needed:
painter's hat
cotton balls (about half a bag)
white craft glue
4" x 2" black felt
scissors
Directions:
Stuff something inside the hat like a hand towel or a few rags, just to give it some shape.
Glue cotton balls to the hat, starting at the front and working your way back. Continue until the entire hat is covered.
Cut the black felt into 4 long strips. Glue 2 of them to the center of the bill of the hat (over the cotton balls) in an upside down "V" shape. This will be the tail of the bow.
Fold the remaining two strips in half and glue the ends together to form the bow ties.
Glue the bow over the bow tail. Allow to dry completely.
Wear hat backwards so the bow is above the nape of the neck.
Quarters and Dollar Coin Rubbing Collages:
Beginning in 1932, a special quarter with Washington's face was minted to commemorate the 200th anniversary of George Washington's birth. The quarter was so popular that it replaced the previous "Standing Liberty" version. (CoinFacts.com) From 1999-2008, the reverse side of the quarter changed 5 times a year through the 50 State Quarters Program. In 2009 the District of Columbia and U.S. Territories were added. To honor our presidents, the US began minting $1 coins featuring their images in the order they served in office.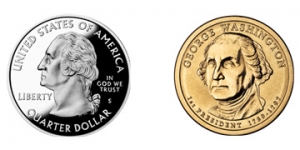 Supplies needed:
Quarters
$1 coins featuring George Washington
Crayons, colored pencils, etc.
Paper (basic copy paper works best)
Directions:
Place paper over various quarters and $1 coins and rub over them with crayons, colored pencils, etc. to create a collage.
Ice cream!
Did you know that George Washington loved ice cream? In the summer of 1790, George Washington spent roughly $200 (that's the equivalent of $5,000 in today's money) on ice cream. An inventory of Mount Vernon after his death revealed 10 ice cream pots among the kitchen supplies! Grab a scoop of your favorite flavor and enjoy!     
https://shinenyc.net/wp-content/uploads/2021/02/Shine-logo-300x220.png
0
0
Shine
https://shinenyc.net/wp-content/uploads/2021/02/Shine-logo-300x220.png
Shine
2014-02-13 02:11:40
2023-02-19 18:36:57
President's Day Activities