As Valentine's Day is one of those unavoidable consumer holidays, in our classes we use the weeks leading up to Valentine's Day to talk about love and what it means to us. It is fascinating to listen to children discuss who they love, why they love them, and what they can do to express their love. We talk about all the people in our lives that love us and that we love in return: mothers, fathers, teachers, nannies, siblings, grandparents, cousins, friends, even pets. We then set off on a week or two of making homemade cards for all of them. We use Valentine's Day to actualize the lyrics of one of our favorite songs, "Love is Something if You Give it Away." We like to have children take time out to make or bake something special for the people they love and give it or mail it to them.
Here, we welcome art teacher and blogger Christina Soriano to the Shine family. She shares a couple of quick, fun, and surprisingly beautiful art ideas for homemade valentines. And remember, a great way to give back around Valentine's Day is to make cards for your local senior center. Many  seniors don't have a valentine and to receive a handmade card from a child means more than chocolates or flowers ever could. What better way to illuminate the true spirt of of a holiday that could leave so many feeling lonely.
Continue to shine your light and open your heart –
Aaron Goldschmidt, founder & director
Make someone's heart shine this Valentine's Day and send them a handmade card! This is by far one of my favorite times of year to create cards and other handmade presents. It is a great way to keep kids creative and engaged on a cold winter's afternoon. I spent this weekend making some with my four-year-old nephew, Simon. The best part of the activity is that it promotes kindness and gratitude. Start off by asking children to make a list of all the people they care about. The fun part happens when ideas come to life when the glue, scissors, and materials take over!  Here are some ideas you can try at home: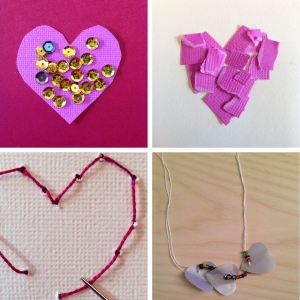 Torn Paper Heart Collage Valentine
Supplies needed:
Construction paper
Glue
Blank stationery
Directions:
Start by lightly drawing a heart on your stationery with pencil.
Tear colored paper into small pieces
Glue and overlap the small pieces within the shape until it is filled in!
Heart of Gold Collage Valentine
Supplies needed:
Construction Paper
Glue
Sequins or other embellishments
Blank stationery
Directions:
Cut a paper heart out of the colored construction paper
Glue to stationery surface
Glue on gold sequins or other embellishments! This is one blinged out greeting!
Stitched Heart Valentine
(*Depending on age and skill, I would advise guardian supervision or assistance.)
Supplies needed:
Embroidery needle
Embroidery floss or thread
Blank Stationery
Directions:
Using a pencil, lightly draw a heart on the stationery surface.
Take the embroidery needle and poke holes through the pencil lines to create a stitching pattern.
Thread embroidery needle and make sure to knot the end.
Sew through stitching lines using running or backstitch. Either one looks great!
When sewing is complete, knot on the opposite side of the paper and cut off excess thread.
Bead and Heart Friendship Necklace
(*Depending on age and skill, I would advise guardian supervision or assistance.)
Go the extra mile and adorn your Valentine with a handmade necklace or bracelet depending on how long your string is!
Supplies needed:
Beads
Thick embroidery floss
Embroidery needle (*make sure the beads can fit through the needle)
Novelty items (*for this sample we used pre cut hearts made of thick colored parchment and sequins)
Directions:
Estimate and measure the length for embroidery floss or string. Make sure it can fit over a child's head safely.
Be creative and develop your own color patterns. There are no rules for creativity here!
Knot the ends together
Don't forget to write a personalized handwritten greeting in each card you give out or send in the mail! Happy Valentine's Day!
By Christina Soriano, Shine art specialist
https://shinenyc.net/wp-content/uploads/2021/02/Shine-logo-300x220.png
0
0
Shine
https://shinenyc.net/wp-content/uploads/2021/02/Shine-logo-300x220.png
Shine
2014-02-06 02:09:25
2021-09-23 18:58:28
DIY Valentines