A Plucky Snowplow Becomes the Rocky of Trucking
Yesterday, I saw a man riding his bike wearing red and green Bermuda shorts. That's the kind of winter we are having in New York City. People are still working on their tans in Central Park, commuters are sipping ice coffee while riding the subways, and parents are opting to do their holiday shopping in real stores—not the internet, because it's so warm outside. It feels like a California kind of winter. And while I love a good sunny day, I still cling to the hope that New York will get a white Christmas.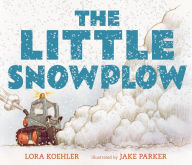 The first snowflake has yet to come, but I did find an adorable little picture book about snow that got me believing that the holidays are coming. Written by Lora Koehler, The Little Snowplow is an underdog's story of being dismissed as a pipsqueak but later proving he has the right stuff. Think The Little Engine That Could mixed in with the movie Rocky and you have Snowplow.
When a little snowplow joins the Mighty Mountain Road Crew, the big trucks, including a dump truck, a cement mixer, a garbage truck and a utility truck, don't think the little snowplow can handle the job when the snow comes. "Leave the heavy lifting to us," they tease. In true underdog fashion (insert the song Eye Of The Tiger), the little snowplow starts to train hard. Each night he does his "reps" (raising and lowering his plow ten times) and pulls blocks of concrete, "just in case."
Unfortunately when the snow finally does arrive it's a blizzard—fast, intense, and heavy. The storm is too much for the little snowplow to handle alone, so he has no choice but to call for back up. But when one of the big truck gets buried in the snow, the little snowplow is the only truck that's small enough to dig it out and to save it. He becomes the hero.
The end of the book is a tiny bit lackluster. The little snowplow is pooped out from the adventure-filled day and welcomes sleep. The illustration by Jake Parker is simply charming, however, playful and whimsical. It takes a special artist to be able to draw trucks with faces that evoke reaction and portray emotions. Also, they are mighty cute. It anchors the book.
The Little Snowplow is a familiar tale and the lesson is a good but traditional one. Believe in yourself, even when others underestimate you. Work hard and somehow, some way it will pay off.  If only the book ended with the little snowplow finding a little girl snowplow named Adrian to help celebrate his victory.
By Claudia Chung, Shine PR and Marketing Manager and Assistant Teacher
0
0
Shine
https://shinenyc.net/wp-content/uploads/2021/02/Shine-logo-300x220.png
Shine
2015-12-21 22:38:03
2021-09-23 18:58:24
A Plucky Snowplow Becomes the Rocky of Trucking