Shine's Spring Gardening: Let's Get Dirty!
To most people, spring is when the birds starts to chirp, flower buds manifest, and the sun rays dial up to warm.  But for me, from the time I can remember, spring was when I got dirty!
From spring to the end of summer, I was always dirty. My shirt was stained from the constant popsicles dripping from my mouth. My knees were scabby or bloody from rolling down the hill in our backyard. And my face was permanently smeared with dirt from trying to grab the pesky gopher that lived in our vegetable patch (I turned him into my pet and named him Bucky). After a while, my parents just gave up and never dressed me in nice clothes unless it was for a special occasion – preferably one that would keep me indoors, or when it was time to go to school. You could say that for a few months a year, I was the girl version of Pigpen, but loved a stuffed monkey instead of a blanket.
Growing up as a California girl, I thought backyards with mini-fields of happy white daisies were the norm. Fresh strawberries, cherry tomatoes, cucumbers, and peppers that I'd pick and eat off the vines were just part of my day. For some reason, once my mother cooked them, they lost their appeal. But if they were warm from the sunshine and covered in dirt, they were delicious! To this day, I prefer almost green, under-ripe peaches and nectarines, as I was never patient enough to wait for them to mature on Pinksy, our nectarine tree.
One of my fondest memories involves my whole family planting in the spring and harvesting their goodness throughout the summer. Those thoughts are vivid and clear, recalling each year I got to play with dirt, watch our plants grow, and taste the fruits of our labor.
So by all means, if you have a yard, plant something! But for all the city parents and kids, you can experience a similar pleasure by making a little window garden of your own. No grass needed. All you need is a little moxie and creativity.
Here is Shine's guide to creating the simplest windowsill herb gardens with your kids!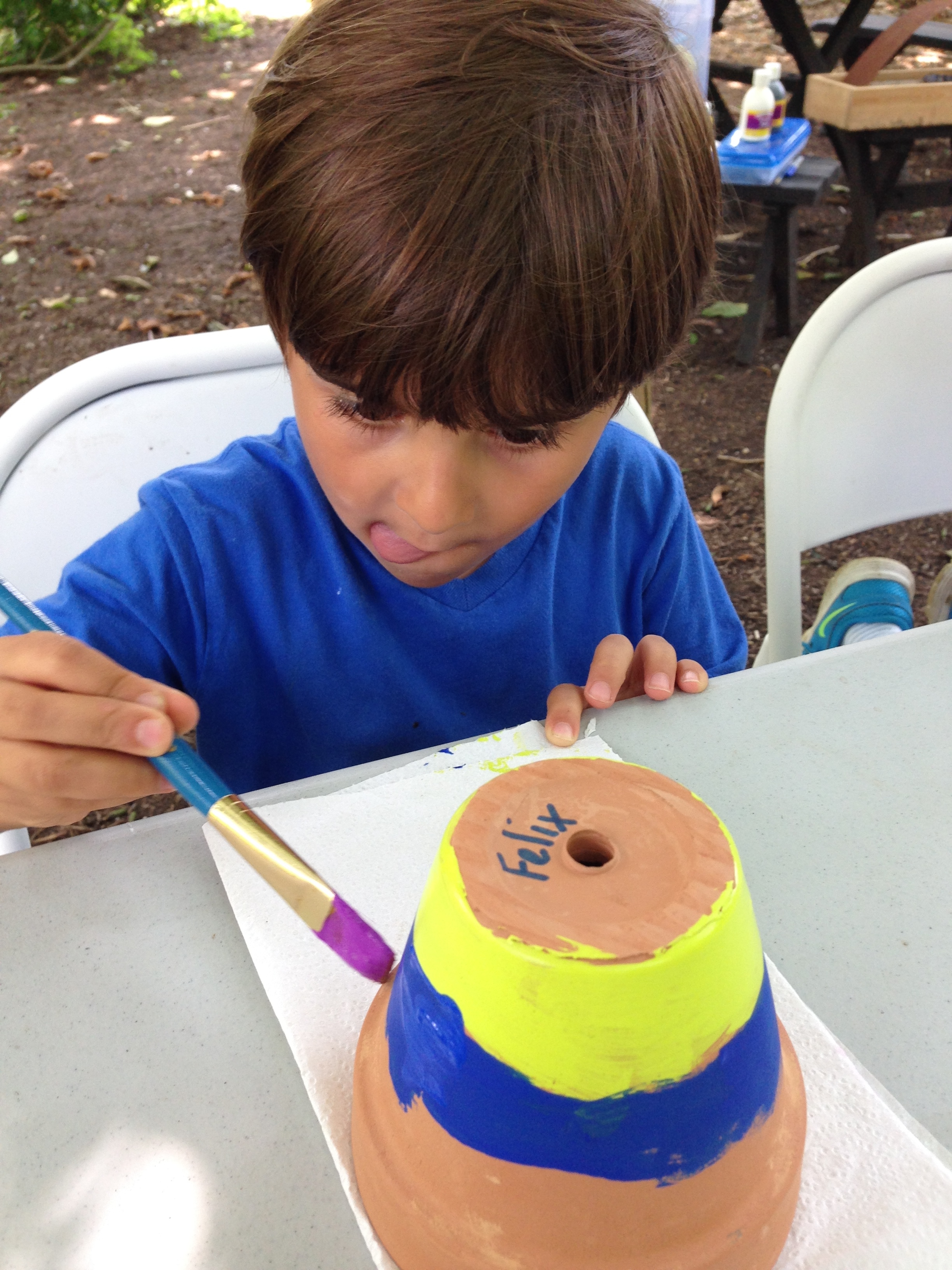 What you'll need:
Young starter herbs: Available at garden centers and some supermarkets, herbs such as oregano and basil for spaghetti or pizza sauce, cilantro to add to tacos and salsa, and lavender for the pretty flowers to make into potpourri.
Containers with Drainage Holes: They can be planters from garden center or you can make them from colanders or coffee cans! Just avoid plastic that might break or melt in the sun, and anything that might contain lead paint. Make sure the containers have enough room for the plants to grow. Once the containers are bought or found, punch or drill holes in the bottom for drainage and you're set. (Make sure you put a plate under the pot to catch the excess water!) Then kids can paint and decorate the containers before they start planting. Let paint dry before handling soil.
Potting Mix and Plant Food: Available at garden centers and some supermarkets.
Sunny Spot: Most herbs need about six or more hours of sunlight a day to thrive.
With your kids, add potting mix to container and plant your starter herbs, leaving plenty of space between each plant to grow. Also be sure to check the information that comes with the plant for spacing requirements. Then mix plant food and water and place in a sunny spot.
Continue to water according to the instructions that come with each plant. Kids can harvest the herbs continually through the summer once the plant has enough foliage to sustain growth. Then get cookin'!
By Claudia Chung, Assistant Teacher
https://shinenyc.net/wp-content/uploads/2016/04/IMG_2870-scaled.jpg
2560
1920
Shine
https://shinenyc.net/wp-content/uploads/2021/02/Shine-logo-300x220.png
Shine
2016-04-04 01:29:14
2021-09-23 18:58:23
Shine's Spring Gardening: Let's Get Dirty!