10 Amazing U.S. Family Vacations To Take Before Your Kids Turn 13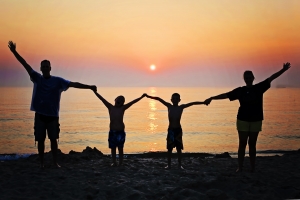 Material gifts are fun, but their impact is fleeting. Instead, save your pennies for family travel, say child development researchers. The Journal of Commercial Research found that visiting a new place offers mental stimulation and crucial bonding time with family members. "Younger travelers had better grades in school, a better understanding of finances, a deeper sense of identity, and broader perspectives of the world," reports WKBW Buffalo.
People will say to you travel is wasted on the young – that they won't remember any of it. But travel is about more than taking photos to look back upon later. Like a good-night story or a trip to the playground, travel encourages children to use their imaginations, stimulates open-mindedness, teaches them to adapt to new situations, and helps bridge the gap across developmental milestones.
So, plan your trips guilt-free. Orchestrating a family vacation requires a bit of work and a lot of patience, but you'll all be better off for it. If you're keeping a bucket list, add these 10.
1. Lake Champlain, VT
Ideal For: Babies & Toddlers
Best Time To Visit: The resort is open late May through mid-September, with special rates available in May, June, and September.
Why Go: The Tyler Place Family Resort is a huge draw, offering unique programming for newborns up to 30 months, a kids camp for toddlers, and Parents' Night Out babysitting whenever you wish. Parents enjoy cocktails by candlelight, while knowing their kids are well attended with one stand-in caregiver for every two children. When you wish to spend time together, you can take advantage of bikes with baby seats, craft activities, water sport outings, and parents' helpers to come along on your excursions. With a playhouse playground, fishing, water play areas, theme parties, campfires, storytelling, teepees, tree houses, and all-inclusive pricing, what's not to love?
More To Do: You may never want to leave the resort, but there is plenty to do in the surrounding area if you'd like to taste a little of Vermont. Forty-five minutes from the resort in South Hero, Allenholm Farm is a fun place to cycle, pick apples, visit friendly farm animals, and grab a farm-to-table bite to eat. On a rainy day, the ECHO Science Museum offers hands-on exhibits encouraging play and learning for the 0-6 crowd. Other fun places for little tikes include: Lake Champlain Chocolates, The Shelburne County Store, the Shelburne Museum, and The Vermont Teddy Bear Company. Be sure to visit Ben and Jerry's! The Jay Peak Resort offers a climbing gym, movie theater, indoor ice arena, and indoor waterpark for older kids, ideal for a rainy day.
2. Disney World – Orlando, FL
Ideal For: Any age, though kids under 5 will have ride height and stamina limitations. Kids under 3 are free! Four-to-eight tend to be the sweet spot. Once your kids hit 44" in height, the World is their oyster.
Best Time To Visit: March to May offers pleasant weather (50s-80s) and the most agreeable prices, especially if you avoid holiday weekends or standard school recesses. September to mid-November is another excellent time to find reasonable rates and comfortable temperatures, although it falls in the June-November hurricane season. The worst times to book are during the November to February rush or the summer humidity.
Why Go: Walt Disney World in Orlando is ranked by Trip Advisor as "the #1 Best Family Vacation in the USA" – and for good reason. There's no other place in America that celebrates childhood and tugs at the heart strands more than Disney World. Designed to be "the happiest place on Earth," a Disney vacation is designed to be as stress-free as possible with effortless travel between parks, all-inclusive wristbands, attractions for all ages, and over-the-top friendly staff. The rides are epic journeys through entire films and the realms Disney has created; even the queues are attractions in and of themselves! On top of that, you'll be treated to character meet-and-greets, parades, firework displays, princess makeovers, and world-class performances. The Disney World park system includes kid-favorite Magic Kingdom, parent-favorite Epcot, Animal Kingdom, Hollywood Studios, and two water parks – Typhoon Lagoon and Blizzard Beach. You could feasibly see a different park every day during your trip, though Park Hopper passes let pros navigate between the parks within the same day.
More To Do: In addition to Disney World itself, Orlando offers the Wizarding World of Harry Potter at Universal Studios, SeaWorld Orlando, the Kennedy Space Station, the Orlando Science Center, Legoland, Gatorland, a Ripley's Believe It Or Not museum, and the Crayola Experience.
3. San Diego, CA
Ideal For: Ages 3-13
Best Time To Visit: September through November is always a terrific time to visit, but particularly October – which offers free child tickets along with the purchase of an adult ticket for most major attractions. You can also find decent rates and low traffic in March and April. May and June tend to have the most overcast days, while the winter months see the most rainfall – so you'll want to avoid those times if that sort of weather matters to you.
Why Go: San Diego boasts warm weather year-round and loads of family-friendly attractions. The San Diego Zoo is one of the nation's treasures and one of the places to see giant pandas, Australian koalas, Sumatran tigers, naked mole rats, California condors, and polar bears. Over 4,000 animals from 800+ species are assembled in this one magical place, including many rare and endangered.
More To Do: In addition to the San Diego Zoo, Balboa Park is a great place to kick off your trip among beautiful gardens and museums. Kids love The NAT's animatronic dinosaurs, the kids' aviation hangar at the San Diego Air & Space Museum, hiking among towering palm trees at the Palm Canyon Trail, hands-on science displays at the Reuben H. Fleet Science Center, the New Children's Museum, SeaWorld San Diego, the antique carousels at Seaport Village, the "Coney Island" type experience at Belmont Park, and the Cabrillo National Monument's tide pools. With 70 miles of coastline, you'll find plenty of sand for a carefree holiday. Seashell-packed Silver Strand, surfer hangout Oceanside, swimming and picnicking at Mission Beach, La Jolla's sea lion watching, and the quaint Coronado are a few area favorites.
4. Massachusetts
Ideal For: Toddlers & Early Elementary School Age
Best Time To Visit: The weather is warm from late March through October. Tourist traffic tends to be heaviest in the summer months once school lets out. The autumn months represent a particularly scenic (and affordable) time to visit New England in all its splendor.
Why Go: Cape Cod gets all the publicity for being a family-friendly vacation destination, but there's much to do elsewhere in Massachusetts. Plan your trip around the Iconic Illustrators' Trail for starters, which includes stops at The Springfield Museum (home of the new Amazing World of Dr. Seuss Museum), the Eric Carle Museum of Picture Book Art in Amherst, and the Norman Rockwell Museum in Stockbridge. Then make your way to Edaville, an amusement park featuring vintage carousels and Ferris Wheels, in addition to a Thomas the Train land and outdoor Dino Land trail with life-sized dino statues. Themed weekends include Superhero & Princess weekend, Curious George Weekend, and seasonal events like the "Not So Spooky Halloween" in October, and our Christmas Festival of Lights.
More To Do: Older kids might enjoy an additional beeline to historic Plymouth Rock, which will supplement what they've learned in school. It's not just about "the rock," though! Don swashbuckler hats and face-painted mustaches for a Pirate Cruise off 9 Town Wharf. Experience life in olden times at the Plimoth Plantation living museum. Climb aboard the Mayflower II, a life-size replica of the original pilgrim vessel. Listen to paranormal tales on a Dead of Night Ghost Tour. Hike, canoe, and fish at Myles Standish State Forest. See cranberry bogs at Flax Pond Farms. One hour away, you'll find the New England Aquarium – so famous, a replica of it is featured in the Disney movie "Finding Dory." More than 1.3 million visitors come each year to see the cylindrical 200,000 gallon tank simulating Caribbean coral reefs that houses sharks, turtles, stingrays, moray eels, barracuda, and colorful reef fish. The massive penguin exhibit is another big draw. See rare sea dragons, piranhas, cuttlefish, horseshoe crabs, and jellyfish. Kids love the exhilarating manta ray touch tank and visiting the Northern fur seals and California sea lions.
5. Gatlinburg, TN
Ideal For: Elementary age children
Best Time To Visit: Summers bring swarms of travelers to the sleepy town of Gatlinburg. September and October are the best off-peak months to visit. Weekends in October tend to remain busy, as the fall foliage crowd arrives. March to May is another low-season time to discover deals – and fields of wildflowers.
Why Go: Trip Advisor ranks Gatlinburg the fourth most-affordable destination in the USA. Great Smoky Mountains National Park in downtown Gatlinburg attracts more than 40,000 visitors a year with miles of hiking, biking, and horseback riding trails, camping, historical exhibits, and wildlife viewing areas in Cataloochee and Cades Cove for black bear, elk, white-tailed deer, raccoons, coyotes, box turtles, and turkeys. During the snowy months, you'll be treated to Winterfest, Winter Magic Tunes & Tales, Fantasy of Lights Christmas Parade, Trolley Holiday Lights tours through town, and a New Year's Eve Ball Drop.
More To Do: Get a bird's eye view of the park from the Gatlinburg Space Needle or the Ober Gatlinburg Aerial Tramway. Watch a late 19th century vaudeville performance at Sweet Fanny Adams Theatre. Walk through an underwater tunnel and touch a ray at Ripley's Aquarium of the Smokies. (There's also a massive Ripley's Odditorium to get lost in!) See local craftsmen create everything from pottery and jewelry to brooms and hand-blown glass at the Arrowmont School of Arts and Crafts. If you visit during the winter, Ober Gatlinburg Ski Resort is a bustling place with skiing, snowboarding, snow tubing, ice skating, mountain coasters, a kiddie park, and a small zoo. For a great selection of toys, peruse The Lollipop Guild.
6. Sanibel Island – Fort Meyers, FL
Ideal For: Toddlers & Preschoolers
Best Time To Visit: The best deals for this year-round vacation destination are in the summer, but that's also a gamble with hurricane season. As with any snow bird destination, the winter holidays are the busiest time of year. December to April represents peak travel season. Late fall is a good time to secure a room deal if you don't mind chillier waters. May or early June are decent low-traffic times.
Why Go: Ranked among Trip Advisor's top 10 "Best Florida Beaches," "Best Winter Family Vacations," and "Best Family Beach Vacations in the USA," Sanibel Island offers the relaxing beach atmosphere you need to decompress, with plenty of exploration opportunities for the kids. The Gulf Coast barrier islands are famous for their abundance of seashells and for wildlife. You can spot dolphins off-shore, scout for ghost crabs digging tunnels on the beach, or visit alligators, river otters, roseatte spoonbills, and manatees at the J.N. Darling National Wildlife Refuge. Periwinkle Way is Sanibel Island's main thoroughfare, packed with restaurants, shops, and choice hotels. Captiva's South Seas Island Resort offers a quiet, laidback vibe with beach villas steps from the shore, on-site restaurants, shops, a water park pool, a Turtle Tots craft center, and large sea mammals hanging out by the docks. Get waist-deep into the water at Bowman's Beach to dig up some of the more unique shells.
More To Do: While Sanibel Island is known for its shells and art galleries, Captiva Island offers more eclectic dining options and quieter beaches. The gentle waves are perfect for tots who like to swim. Older kids can fish aboard a 25-foot boat sailing out of Tween Waters Marina, where they can catch redfish, tarpon, snook, and snapper, while looking for sharks and dolphins. Sea kayaking through Buck Grove Island offers the opportunity to see manatee and otters up close.
7. The French Quarter – New Orleans, LA
Ideal For: Preschoolers & Early Grade School
Best Time To Visit: February through March offers comfortable temperatures and a celebratory mood when Mardi Gras is in full swing. December and January are quieter months when it's easier to find accommodations.
Why Go:  New Orleans isn't just for Mardi Gras party animals. There's a surprising glut of family-friendly festivities in the city all year round. In Jackson Square, jugglers, mimes, and jazz bands play in the streets. Watch the performers from an outdoor table at Café du Monde, where you'll taste warm French beignet doughnuts covered in powdered sugar. Walk along the Mississippi River to the Audubon Aquarium of the Americas and the Audubon Butterfly Garden and Insectarium. The quaint St. Charles streetcar can get you to the Audubon Zoo in the Garden District. The Louisiana Children's Museum presents more than 30,000 square feet of hands-on, interactive exhibits, such as a Little Port of New Orleans, the opportunity to step inside giant eyeballs to see how other animals view their surroundings, a play café, and an enclosed playspace for babies to safely crawl and climb.
More To Do: Outside NOLA, you can experience the authentic Cajun countryside at Bayou Pierre Alligator Park in Natchitoches. Gators & Friends in Greenwood has a fully stocked petting zoo with lemurs, capybaras, kangaroos, deer, and coatimundi, in addition to the big reptiles. The Baton Rouge Zoo is a popular attraction housing endangered animals like the Black Rhino, Guam Rail bird, Arabian Oryx, and Golden Lion Tamarin, and featuring prominent areas for otters, tigers, and flamingos. Along America's Wetland Birding Trail, which cuts through 22 Louisiana parishes, there are over 115 bird watching sites with Prothonotary Warblers and Blue Herons at Lake Fausee Pointe State Park, to Great Egrets and Roseate Spoonbills at Cypress Island Preserve. You can fish, camp, and collect shells along the sugar sand beaches of the Cajun Riviera. (Find the best treasures at Mae's Beach and the Creole Nature Trail!) Travel back to the Victorian Era with older kids at the Spring Street Historical Museum on the Shreveport-Bossier side of the state.
8. Yellowstone National Park – WY, MN, ID
Ideal For: Gradeschoolers
Best Time To Visit: April to May and September to November bring mild weather and fewer crowds. July and August are the most popular months to visit when the kids are off school and the weather is warmest, though temperatures have been known to drop as low as 30 — even in the summer!
Why Go: Trip Advisor ranks Yellowstone #1 in "Best Family Vacations." America's first national park has the highest concentrations of geysers in the world – most famously, Old Faithful, which shoots to the sky every 90 minutes. Away from the geyser, you'll find enough untouched territory to explore that you forget 4 million visitors flock here each year. Multi-colored thermal pools, stinky mud pots, mountains, canyons, lakes, and waterfalls make up the scenery of the 3,472-square-mile park. Notable places to visit include: Yellowstone Lake, Mammoth Hot Springs, Hayden Valley, Lamar Valley, West Thumb Geyser Basin, Lewis River Channel, and Dogshead Loop. Wildlife like bison, elk, grizzly bears, wolves, and bighorn sheep are part of the allure, too.
More To Do: In Wyoming, take a wildlife expedition out of the Teton Science School in Jackson Hole. Grand Teton National Park offers ample wildlife and scenic peaks nearby. Dig for bones at the Wyoming Dinosaur Museum in Thermopolis. See a rodeo in Cody. In Montana, hunt for sapphires at Gem Mountain in Philipsburg. Tour Virginia City by stagecoach. Enjoy a family-friendly show at the Playmill Theatre in West Yellowstone. Stop for a family photo opp at the Roosevelt Arch in Gardiner.
9.  The Grand Canyon – AZ
Ideal For: Tweens
Best Time To Visit: The Grand Canyon can get very busy, with six million visitors a year. Memorial Day to Labor Day represents the high season – especially once school lets out in summer. For lower traffic volume and cooler daytime temperatures, try March through May or September through November.
Why Go: CNN Travel called the Grand Canyon one of the "Places That Can Change Your Child's Life," adding that it's a "thrilling glimpse into the inside of the Earth." Trip Advisor ranks the Grand Canyon as the #1 "Cheap Summer Vacation." While colonial civilizations in America are relatively young, the rock formations are not! Some of the Grand Canyon rocks are millions of years old. The 277-mile-long, 6,000-foot-deep gorge is one of nature's most magnificent spectacles, and a UNESCO World Heritage site. Ranger-led tours will help you make the most of your trip. If you want to explore by mule, you'll need to book at least a year in advance. You can also take a sunset horse-drawn wagon ride out of Grand Canyon Apache Stables that culminates in a campfire. Test your nerves on the glass-bottom Skywalk observation deck on the West Rim. Grand Canyon Village and the Bright Angel Trail along the South rim are the most popular spots for sightseers and hikers, so it naturally has the most amenities for families. Rent a bike from the Visitor Center to take along the paved five-mile Rim Trail to South Kaibab. The North Rim is more remote for the hardcore hikers.
More To Do: Flagstaff, Arizona is the nearest city to the Grand Canyon area, about 90 minutes south. It's worth spending a day surrounded by the majestic scenery of Antelope Canyon and Horseshoe Bend. See the darkest night sky from the Lowell Observatory. See Native American arts and crafts and dinosaur bones at the Museum of Northern Arizona. Explore an ancient pueblo town at the Wupatki National Monument. Float on a whitewater raft down the Colorado River if you have older thrill-seekers in tow. Play cowboys and cowgirls on a trek through Coconino National Forest with Hitchin' Post Stables. In Williams, get an up-close view of bears at Bearizona Wildlife Park or hop aboard the Grand Canyon Railway.
10.   An Alaskan Cruise
Ideal For: Gradeschoolers and Tweens
Best Time To Visit: To get the best prices, sail early in the season in May or late in September, though it could be a gamble. Go too early and it could be chilly. Go too late and it could be dreary with rain. June, July, and August are the peak travel months, when prices are highest. It's best to book your travel in October or November before the season starts to get the room of your choice at a decent rate.
Why Go: Princess Cruises takes you through the orca playgrounds, glacier pathways, iceberg parks, and frozen landscapes of Alaska with naturalists and park rangers on board offering educational programming. Kids love Movies Under The Stars, swimming pools, and the tween clubs. There are family-oriented shows, carnivals, dance parties, and fitness activities on board. All the dining is top-caliber. On port days, you can visit Gold Rush towns, take a dogsled tour, or go on a guided excursion through Denali National Park.
More To Do: See dinosaur tracks and wildlife in Denali National Park. Raft Alaskan waters like the Chena River with kids 6 and up. See puffins, octopus, and sea lions at the Alaska Sealife Center. Ride the train through the El Dorado Gold Mine and pan for your own treasure. See the ice fields at Kenai Fjords National Park. View Amur tigers, yaks, polar bears, fox, caribou, wolves, and elephants at the Alaska Zoo in Anchorage. Take a narrated journey from the interior to the Kenai Peninsula on the Alaska Railroad.
Full List of Resources:
https://academic.oup.com/jcr/article-abstract/43/6/913/2632328?redirectedFrom=fulltext
https://www.wkbw.com/news/studies-show-traveling-is-crucial-when-it-comes-to-kids-emotional-growth
https://www.huffingtonpost.com/entry/7-reasons-why-travel-is-never-wasted-on-young-kids_us_5871fec7e4b08052400ee36f
https://www.familyvacationcritic.com/lake-champlain-vermont-family-vacation/dat/
https://www.vermont.org/blog/8-family-friendly-things-to-do-on-a-rainy-day-on-lake-champlain/
https://www.today.com/parents/40-must-see-places-take-your-kids-they-re-grown-t74481
https://travel.usnews.com/rankings/best-family-vacations-in-the-usa/
https://www.budgettravel.com/article/15-places-your-kids-should-see-before-15_7072
https://www.parents.com/fun/vacation/10-best-cities-for-families-to-visit/
https://www.parents.com/fun/vacation/ideas/san-diego/
https://www.carlemuseum.org/content/iconic-illustrators-trail-release
https://www.familytravelmagazine.com/edaville-thomas-land/
https://en.wikipedia.org/wiki/New_England_Aquarium
https://www.parents.com/fun/vacation/10-best-cities-for-families-to-visit/
https://www.today.com/parents/16-best-places-go-vacation-baby-or-toddler-t73466
https://suburbanturmoil.com/30-things-to-do-with-your-family-in-gatlinburg-this-winter/2015/12/03/
https://blog.trekaroo.com/top-10-things-for-families-to-do-in-louisiana/
https://www.mnn.com/lifestyle/eco-tourism/stories/10-must-see-treasures-outside-yellowstone
https://www.flagstaff.com/family-friendly-things-to-do
http://www.post-gazette.com/life/travel/2012/11/04/Alaska-Timing-is-the-gamble-when-planning-a-cruise-to-this-state/stories/201211040171
https://shinenyc.net/wp-content/uploads/2021/02/Shine-logo-300x220.png
0
0
Shine
https://shinenyc.net/wp-content/uploads/2021/02/Shine-logo-300x220.png
Shine
2018-07-22 18:06:25
2021-10-18 14:03:15
10 Amazing U.S. Family Vacations To Take Before Your Kids Turn 13