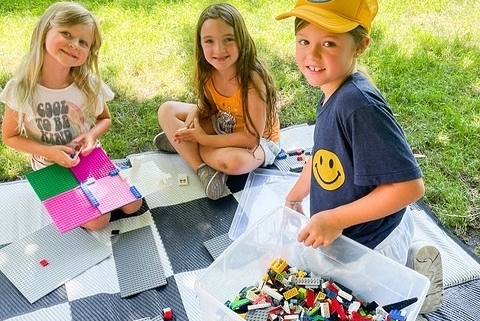 Structured vs. Unstructured Play: Which Is Better?
Every child is born into a very important job—and that job is play. Through play, children observe, explore, experiment, and learn about the world around them. They interact with other children, pick up social cues, and work through their emotions. Play involves visual, motor, and higher-level thinking skills, while promoting creativity, imagination, and problem-solving abilities. Play is a critical part of early childhood development, but there are different types of play to be aware of—most notably structured (guided) and unstructured (free) play.
What is Unstructured Play?
Unstructured play involves open-ended activities where no instruction or rules are given. During unstructured play, the child may be playing alone, alongside others, or with others. "Let kids be kids" is often the mantra for parents and educators who feel this type of play is best. The emphasis of unstructured play is on discovery, improvisation, and self-learning. With unstructured play, there is less pressure about "getting it wrong." While enjoying freedom, children develop self-control and learn to self-regulate.
Examples of unstructured play include:
Infant "tummy time," where babies are placed on their bellies with toys nearby
Free play activities like block tower building, dress up, or playing with figurines
Art activities like coloring, painting, or drawing
Playing at the playground or running around in the yard
Storytelling and looking at books of interest
Among the many benefits of unstructured play:
There are no limits. Children can be as imaginative as they wish as they explore.
The open-ended nature allows kids to discover their own interests and learning style.
Children are more apt to develop independence, confidence, and resilience.
It gives kids a break from an otherwise highly structured life—and from devices.
Free play often includes physical activity, motor skills, and coordination.
Children practice decision-making, emotional regulation, and conflict resolution.
What is Structured Play?
With structured play, a caregiver, parent, or teacher is present to guide the activities. The level of adult participation varies from interaction to instruction. The emphasis is on directing kids to achieve next-level performance and skills, impart wisdom, share knowledge, or attain a goal. The best structured play is tailored to the child's interests, abilities, and strengths to build confidence, skill, and competency.
For example:
Sports programs like swimming, soccer, dance, gymnastics, baseball, tennis, etc.
Guided art classes like crafting, pottery, or learn-to-paint
Building a LEGO set by following directions or assembling a jigsaw puzzle
Following rules to playing board games or outdoor games like "Simon Says"
Learning to cook, speak a foreign language, act, or play a musical instrument
Among the many benefits of structured play:
Children discover interests, processes, and learnings they may not find on their own.
Structured activities teach emotional regulation, turn taking, sharing, and social cues.
Kids learn new tasks and how to follow instructions step-by-step to problem-solve.
It's a chance to practice active listening, verbal communication, and people-reading.
These activities reinforce bonds with caregivers and peers, and introduce new mentors.
Children often experience increased self-esteem and develop a sense of achievement.
Which is Better—Structured or Unstructured Play?
Not surprisingly, the answer is that kids need both types of play to thrive. According to the authors of Becoming Brilliant, Kathy Hirsh-Pasek and Roberta Michnick Golinkoff, both types of play reinforce foundational skills young children need: communication, collaboration, creativity, critical thinking, and confidence.
Reserve some time every day for your child to enjoy unstructured play time. If your child doesn't seem interested, consider rotating new toy figurines, puzzles, blocks, dress up outfits, puppets, or sports equipment into the house—or take your child to a play center that has all these toys so you can see what he or she might be interested in. Encourage your child to play outdoors every day, regardless of the weather. Reach out to other parents for play dates at playgrounds.
As parents, we know how difficult it can be to strike a balance, yet how essential it is to our wellbeing. Sign your child up for a day or two of activities during the week to keep life interesting, but not overwhelming. Involve your children in choosing the type of activity they would like to pursue, and encourage them to "stick with it" for the duration of the session, while allowing them to say, "This isn't for me" at the end if that's the case. Your role is to encourage your children to explore the world—and themselves—and to use play as a release from stress and a tool to becoming a well-rounded person.
Looking for more structured play opportunities?
Join Shine this winter for structured play. "Little Luminaries" combines music, movement, art, and storytelling around themes geared toward 2-year-olds. Ages 4-7 are welcome to register for our "Creative Movement" Tuesdays. Contact us for details.
https://shinenyc.net/wp-content/uploads/2023/01/295929544_5562443973780119_4305642750768560174_n.jpg
367
480
Shine
https://shinenyc.net/wp-content/uploads/2021/02/Shine-logo-300x220.png
Shine
2023-01-20 17:11:40
2023-01-24 17:42:47
Structured vs. Unstructured Play: Which Is Better?