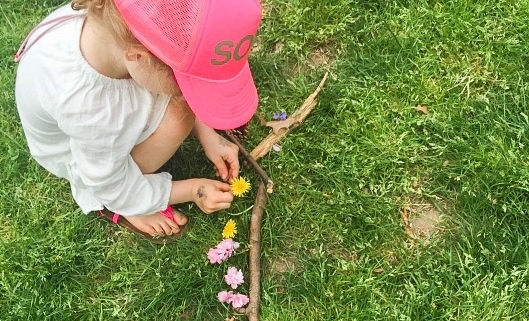 What to Do When Your Child's a Daydreamer
Ever wonder what your child does at school all day? Believe it or not, your child spends about a quarter of the time at school daydreaming! This news may not be exactly what teachers want to hear, but it's unrealistic to expect children to fully focus 100% of the time. After all, adults spend as much as 47% of their days with a wandering mind. While kids may not be worrying about the economy or household chores, they are thinking about eating, watching TV or videos, football, and Harry Potter.
Why Do Kids Daydream?
Young children daydream for a variety of reasons – some better than others:
They're depressed or anxious. Does your child cry often? Have low energy? Display extreme sensitivity to failure and have trouble maintaining social ties?
They're unchallenged. Gifted and talented kids may find school tedious and boring. An under-stimulating environment can make it difficult to pay attention.
They're over-challenged. On the flip side, children tend to tune out when they find school work to be flustering or overly complex.
They're creative. Is your child an artist, a writer, or musician? Great imaginations can be tough to wrangle—and that's ok! It's simply part of certain individuals' personalities.
Pros and Cons of Daydreaming
Much attention has been paid to the cons of daydreaming. Social scientists believe adults who daydream a lot are generally "unhappier," although happiness is a fairly relative term – and other research indicates that daydreams make a person happier when the topics are both pleasant and meaningful. Studies also show daydreamers have lower working memory capacity, score worse on IQ tests, and make more mistakes on average.
However, there are upsides to letting your attention drift:
It's an essential stepping stone. Kids often entertain autobiographical thoughts, forming a sense of identity and imagining potential careers.
It's a predictor of creative achievement. In one study, elementary fantasies were found to be a greater predictor of creative achievement in adulthood than grades or IQ.
It lessens boredom. Test subjects reported higher levels of happiness when they daydreamed during the 45 minutes it took to complete a very tedious task.
It's necessary for innovation. The unconscious mind is a creative wellspring where many day-to-day issues can be resolved—creatively—without much obvious effort.
Kids who daydream perform better. Periods of inward inflection incorporated into the school day can decrease anxiety, boost test scores, and improve emotional regulation.
Daydreamers are more confident. One key function of daydreaming is to "keep your life's agenda in front of you"—to rehearse new situations and learn from past mistakes.
The brain needs to recoup. It's no secret that kids are bombarded with technology these days—and that this technology can be overstimulating. Inward thinking resets the mind.
Brain health depends upon the unconscious. This "default mode network" plays a pivotal role in memory consolidation, planning, impulse control, and brain function.
Daydreaming is "an underdeveloped part of our cognitive toolkit," according to University of Florida Psychology Professor Erin Westgate, and a coping mechanism for the rigors of everyday life. In short, imagining new realities is part of what makes us distinctly human.
Should I Worry?
Daydreams aren't typically a cause for concern – unless they interfere with your child's academics or self-esteem development.
Inattentiveness Disorder
If your child is struggling in school, an evaluation with a mental health professional can help your child get on a 504 or IEP plan to work at a more comfortable pace and overcome academic challenges. You might also consider asking the teacher if your child can move seats to be closer to the front, where it is easier to pay attention without as many distractions. Having the support of a medical professional might mean more breaks for your child during the day, which can improve focus.
Signs of inattentiveness disorder, which is on the ADHD spectrum, include:
Frequently misplaces belongings
Trouble organizing or decluttering
Forgetting often, with trouble learning something new
Easily distracted with difficulty focusing on one thing at a time
Boredom and switching between activities every couple minutes
Difficulty completing and turning in classwork or homework assignments
Doesn't listen or respond to others when spoken to
Struggling to follow multi-step instructions
Becomes easily confused when coming out of a daydream
Most children are diagnosed between the ages of 4 and 7, and respond well to a combination of medication and behavioral therapy.
Maladaptive Daydreaming
Up to 4.3% of students are believed to suffer from maladaptive daydreaming, which can be linked to depression, anxiety, or obsessive-compulsive disorder. Their daydreams may be ruminations of death, abuse, trauma, or other unpleasant topics. In some cases, daydreams can be a form of disassociation. In this case, it's crucial to seek out a cognitive behavioral therapist for coping mechanisms to minimize disruptions to daily life.
How To Help Your Child Focus
Even if you don't have concerns about attention deficit disorder or maladaptive daydreaming, you may want to help your child better alternate between periods of daydreaming and focus.
Try the following:
Slow down. Making a house rule that children should have reading or unstructured play time after school, rather than racing to TV or tablets.
Reduce distractions. Create a quiet space for homework, keeping other siblings out of the area during work time. Consider short bursts of work, followed by breaks.
Promote a contemplative mindset. Let your child know it's okay not to be "productive" every minute of the day, and that some daydreaming can be a worthwhile activity.
Take family walks or hikes. Get in touch with the world after school, after dinner, or on weekends. Play leaves, plant a garden, build a snowman—get outside and explore.
Increase high-focus hobbies. Creative outlets like art, theatre, or learning an instrument can be great outlets for self-expression. Swimming, running, karate, and yoga are great physical activities for daydreamers. Learning to play chess can encourage "constructive" forms of daydreaming like planning ahead. Note-taking, journaling, and mindful meditation are a few other worthwhile pursuits for daydreamers.
Ask questions. Encourage your child to share what he or she was thinking about. Look for opportunities to connect one-on-one—like while tossing a baseball together, driving the car, or baking. By communicating, your child transcends from a world of inward thoughts to an external world shared by others.
Track daydreaming. Explain the importance of regulating focus at school, adding that there are times to daydream and times to pay attention. One exercise clinicians try is to have children make a tally on a Post-It note every time they catch themselves daydreaming in class. This boosts awareness of the behavior. When a mark is made, children are told to think to themselves, "Look at the teacher" to redirect focus. You might incentivize your child by offering a treat like popcorn when there are, say, less than 20 tallies at the end of a homework period.
Listen. Play classical music in the house, which is linked to increases in concentration.
Be consistent. Set reasonable goals, expectations, and routines. Patterns will help your child switch between tasks.Aim to have healthy meals prepared around the same time every day and maintain a consistent bedtime schedule with 9-12 hours of rest.
Improve nutrition. Food fuels a healthy mind. Eating breakfast improves attentiveness and short-term memory function. Consider a combination of high-fiber fruit, whole grains, and high-protein eggs or dairy. Avoid sugary cereals or high-carb waffles. Later in the day, good choices include green leafy vegetables, high-quality fats like nuts and olive oil, lean proteins like fish and chicken, and high-fiber beans and berries.  
Offer praise. Let your child know when you see progress—and that you're proud!
Shine Welcomes Daydreamers
If you're looking for something fun to do with your little daydreamer in NYC and the East End, come visit us at The Shine Studio where we have engaging workshops, classes, camps, and parties that appeal to a variety of interests – from art and acting to culture and cooking. Check out our Fall 2023 calendar. 
https://shinenyc.net/wp-content/uploads/2023/10/278703339_5294431893914663_9182512849084485714_n-1.jpg
426
529
Shine
https://shinenyc.net/wp-content/uploads/2021/02/Shine-logo-300x220.png
Shine
2023-10-24 20:46:13
2023-10-24 20:55:53
What to Do When Your Child's a Daydreamer