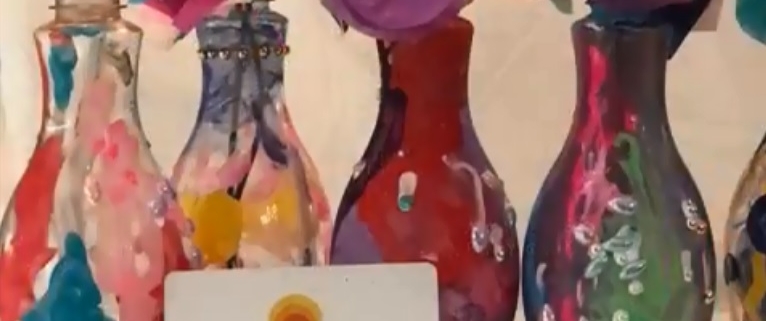 Mother's Day Keepsake Crafts Kids Can Make
By mid-May our "spring cleaning" kick is in full swing – just in time for the kids to create toilet paper flower bouquets, construction paper tulip cards, and paper plate purses we simply can't throw away. Instead, consider one of these more durable keepsake crafts you can do together or have a partner orchestrate.
---
Tile Coasters for the Coffee or Tea Loving Mom
For this craft, you'll need 4.25 x 4.25 white ceramic tiles from the hardware store, ultra-fine black Sharpie markers, colored pencils, felt pads, acrylic sealer, and Modge Podge. A whole classroom can complete this craft for under $10.
Have the kids use this template or free-style their drawings on paper with the Sharpie and colored pencils.
Coat the tile with Modge Podge and stick the drawing on, aligning the top corners and smoothing downward.
After the paper dries, add a thin layer of Modge Podge over top.
Once the Modge Podge dries, spray with a sealant.
Glue circular felt pads onto the back corners to prevent scratching your tables.
---
Lady Bug Garden Rocks for the Green Thumb Mom
With the last frost having passed us on April 26th, our gardens are ready for plants and decorations. If you don't live near a natural creek, you can easily pick up rounded "river rocks" at home improvement stores, craft stores, garden centers, dollar stores, or online. You'll also need colorful acrylic Patio Paint and Patio Paint Clear Coat to withstand the elements, paintbrushes, and a toothpick.
Wash and dry your rocks.
Add the colorful Patio Paint on the tops of the rocks. Don't paint the bottoms if you want these with your plants.
Paint on a black head and allow time to dry.
Use the handle of the paintbrush to dot black spots onto the lady bug. Let it dry completely.
Use the handle of the paintbrush to make two white dots for the eyes. Let it dry completely.
Use the toothpick dipped in black paint to add black pupils to the eyes. Let it dry completely.
Paint the tops of the ladybugs with Patio Paint Clear Coat to seal. You can also use outdoor Modge Podge.
Older kids like the lady bugs. If your family's unconventional, you could also make "glowing monster rocks," which are fantastically spooky Halloween decorations. We also love this butterfly footprint flower pot as an easier alternative when working with babies and toddlers.
---
Marbled Clay Jewelry Dish for the Fashionable Mom
It's hard to believe these clay jewelry dishes didn't come from a store. All you'll need is Sculpey Premo! Polymer Clay (which you can find at Michaels, Joanns, or online), a rolling pin, plastic knife, muffin pan, and a Krylon Gold Leafing Pen.
Break off pieces of different colors you'd like in your dish.
Roll a long thin piece of each color and twist them together.
Smoosh the clay in a ball, mixing it with your hands until you notice a marbling effect.
Roll the clay to ¼" thickness. If you don't have a jar or craft rolling pin, try Sculpey's Essential Tool Kit.
Cut the clay into a circle with a cookie cutter or glass bottle top – something that won't touch food.
Turn a muffin pan upside-down and center the clay circle over a muffin spot.
Drape the clay down the sides and create a few tucks for rippled edges.
Bake the pan upside-down in the oven, according to the clay package directions (about 15 minutes at 275.)
Once your dish cools, remove it from the muffin pan and use the gold leafing pen to decorate the edges.
If you want a glossier finish, you can also paint the bowl with clear glaze.
---
Rock or Seashell Picture Frame for the Sentimental Mom
Do you have bags and bags of shells from your last trip to Florida, or "special rocks" found on your nature walks? What can you do with all of these treasures? One practical idea is to super-glue them onto a picture frame for a rustic look. You can also supplement with polished rocks from the Dollar Tree if you prefer a more uniform aesthetic. Otherwise, you'll just need a cheap frame from the Dollar Store, paint, and super glue or hot glue.
Wash and dry your rocks or shells.
Remove the glass and backing to paint the frame. Dark gray, dark brown, or black work well.
Super glue or hot glue your rocks onto the frame, starting at the outside edges and working your way in.
After the glue has dried, add the backing and glass, along with your favorite photo or hand-drawn picture.
---
Thumbprint Serving Platter for the Culinary Goddess Mom
It seems one can never have enough serving platters for a special event. All you need for this craft is a rectangular white porcelain serving tray, non-toxic glass paint or dishwasher-safe multi-surface paint, a fine-tipped Sharpie, and a wet rag handy to correct wiggly finger mishaps.
Divide the plate based on how many family members you have – into fourths for a family of four. Place a tiny dot of paint where you want each fingerprint so the spacing is equal.
Place a small amount of paint on foil, wax paper, or a paint tray. Dip your child's finger into the paint and press two prints to form a heart shape.
Use the damp rag to wipe off the print and start over if the shape doesn't look quite right.
Write names under each fingerprint heart with the Sharpie. You can add a date and any other text you like, too.
To cure, let the project dry for an hour and place it in a cool oven. Once the temperature reaches 350 degrees, bake for 30 minutes. Wait 72 hours before using.
---
If your children love crafting, consider all that Shine has to offer families in the East End. Our enrichment programs are geared toward ages six months to 12 years. You can see some of our little ones making gifts and sharing what they love most about their moms in this video or contact us to learn more.
https://shinenyc.net/wp-content/uploads/2019/05/Untitled.jpg
536
766
Shine
https://shinenyc.net/wp-content/uploads/2021/02/Shine-logo-300x220.png
Shine
2019-05-07 17:53:41
2021-10-18 14:03:10
Mother's Day Keepsake Crafts Kids Can Make