Fresh Cinnamon Cranberry Applesauce
Thanksgiving just might be my favorite holiday of the year.  I think it's the combination of food and togetherness that I love so much.  What better way to mix the two than cooking with your kids.  Here, Katie Letts, chef and Shine nutrition specialist, shares her original recipe for Fresh Cinnamon and Cranberry Applesauce.  It's simple to make, delicious to eat and will give your son or daughter a feeling of pride when they see it on the Thanksgiving table.  Whatever you cook, make sure to do part of it together.  Everything tastes better when it's made with love.
Happy Thanksgiving from all of us at Shine!
Aaron Goldschmidt, founder & director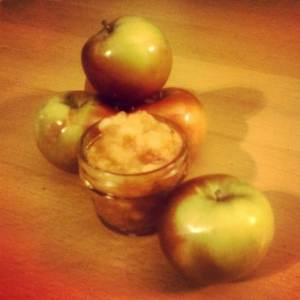 Thanksgiving is right around the corner, and although many folks consider a turkey the holiday's piece de resistance, I adore the variety of side dishes that truly make the meal. It can be hard to prepare Thanksgiving sides that appeal to children as well as adults, but my cinnamon cranberry applesauce is sure to please even the pickiest of young pallets at your family gathering!
Ingredients:
(Makes 8 servings)
12 medium apples, peeled, cored and quartered (I prefer Macintosh!)
1 ½ cups water
 ¼ – ½ cup fresh cranberries
1 tsp ground cinnamon
1 tbsp grade A maple syrup
Directions:
Simmer the apples and cranberries in a medium sauce pan with the water for about 20 minutes, or until soft. Adjust the amount of cranberries to your personal taste preference… The more cranberries, the more you will taste those tart little morsels!
Using a small whisk, smash the apples and cranberries until smooth. The apple and cranberry mixture does not have to be completely free of clumps. A chunky applesauce is rustically beautiful, as well as tasty!
Whisk in the cinnamon and maple syrup. Continue to simmer the applesauce until there is no remaining excess moisture.
Enjoy warm or cold!
By Katie Letts, Shine Nutrition Specialist
https://shinenyc.net/wp-content/uploads/2021/02/Shine-logo-300x220.png
0
0
Shine
https://shinenyc.net/wp-content/uploads/2021/02/Shine-logo-300x220.png
Shine
2013-11-27 02:30:02
2021-09-23 18:58:29
Fresh Cinnamon Cranberry Applesauce