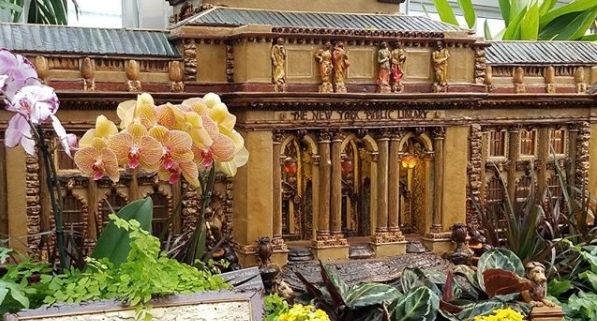 Fantastically Fun Indoor Activities for NYC Kids When It's Cold Outside
Baby, it's cold outside! Probably by now the kids are bouncing off the walls. Let the idle house sit clean for a day while you're out making family memories. Here are some indoor escapes that will make you forget about sleet and snow, while encouraging the best in your little ones.
The balmy temperature and fresh air of the New York Botanical Gardens is the perfect antidote to the blustery cold winter months. Not only will you enjoy festive seasonal decorations, but they also host a Holiday Train Show from November 22nd – January 15th. Model G-scale trains zip down half a mile of track, past 150 local landmarks from the Brooklyn Bridge and the Statue of Liberty to the Chrysler Building and the Rockefeller Center. This winter, kids can participate in a sing-a-long performance with Thomas the Train, ride on the Evergreen Express, craft a puppet or evergreen door swag, watch holiday films like "Ice Age: A Mammoth Christmas" and "Shrek the Halls," and tour the outdoor winter wonderland trees.
This new, immersive experience in Times Square features 60,000 square feet of groundbreaking advances in lighting, audio, and visual animation effects that make your family feel as though you're exploring an undersea world. Sea turtles, dolphins, and fish swim above, below, and past you in the first exhibit, which shows you a coral reef during the day. Next, you'll plunge into the coral reef at night to see bioluminescent sponges, coral, and eels, set to a symphony of sound. See Humboldt squids battle, move through a dreamlike kelp forest maze, and play "copycat" with adorable sea lions that look amazingly real, but respond to your every move. Older children will love the 3-D dome with sharks, stingrays, and humpback whales swimming by. More photo opps and learning experiences await in the National Geographic Exploration Hall. This amazing exhibit will enthrall kids and adults of all ages, but as an added bonus, the little ones under two are free!
Kids ages 6 and under will find something to love about the five-story, 40,000 square-foot institution of learning and culture. From immersive dance studios and a crawl-through version of the digestive system, to Dora the Explorer play areas and collaborative workshops with local artists, there is much to do and see here. Kids are encouraged to consider cultures and traditions from around the world. S.T.E.A.M. learning activities take place daily. This time of year, "Hip-Hop Holidays" performances, Christmas Tree ornament making, and "Dreidel, Dreidel, Dreidel" are popular events.
If you haven't seen it yet, the long-running production of "The Three Bears Holiday Bash" is on from November through December 30th in Central Park. Children ages 3-8 will revel in 45 minutes of comedy, song, dance, and puppetry that includes sing-a-longs for "I Have A Little Dreidel" and "Feliz Navidad." Director Bruce Cannon pulls from the traditions of Hanukkah, Kwanzaa, and "The Night Before Christmas" to include everyone in the festivities. Critics called the songs "catchy," the marionette bears "adorable," and delighted in the surprise appearance from marionette Santa. Seating is on a first-come, first-serve basis, so be sure to get there early to get your little ones a spot in the front row. Shows generally take place at 10:30 and 11:30 am Monday through Friday, or 1 p.m. on Saturdays and Sundays. After being closed for Christmas Eve and Christmas Day, performances are will briefly resume from December 26th-30th at 11 a.m. and 1 p.m. before wrapping up. That's not all the Swedish Cottage Marionette Theater is up to this holiday season. They're also hosting craft activities on December 11th (decorating dreidels); 15th (making elf stick puppets); and 29th (making kwanzaa stick puppets).
If you're still at a loss for how to spend winter break in Manhattan with your children, contact us at Shine. We offer pop-up classes, workshops, city adventures, parties and events, and classes to keep kids (and sometimes parents!) wildly entertained. If you have an undefined yearning for substantial ways to enrich your children's lives, we have the answer you're seeking.
By Jenn Fusion for Shine
Jenn Fusion is a Buffalo, NY based wordsmith with more than a decade of experience researching, writing, and editing informative and insightful articles for business clients. Her work has been featured online and in print editions of USA Today, the Atlanta Journal-Constitution, and The Houston Chronicle, as well as niche publications for vice presidents, celebrities, music, and beer. You may have seen on Huffington Post Live TV or heard her on Minnesota Public Radio. Best of all, she's the mother of busybody toddlers Josephine and Henri.
https://shinenyc.net/wp-content/uploads/2017/12/Untitled.jpg
508
597
Shine
https://shinenyc.net/wp-content/uploads/2021/02/Shine-logo-300x220.png
Shine
2017-12-22 21:51:00
2021-10-18 14:03:19
Fantastically Fun Indoor Activities for NYC Kids When It's Cold Outside