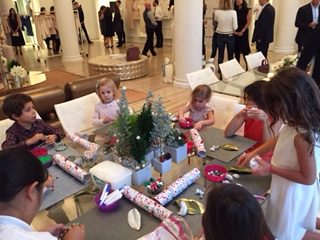 10 Festive Ways To Keep The Kids Entertained At Your Adult Christmas Party
You've decked the halls and planned your dinner menu. Now all you have to do is figure out how to keep all the children attendees satisfied so the adults can mingle and have a good time. Nothing puts the lid on holiday cheer more than a screaming babe, after all! Here are a few creative and practical suggestions for a truly enjoyable winter get-together with family and friends.
1. Give them space.
When combining kids and adults, the first step to sanity is to give the youngsters their own defined space – either a floor of the house, a room, or even simply a craft table. Have this area safety-proofed and stocked with fun.
2. Hire help.
A babysitter can come in handy when you're hosting an event or hoping to have time for adult conversation. Having a full-time person assigned to "damage-control" is a wise decision to keep juice cups filled, diapers dry, and minor disagreements settled before they escalate. If you've never hired a babysitter before, College Nannies and Tutors and UrbanSitter are good places to start.
3. Set up a food decorating station.
If you don't mind a little bit of mess, tape your table with brown craft paper or white butcher paper and set up a cupcake or cookie-decorating station. Toppings may include different color frosting, sparkle decorating gel, edible googly eyes, sprinkles, M&Ms, candy canes, and other miniature candies. Another neat idea is to have each child bring a dozen or two of their favorite Christmas cookies. Blindfold each child and feed them a cookie, asking them to guess what type it is.
4. Stock a craft table.
Arts & Crafts can be as elaborate or as simple as you wish. For younger kids, you can put out a few Christmas-themed coloring books and crayons. Play-Doh can be jazzed up for the holidays with glitter, holiday cookie cutters, rolling pins, and accessories like felt or buttons to "build snowmen." For older kids, you can find inexpensive all-in-one craft kits. For instance, Michaels has foam Christmas houses, ornaments, snow globes, letters to Santa, pop-up cards, banners, wood scene painting, cross-stitch, painting, and beading activities that only cost a few dollars each. We also love these Milk Carton Gingerbread Villages recommended by Happy Hooligans.
5.  Make it musical.
Kids of all ages love music. Setting up an MP3 player with Christmas music can make the difference between child anarchy and a group of happily-singing, merry little elves. Even better, you may consider setting up a few microphones for karaoke. Toddlers will get a hoot out of a Christmas caroling themed party that supplies matching hats and scarves, along with hand-held instruments like jingle bells, tambourines, triangles, and drums. In this scenario, it's best if you have an adult to guide them through a few of their favorite songs. A Christmas songs board book can provide the playlist if you don't have a karaoke CD or YouTube playlist ready.
6. Plan for fun.
A few pre-planned activities are exciting for kids earlier in the evening when energy levels are high. Guests as little as two can appreciate a Candy Cane Hunt, which is a wintry version of an Easter Egg Hunt. Simply hide wrapped candy canes around the house before your little guests arrive and see how many they can uncover. Finders keepers! The activities you choose don't have to cost a lot. For example, this Jingle Bell Toss game from Playground Parkbench is kid-friendly and costs you less than $5 to set up. Whether you have a photo booth or not, a few dress-up props go over well with budding imaginations. Older kids might enjoy this Christmas Saran Wrap game, where they compete to unravel a ball of plastic wrap to get to goodies stored inside until the person next to them rolls doubles with a pair of dice. You can also print these Christmas words, cut them into small slips, and place them in a stocking for a few rounds of Christmas Pictionary, a fantastic game for artists young and old.
7. Stock up on board games.
Games can be fun if there is an older child, babysitter, or adult willing to preside over the festivities. There are tons of holiday-themed board games for older kids. Some of our favorites include:
8. Plan for a visit from Santa.
Surely you know someone who is willing to don a white beard and a suit to make the kids happy. You can ask each parent to bring a little something wrapped for Santa to give their child or buy a few inexpensive gifts yourself – like holiday books or stuffed animals. If you can't hire or enlist a Santa, consider magicians, balloon artists, face painters, musicians, or puppeteers who can make the night memorable.
9. Schedule down-time.
Parties can be overwhelming for kids. Sometimes all it takes is "How The Grinch Stole Christmas," "Mickey's Christmas Carol," or "Elf" — with a bowl of popcorn and a few mugs or sippy cups of hot cocoa — to settle everyone back down. You may also gather the kids around the fireplace with a basket of holiday books for story time. If you want to make it really special, plan for your visit from Old St. Nick to include a story reading with the children.
10. Call Shine!
Holiday parties are one of the things we do best at Shine. We'll come to your event fully stocked with dedicated staff members, craft supplies, and custom-themed activities to delight and entertain your youngest guests. Leave set-up and clean-up to us as we transform your kids' area into a space of seasonal cheer. If you decide to DIY your party this time around, we hope to speak with you in the New Year to discuss how Shine can add that "special something" to your next event.
RESOURCES:
http://www.toronto4kids.com/December-2012/Tis-the-Season-to-Party/
http://www.sheknows.com/parenting/articles/820822/How-to-throw-a-kid-friendly-holiday-party
http://momblogsociety.com/entertain-the-children-as-adult-parties/
https://mom.me/entertainment/5999-what-do-kids-while-you-throw-party/
https://www.modernmom.com/9b2cd05e-1ae3-11e1-9f7f-404062497d7e.html
https://www.thespruce.com/christmas-caroling-party-ideas-4117222
https://www.thespruce.com/christmas-song-party-games-4119766
http://www.parenting.com/food-recipes/holiday/holiday-parties-8-ways-to-keep-kids-entertained-while-adults-mingle
By Jenn Fusion for Shine
Jenn Fusion is a Buffalo, NY based wordsmith with more than a decade of experience researching, writing, and editing informative and insightful articles for business clients. Her work has been featured online and in print editions of USA Today, the Atlanta Journal-Constitution, and The Houston Chronicle, as well as niche publications for vice presidents, celebrities, music, and beer. You may have seen on Huffington Post Live TV or heard her on Minnesota Public Radio. Best of all, she's the mother of busybody toddlers Josephine and Henri.
https://shinenyc.net/wp-content/uploads/2017/12/image2-e1513973002633.jpeg
240
320
Shine
https://shinenyc.net/wp-content/uploads/2021/02/Shine-logo-300x220.png
Shine
2017-12-22 20:05:40
2021-10-18 14:03:19
10 Festive Ways To Keep The Kids Entertained At Your Adult Christmas Party