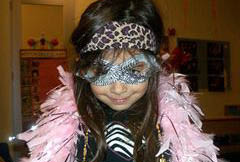 Cultural Kid-Friendly Food: 5 Cajun/Creole Recipes For Mardi Gras
For foodies, Mardi Gras (which translates to "Fat Tuesday") is an opportunity to indulge in fatty foods like meat, cheese, milk, and lard. Festivals this time of year are nothing new, dating back to springtime Saturnalia and Lupercalia celebrations of the ancient Romans. The Mardi Gras we know today is largely based on the Christian holiday calendar, falling the Tuesday before Lenten fasting begins. This year, Mardi Gras falls on March 5th. While other parts of the world like Brazil and Venice celebrate with Carnival, the first American Mardi Gras took place on March 3, 1699 when French explorers first landed in New Orleans, Louisiana. There is no bigger modern-day celebration than the masquerades, street parties, and parades of NOLA.
Even if your roots do not stretch back to Acadia or the Mississippi Delta, Mardi Gras represents an excellent opportunity to introduce your kids to a new culture and culinary palette. If you don't want to battle the crowds at Great Jones Café in The East Village, The Boil in the Lower East Side, or Bourbon Street in Hell's Kitchen, you can whip up homemade Cajun/Creole cuisine with your aspiring chefs. While it's true many dishes happen to be spicy, there are plenty of kid-friendly Cajun and Creole recipes for the whole family to love.
---
Beef Po Boys
Adapted by the NY Times from Benjamin Wicks, proprietor of Mahony's Po-Boy Shop in New Orleans
Po Boys are scrappy sandwiches made of "leftover" meat – often seafood like crawfish, shrimp, oysters, crab, or fish – but they can also be made of hearty roast beef (which is preferable for many small palettes). A crusty French baguette is also a must for this recipe. Dressings may vary widely based on availability, but this particular version marries celery, onion, peppers, carrots, and garlic roasted in a Dutch oven and smothered in gravy with traditional toppings – mayonnaise, lettuce, tomato, and pickles. The NY Times recommends adding fries and cheese "for added pow."
---
Red Beans and Rice
From Saveur Magazine
Beans and rice are eaten in various cultures around the world, but what makes this recipe distinctly "Big Easy" are the savory smells of garlic, oregano, and thyme that are bound to get little tummies rumbling, in addition to the depth of smoky ham hocks that are intriguing enough for adult taste buds. Red beans and rice were traditionally served on Monday, "Laundry Day," because they could be left to simmer on the stove while attending to other work. This is a simple recipe you can set and forget for two hours, but don't forget to soak your dried beans overnight.
---
Nanny's Seafood Gumbo
By Adam Lathan, Executive Chef of The Gumbo Bros. in Brooklyn
Gumbo is the perfect example of the melting pot that is Louisiana cuisine. The French and West Africans both place claim on its origins, but either way, gumbo is a thick stew. You can make it Creole style made with a roux (flour and butter) base or Cajun-style with a tomato base. Everyone's grandmother has their own variation, but each pot has something for everyone. There's no wrong answer in the world of gumbo. Brooklyn Chef Adam Lathan's nanny uses crab and shrimp with a roux base and backed by celery, bell pepper, and okra. You can use the Cajun seasoning if your kids are old enough to tolerate a pinch of cayenne and red pepper flakes. Otherwise, you may substitute your own seasoning blend of salt, garlic powder, paprika, onion powder, oregano, and thyme. Or you might opt for a smaller "kid's pot" that simply omits the Cajun seasoning. There's also a version with chicken and andouille sausage if you prefer.
---
Blackened Redfish
By the late "Superstar" Chef Paul Prudhomme, owner of K-Paul's Louisiana Kitchen on Broadway
New Yorkers who lived here in the 80s are old enough to remember when his K-Paul's Louisiana Kitchen outpost inspired lines around the block. Blackened Redfish was Chef Paul Prudhomme's signature dish. "Redfish" includes four different species – the Red Snapper, Red Drum, Rose Fish, and Acadian Redfish. Some of these species can be difficult to come by, but Dorian's Fish Market carries the Red Snapper, as well as two acceptable substitutes: Pompano and Tilefish. This recipe is best cooked in cast iron if you can.  Serve with Chef Prudhomme's Shrimp and Sausage Stuffed Mushrooms to enjoy a feast fit for a king!
---
Beignets
By Jean-Paul Bourgeois, Native Louisianan and Executive Chef of Blue Smoke Restaurant in NYC
Last, but not least, we've got the ultimate, mouth-watering Mardi Gras dessert. French-inspired Beignets are every bit as "New Orleans" as po' boys and gumbo. These square dough fritters are comprised of yeast, bread flour, water, milk, eggs, butter, and salt – then deep-fried in clean vegetable oil, and topped with a mountain of powdered sugar. Chef Bourgeois describes NOLA's favorite sweet as "deep-fried, sugary goodness," and "the perfect vehicle for chicory coffee and breakfast in the morning."
---
After your kids sample the new dish, teach them to say "Ca c'est bon" (SAH-say-bohn), which is the Cajun way of saying "That's good!"
If you're looking for more novel ways to spice up your kids' lives with cultural enrichment, contact us to learn about our workshops, parties, and classes. If your child loves to cook, be sure to inquire about our "Kitchen Stars" cooking classes geared toward ages 3-5 or 6-8.
Additional Reading:
https://www.history.com/topics/holidays/mardi-gras
https://www.americanheritage.com/true-and-delectable-history-creole-cooking
https://shinenyc.net/wp-content/uploads/2019/03/Untitled-1.jpg
162
240
Shine
https://shinenyc.net/wp-content/uploads/2021/02/Shine-logo-300x220.png
Shine
2019-03-01 22:43:25
2021-10-18 14:03:12
Cultural Kid-Friendly Food: 5 Cajun/Creole Recipes For Mardi Gras