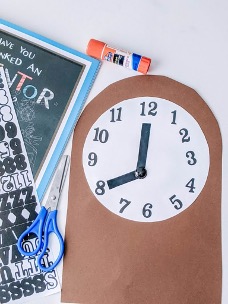 Black History Month: 3 Inventors and Crafts
Crafting is a creative way to get the gears turning in young minds. As children use their hands and put forth a deal of time and effort into making these projects, they can reflect upon some of the incredible inventions Blacks have introduced to the world.
Benjamin Banneker's Clock
Benjamin Banneker grew up on a 100-acre farm outside Baltimore, where he studied the skies and borrowed textbooks about advanced mathematics. In 1752, he built the first clock in America entirely out of wood, which kept precise time for decades. His ability to forecast solar eclipse and other celestial events impressed Thomas Jefferson and helped dispel racial prejudices. Watch this video to learn more.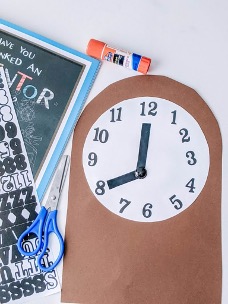 To create this craft, you'll need:
White, brown, black construction paper or cardstock
Liquid glue or a glue stick
Number stickers
Scissors
Pencil
Optional: googly eye and black marker
Optional: brass paper fastener
After you download, print, and cut out the clock template, trace the template onto brown construction paper and cut. Trace a circle onto the white paper using an appropriately-sized bowl. (Have your kids find it—they love this part!) Cut out the circle and glue it onto the brown paper, adding the number stickers and two different size strips of black paper for the hands of the clock. Here you have two options: you can either glue the hands of the clock in a fixed position, coloring a googly eye with a black marker, or you can poke a brass paper fastener through the middle, so the hands can rotate.
Kate Speck and George Crum's Potato Chips
What party would be complete without potato chips? In 1853, Kate Speck accidentally dropped a sliver of potato into the fryer while working at a resort in the Adirondacks that catered to wealthy elites like the Vanderbilts. Her brother, George Crum, fished out the chip, let it cool, and tasted it, remarking that it was in fact fantastic. Originally pitched as "fried potato shavings" and later known as "Saratoga chips," word traveled fast and patrons came from as far as Boston and New York City for a taste. When Crum opened a restaurant, every table received a basket of chips. Herman Lay brought the chips down south to introduce them to a wider audience—and, as they say, the rest is history. Watch the video to learn more.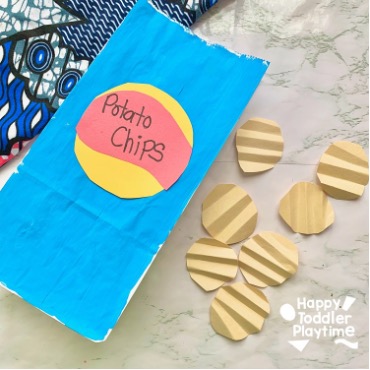 To create this craft, you'll need:
A paper bag
Light blue tempra paint
Yellow, red, and cream construction paper
Paint brush
Scissors
A black marker
First, paint the front of your bag blue. As it dries, cut out 15 imperfect oval "chips." Fold each oval back and forth like an accordion. Cut out a large yellow construction paper circle and an irregularly-shaped red rectangle. Glue your potato chip logo to the blue painted bag, write "potato chips" on the red paper, and add your chips. Kids ages 3-8 can pretend to enjoy them like George Crum's customers and play math counting games.
Philip Downing's Mailbox
In 1891, anyone interested in mailing a letter would have to make a long trek down to the post office—often on foot. Philip B. Downing of Rhode Island filed five patents on his iconic design of a four-legged metal box with an easy-loading front hinge that protected paper envelopes from rain or snow. This is the same type of letter box you see outside of businesses and on residential sidewalks today. Downing didn't stop there. He also patented an electrical railroad switch, which later inspired innovators to implement similar switches in the home. Watch this video to learn more.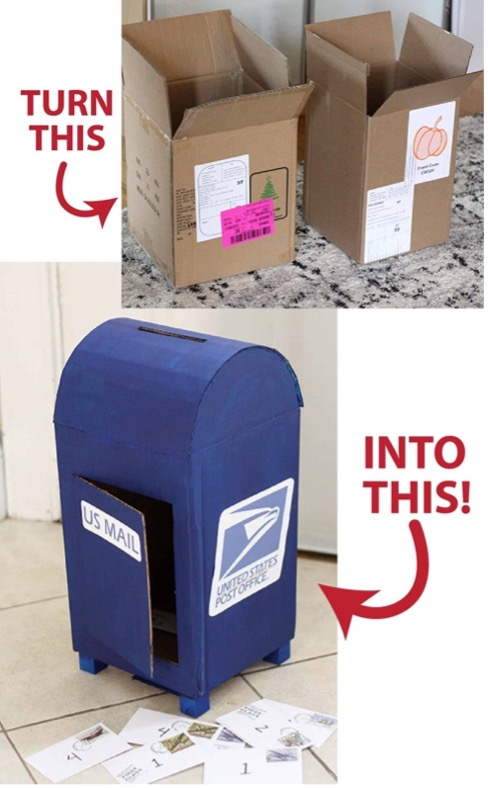 For this craft, you'll need:
A cardboard Box
Exacto knife / boxcutter
Hot glue gun
1" wooden blocks
Paintbrush
Dark blue tempra paint
Printer
Gluestick
First, draw a semi-circle on the two opposite top flaps of the box, making it as wide as the flap (to form the curved top of the mailbox). Next, use the exacto blade to cut along the semi-circular lines and hot glue the cut pieces inside to reinforce the semi-circle flaps and keep them standing straight up. Choose a front for your mailbox, draw a rectangle and cut along three sides (leaving one tall side uncut) to create your door, bending it slightly to open. Find or cut a flat piece of cardboard that is equal in width to the distance between your two semi-circle flaps to form the top of the mailbox. Using a ruler and exacto, lightly cut parallel lines into the back side of the cardboard spaced 1" apart and fold it into a curve. Cut the scored rectangle to length, then measure and cut a slot for the mail to go into in the middle of your topper. Finally, use hot glue to attach. Add four 1" wooden blocks to the corners as feet, attaching with hot glue. Once the glue dries, you'll need two or three coats of mailbox blue paint. You can print out the logos and glue them on with the gluestick. In less than two hours, you'll have taught your kids about a Black inventor and given them something fun to play with for under $5.
For more about Black inventors, check out "Gary and the Great Inventors" by Akura Marshall.
As always, keep shining!
References:
https://shinenyc.net/wp-content/uploads/2023/02/Picture3.jpg
304
228
Shine
https://shinenyc.net/wp-content/uploads/2021/02/Shine-logo-300x220.png
Shine
2023-02-05 02:26:15
2023-02-05 02:26:17
Black History Month: 3 Inventors and Crafts