Banana Ice Cream with Maple Pepitas & Coconut
Can we ever really thank our mothers enough?  Flowers, chocolates, jewelry? Probably not. I remember being in elementary school and telling my mom that someday I would buy her her very own Greek Island. I knew she loved Greece and was clearly already aware she deserved something big for all she did. I am still trying to get my mom that Greek Island. Perhaps just a trip to Greece together someday will do. There are much simpler ways for children to give back to their mom on Mother's Day. At Shine, we love to paint terra-cotta pots and plant flowering herbs as gifts. Even a homemade card will make Mom feel appreciated. But one of our favorite ways to treat anyone is with something delicious to eat. It can be breakfast in bed, a meal prepared the day before with the help of dad, or something decadent right out of the oven. Cooking together promotes family bonding and the effort put in always yields a great end result… not just a happy belly, but a happy mom!
Here, chef and Shine nutritionist Katie Letts, shares a very unique recipe mom's are sure to appreciate… tasty and healthy!
Continue to shine your light on your mom –
aaron goldschmidt, founder & director
Let's face it; being a mom can be a thankless job. Your toddler doesn't recognize you for changing her diaper, and your 10 year-old doesn't express gratitude for making sure he gets his homework done and enough vegetables in his diet.  Still, there is one day a year just for moms.  On this day, mothers everywhere are shown complete appreciation for all they do by family, friends and strangers, alike. It is a day for moms to enjoy being pampered, fed breakfast in bed, and simply to bond with their families. This Mother's Day, help your little ones pamper you with a delectable homemade ice cream. It's made with frozen bananas, rather than dairy and added sugar, so feel free to indulge as much as you please!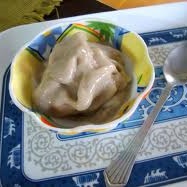 Ingredients:
(Makes 3 cups of ice cream)
4 bananas, cut into manageable pieces (about 2") and then frozen
2 cups raw pepitas (pumpkin seeds)
1 tbsp Grade A Maple Syrup
2 tsps vanilla extract
¼ cup coconut milk
1 cup unsweetened coconut shavings
Directions:
Preheat oven to 350 degrees Fahrenheit. In a medium-sized mixing bowl, combine pepitas, maple syrup and ½ tbsp of water. Toss until pepitas are well-coated, and then bake on a parchment-lined baking sheet for 30 minutes. Allow to cool to room temperature and set aside.
Place frozen banana pieces, maple-coated pepitas and all other remaining ingredients into a blender. Pulse until bananas resemble a "soft-serve" consistency.
Serve in your favorite ice cream dish and enjoy!
By Katie Letts, Shine Nutrition Specialist
https://shinenyc.net/wp-content/uploads/2021/02/Shine-logo-300x220.png
0
0
Shine
https://shinenyc.net/wp-content/uploads/2021/02/Shine-logo-300x220.png
Shine
2013-05-01 00:18:28
2021-09-23 18:58:30
Banana Ice Cream with Maple Pepitas & Coconut