5 Perfect Breakfasts for Your Little Valentines
Anyone who's cooked a meal for the family knows it's a labor of love. From cutting the crust off the bread of a finnicky toddler, to arranging the chocolate chips in the pancake into a smiley face, we are more than accommodating.
Sometimes the joy is in sharing our grandmother's special recipe, introducing the kids to an exotic flavor for the first time, or simply taking pleasure in filling their bellies with healthy foods and watching them gain sustenance and take form before our eyes.
Children may seem like little butterflies, flitting from one amusement to the next all day long, but they're soaking it all up – the aromas emanating from the kitchen, the heat from the bustling stove, the sound of you singing as you're making, the funny ideas their imaginations concoct as they gaze upon their plates.
Planning a few meaningful moments with food can have sticking power. Your kids may forget much of their childhood, but they'll remember that you took the time to care; and when they find themselves suddenly whipping up heart-shaped eggs for their own children come Valentine's Day, they'll smile and think of you. If you're still looking for that special Valentine's Day breakfast idea, we hope you find inspiration here.
There's much to love about this donut recipe. You'll need buttermilk, heavy whipping cream, nutmeg, food coloring, and sprinkles – a few items you might not always have on hand – and, ideally, a heart-shaped donut pan. The dough is cakey and the frosting thick. Be sure to read the comments section for extra tips to prevent sticking and get that perfect color/ consistency.
Sunny Side Up Egg-Heart Toasts (Chef De Home)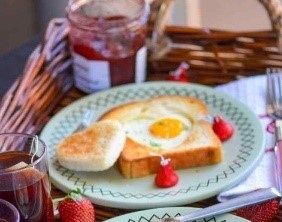 Use a heart-shaped cookie cutter to create a nest for the egg within the toast. You can use white or sourdough and strawberry jam or Nutella, depending on your kids' preferences. Hershey Kisses make a nice plate garnish! If your kid only eats a scramble, consider topping with a heart-shaped tomato. These heart-shaped omelet muffins are quick and easy to make-ahead as well.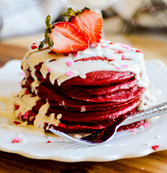 It's hard choosing a favorite pancake. Ultimately, red velvet cake mix and cream cheese wins, adding an unexpected twist to a traditional pancake breakfast equally suited for kids and parents alike – no artificial dye necessary! Garnish with strawberries and sprinkles. We also loved these caterpillar pancakes for tiny tots and the Emoji pancakes for slightly older kids.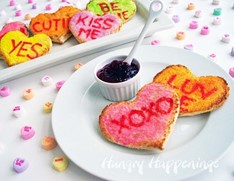 All you need is bread, jam, milk, food coloring, and food-safe paintbrushes to create a slice of fun. Toast the bread to perfection in a toaster, oven, or toaster oven and serve with real candy hearts for a whimsical twist. You can use a stamper if your freehand paint-writing isn't the hottest.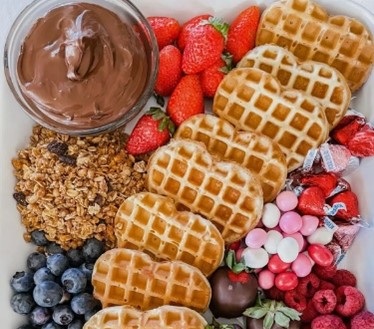 If you want an over-the-top spread, consider putting together a trendy charcuterie board. (The heart-shaped waffle maker is clutch, but you can also cut your waffles into shapes using a pair of kitchen shears.) Follow this easy recipe for chocolate-dipped strawberries. Swap the sugar cookies out for heart-shaped bacon if you need a little more savory to offset the sweet.
Hungry for More?
Does your child take an interest in cooking? Come and explore with Shine's "Cooking Stars" class (ages 3-5, 6-7, 8-10). We combine food art, science, literature, and hands-on culinary experiences to enrich your child's life.
https://shinenyc.net/wp-content/uploads/2022/02/145653006_3939485636075969_1729406831048348783_n.jpg
799
1400
Jayme Taylor
https://shinenyc.net/wp-content/uploads/2021/02/Shine-logo-300x220.png
Jayme Taylor
2022-02-09 02:21:42
2022-02-10 21:35:45
5 Perfect Breakfasts for Your Little Valentines