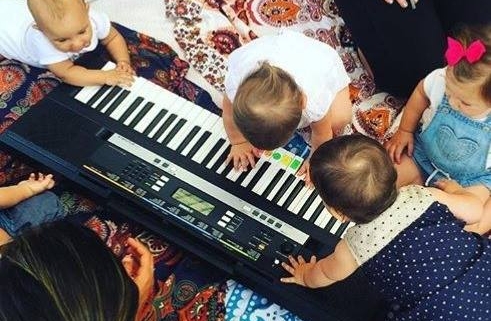 5 Options To Celebrate "Make Music New York" With Kids
"Children are inherently musical beings. They love to sing, dance, shake, rattle, and roll!" says Shine Music Specialist Taylor Feygin. "Adults who provide developmentally appropriate learning environments for children incorporate music as a major component of a healthy and natural daily experience."
Now in its 18th year, summer's Make Music New York festival provides the opportunity to introduce your child to different styles of music around the city. Billed as "inclusive, adventurous, and fun," you'll find the energizing spirit of celebration is something your family can look forward to each year.
What Is Make Music New York?
Make Music New York (MMNY) claims to be "New York City's only music festival for the people and by the people." Run twice a year by Make Music New York Inc., a nonprofit organization that celebrations the musician in everyone, music makers of all ages are invited to share their skills and passions with the community in public parks, plazas, and sidewalks in all five boroughs. This year, there are more than 1,000 to choose from!
The next MMNY takes place on Friday, June 21st — the first day of summer — from 10 a.m. to 10 p.m.
Where To Celebrate Make Music New York With Kids
Who: Dr. Alex and Friends
What: Silly songs, dance, puppets, books, sing-a-longs; after the free concert, $5 buys you art project materials.
Where: Private Picassos' Art Studio (237 5th Avenue – Brooklyn)
When: 1-2 p.m. with activities until 6 p.m.
---
What: Original children's rock songs and puppetry
Where: Smiling Hogshead Urban Farm (25-30 Skillman Ave. – Long Island City industrial business district)
When: 3:45 – 4:30 p.m.
---
What: Tenor saxophone and flute; reggae / world / jazz
Where: Children's Magical Garden (129 Stanton Street – Lower East Side)
When: 11 a.m. – 1 p.m.
---
What: Free bands and block party, with craft and fitness activities for children and adults.
Where: Cobble Hill (car-free Court Street, between Atlantic and Bergen St. – Brooklyn)
When: 5 p.m. – 9 p.m.
---
What: A five-member, four-part harmony outfit, with lead guitar, bass, flute, keys, and drums playing originals, Beatles tunes, folk, blues, and tin pan alley. Afterward, a narrated guided shoreline walking tour takes you along NYC Parks and Conference House Conservancy.
Where: Conference House Park's Great Lawn (Hylan Boulevard and Satterlee Street – Staten Island)
When: 6:30 – 9 p.m.
Do Your Kids Love Music?
Nearly all the classes Shine offers includes some type of music. From "Sing & Shine" (ages 0-2), to the mixed ages "Music Stars" class, to Group Music Theory (5+) and private instrument instruction (5+), we deliver a fun mix of education and imagination to a place of your choosing. Each class includes a trained Shine instructor, materials, setup, and cleanup. We also offer summer camps that foster a greater appreciation of the arts. Contact us for details.
https://shinenyc.net/wp-content/uploads/2019/06/19884089_1574260532598503_5987005088762097025_n.jpg
440
491
Shine
https://shinenyc.net/wp-content/uploads/2021/02/Shine-logo-300x220.png
Shine
2019-06-20 20:55:21
2021-10-18 14:03:09
5 Options To Celebrate "Make Music New York" With Kids