Making 2017 The Thank You Year
As I reflect on 2016 — its crazy turns, speed bumps that turned out to be potholes and the unexpected dead ends — I am truly thankful. I'm thankful for my love, my home, my job, and for quiet Sunday afternoons when I get to write about my childhood, new and old picture books, and admire the creativity in kids. I am thankful for this open, magical and welcoming space right here. And I plan on taking these feelings of gratitude with me as I start my journey into 2017.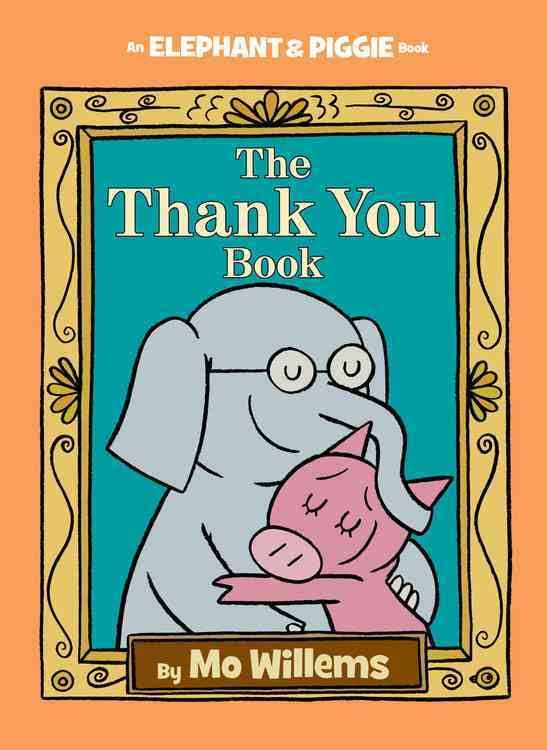 I can't think of a better way to say goodbye to 2016 than by saying a proper farewell to some chums, Gerald and Piggie. I know. Say it ain't so?! It's sad but true. The 25th and final book in Mo Willems' "Elephant & Piggie" series came to an end this year with "The Thank You Book."
For one last time, the comedy team of Gerald the Elephant and Piggie's spirited banter is in full bloom as Piggie thinks, "I am one lucky pig." And decides to "get thanking." This peaks Gerald interest as he glumly tells her he's sure she'll forget someone. But Piggie won't have it. She grits her teeth and replies, "I. Will. Thank. EVERYONE. It will be a THANK-O-RAMA!"
In true Willems fashion, the parade starts as he brings back every character who has ever made an appearance in an Elephant & Piggie book.
Piggie thanks the Squirrels for their great ideas, Snake for playing ball, and the Pigeon "for never giving up," while adding "sorry you do not get to be in our books." Of course fans know the mischievous bird photo bombs the endpapers of all the Elephant & Piggie books. So he slyly replies, "That is what you think."
Piggie thanks, thanks, thanks! She is a "thanking machine!" She continues to thank the Whale, the Ice Cream Penguin, Doctor Cat, and Brian Bat. But Gerald continues to interject that she'll forget "someone VERY important." It's only when Piggie finally runs out of thanks that she gets it, and Gerald is straight up mad. "I goofed," Piggie concedes before thanking Gerald.
But unfortunately it's not Gerald whom Piggie forgot to thank! He reveals the "someone important" is…"Our reader."
This is a fun and heartwarming, a family-reunion that perfectly brings an end to a beloved series. I don't know about you, but I think Piggies is on to something! I'm going to start this New Year with a THANK-O-RAMA! I hope you do too.
By Claudia Chung for Shine
https://shinenyc.net/wp-content/uploads/2016/12/Untitled-1.jpg
658
1722
Shine
https://shinenyc.net/wp-content/uploads/2021/02/Shine-logo-300x220.png
Shine
2016-12-23 21:34:42
2021-09-23 18:58:22
Making 2017 The Thank You Year