Let Reading Take You On an Adventure
I'm obsessed with children's books. I can't get enough. I have a personal collection of over 1000. I am a Scholastic Book Club teacher. I have two good friends in children's publishing who keep me stocked up on new releases. And I'm embarrassed to say that my Amazon bill at the end of every month includes more children's titles than anything for adults. I don't know when this obsession started but I'm pretty sure my mother had something to do with it. It usually comes back to her. I remember making weekly trips to the public library to take out a dozen books or so.  I remember her reading to me voraciously. I remember books being made just as important as toys in our home. As an early-childhood educator I'm so thankful I had this foundation laid for me at a young age.  My love of books helped me to excel in school and provided me the opportunity to expand my imagination, vocabulary, and ideas about the world. But most of all, books have been and still are some of the best companions and where I love to escape when I need some alone time.
Early literacy is so important. There are countless ways to incorporate books into the lives of children. Bari Snyder, a literacy coach and reading specialist, shares some ways that you can letting reading take your child (and you!) on an adventure.
Continue to shine your light –
Aaron Goldschmidt, founder & director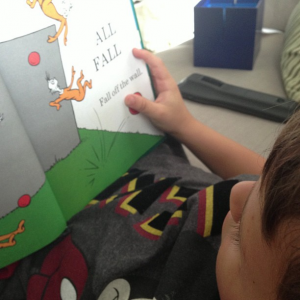 In a world where an answer to a question is just a click away, how do we engage our children long enough to sit and actually listen to or read a book?  How do we instill that excitement of opening a book for the first time?  How do we guide our children to want to be life-long readers?
Selecting terrific books for your child will put them on the road to learning, build their vocabulary and object recognition skills, spark their curiosity about the world, and create wonderful memories.  But what's just as important as the book you choose, it how you read it with your child.
Think of your most treasured memories of reading as a child.  Mine go all the way to back to Elementary School and my introduction to Where the Wild Things Are.  When the teacher asked us to "roar his terrible roar" collectively, I felt excited, exhilarated, and a part of the story.  When reading a Dr. Seuss book, the excitement to finish the sentence "I will not eat them Sam I Am" made me feel like I was a fluent reader!  We can give our children this same love and excitement for the written word and painted picture in the stories we read with them.
The focus of this reading blog is using the pictures to tell a story.  This technique not only brings the child and adult into an interactive conversation about the story, but it engages the learner and utilizes higher level thinking skills.
This skill is good for readers of ANY age.  By utilizing our visualizing skills, predicting skills and previous knowledge, children are using parts of their brains that computers can't get to!  We are helping to bring back higher level thinking skills into this generation.
Think of the saying "Don't judge a book by its cover."  With this week's skill, focus on the cover the book to predict what your child will be reading.  Before you even open the book, discuss the title of the book and the picture on the cover. Predict together what the story might be about.  Then, glance through the pictures in the book and tell the story using those pictures.  Predicting and anticipating the story line can help children identify words as they finally do begin to read. Plus, they love seeing if their predictions are correct!
For example, if you're reading Where the Wild Things Are, you can discuss a time, with your child, that they didn't want to go to bed.  Help them make a connection between the character and themselves.  This interpersonal relationship between your child and the characters they read about will help cultivate their love of stories.
By Bari Snyder, Literacy Coach and Reading Specialist
https://shinenyc.net/wp-content/uploads/2021/02/Shine-logo-300x220.png
0
0
Shine
https://shinenyc.net/wp-content/uploads/2021/02/Shine-logo-300x220.png
Shine
2014-08-27 20:11:38
2021-09-23 18:58:26
Let Reading Take You On an Adventure