Francesco Sedita Hates Reading
I am obsessed with children's books. Literally. I have a collection of over 1000. And it's growing. I am a Scholastic Book Club Teacher and order my own batch every month. I have many good friends who work in children's publishing and keep me stocked up on new releases. I make regular visits to Books of Wonder. And I'm embarrassed to say that at the end of every month my Amazon bill includes more children's titles than anything for adults. I may have a problem.
This week is Children's Book Week and May is Get Caught Reading Month. My personal obsession aside, early literacy is  fundamental to Shine's philosophies. There are so many ways to incorporate books into the lives of children. Here, Francesco Sedita, my friend, president and publisher of two children's imprints at the Penguin Young Readers Group, and Shine advisory board member, reveals that not everyone starts out as a reader. Often it needs to be cultivated by crafty parents, inspiring educators or just a good old fashioned book about burps.
Continue to shine your light and get caught reading –
Aaron Goldschmidt, founder & director
I am a children's book publisher for Penguin.  I oversee an enormous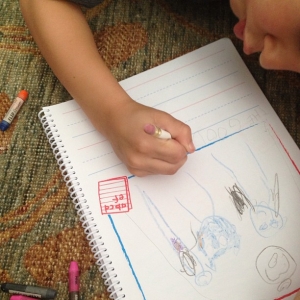 list of books, aimed at children ages 0-12. Grosset & Dunlap is filled with interactive board books, chapter books about boys who burp and aging monsters and food adventures and mystery solvers and time travelers.  It's also bursting with amazing licensed books, like Strawberry Shortcake, Cartoon Network, Max & Ruby, Hello Kitty, and on.  I am proud of this list.  I believe in it.  It caters to every type of child, reading level, interest level.
Now, ready for a secret?  I HATED reading as a kid.  See how I capitalized that word?  Because I can't truly describe how much I loathed sitting down and reading.  The thing is, I come from reading parents.  My dad always has a banged up paperback nearby and my mother is never far from her stack of pristine hardcovers.  As a child, I was allowed to buy any book I wanted, even ones that were out of my age range or reading level.  For a kid who was considered smart, and a good writer from an early age, I was constantly behind in reading.  I remember once sobbing at the kitchen table because I had to read 20 pages for homework in 3rd Grade.
So how in the world did I become a children's book author and publisher?
Scooby-Doo 8x8s, Choose Your Own Adventure, a book that I bought from the Scholastic Book Clubs called Nobody's Fault, and a very strange post-apocalyptic book called Swan Song that my dad read and allowed me to read in 7th grade.  That book was something like 500 pages.  And I devoured it.  My parents quietly tried to find things that would hook me.  And, with patience, they succeeded.  That's what drives me at my desk every day.  Make great books for great kids, no matter what their reading level and no matter how much money they have to spend.
Remember how I capped the word "hated" before?  Now, I am going to cap another word.  I am so PROUD to say this. Proud that I write stories that warrant children to write me or leave notes on my blog about how much they love my books. Proud that I make books at Penguin that work hard to find the readers that will devour them, love them, and if I'm lucky, hug them when they are done.
As for me as an adult reader? I read.  Slowly.  But I read.  (I even took a speed-reading course a few years ago, which yielded no results at all.)  But I am a reader, a lover of all things words and pictures.  Proud of my list, proud of the editors and designers in my group who make magic on our pages every day.  And proud to have inherited from my parents diligence, passion, and a little bit of patience.  There is a book out there for every child.  Everywhere.  It's just a matter of finding it.
By Francesco Sedita, Penguin Young Readers Group
https://shinenyc.net/wp-content/uploads/2021/02/Shine-logo-300x220.png
0
0
Shine
https://shinenyc.net/wp-content/uploads/2021/02/Shine-logo-300x220.png
Shine
2014-05-05 01:48:58
2021-09-23 18:58:27
Francesco Sedita Hates Reading