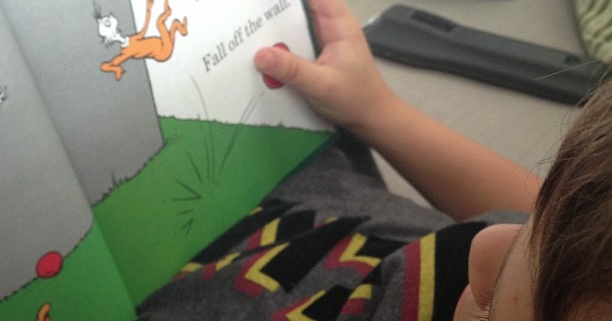 Check Out These Top Children's Books for Library Lover's Month
Last month, the New York Public Library released their list of the "most checked-out books of all time." While you might expect classic school reads like 1984, Fahrenheit 451, and To Kill A Mockingbird, it may surprise you to find so many children's books dominating the top 10. 
"This list tells us something about New Yorkers over the last 125 years — what moves them, what excites them, what stands the test of time," said NYPL President Anthony W. Marx. He adds, "The books on this list have transcended generations and, much like the Library itself, are as relevant today as they were when they first arrived."
NYPL's 'Most Checked-Out' Children's Book
The most-wanted book of all-time was, in fact, a children's book:
#1 – The Snowy Day by Ezra Jack Keats
Readers checked out the Caldecott Medal award winner a total of 485,583 times since it was published in 1962. At face value, The Snowy Day is about the delight of simple childhood pleasures – narrating the experience of a young boy playing in the first snowfall of the season – bundling up in his red snowsuit, knocking white powder off the trees, making snow angels, watching his footprints follow, building a snowman, and keeping a trusty snowball in his pocket.
This relatability combined with the beautiful illustrations makes it a favorite. Keats cut pieces of paper from America, Japan, Italy, and Sweden, gluing the collage together to make images that could withstand the test of time: gum eraser snowflakes, spattered India ink backgrounds, watercolor bubbles, and checkered oilcloth dresses. 
At the time it was published, "Peter" was one of the first non-caricatured African-Americans featured in a children's book. Keats wasn't on a crusade: he simply wanted to make that point that a good frolic in the snow transcends all race, color, creed, or division. One Florida teacher wrote to Keats to say, "The kids in my class, for the first time, are using brown crayons to draw themselves. These are African-American children. Before this, they drew themselves with pink crayons. But now, they can see themselves."
Other NYPL Top Ten Children's Books
Also among the Top 10 most-borrowed books of all-time:
#2 – The Cat in the Hat by Dr. Seuss (469,650 check-outs)
#4 – Where the Wild Things Are by Maurice Sendak (436,016 check-outs)
#6 – Charlotte's Web by E.B. White (337948 check-outs)
#9 – Harry Potter and the Sorcerer's Stone by J.K. Rowling (231,022 check-outs)
#10 – The Very Hungry Caterpillar by Eric Carle (189,550 check-outs)
List-makers gave Margaret Wise Brown's Goodnight Moon an honorable mention. Influential Librarian Anne Carroll Moorewas said to have disliked the book so much, she refused to carry it from 1947 to 1972. A fan of "more sophisticated" Beatrix Potter stories, the librarian dismissed the story as "an unbearably sentimental piece of work." Despite her disdain and a 25-year absence from the shelves, the book has been checked out more than 100,000 times.
Where To Check Out Children's Books in NYC
The American Library Association has designated February as "National Library Lover's Month," so what better time to curl up with your child, a blanket, a cup of cocoa, and a great book? We are blessed with many idyllic libraries, complete with inspiring architecture, a wide selection of children's literature, and innovative free programming.
Consider some of the best NYC libraries for kids:
Be sure to check out NYPL's regularly updated calendar of events. Whether your child is less than 18 months or a teen, you're bound to find something fun happening today at one of the area libraries. If you have a little aspiring reader or writer you'd like to encourage, consider one of our classes or workshops for fun, educational programming that takes your child to new heights. 
https://shinenyc.net/wp-content/uploads/2020/02/1006142_614835095207723_217686300_n.jpg
612
612
Shine
https://shinenyc.net/wp-content/uploads/2021/02/Shine-logo-300x220.png
Shine
2020-02-10 20:16:28
2021-10-18 14:03:07
Check Out These Top Children's Books for Library Lover's Month