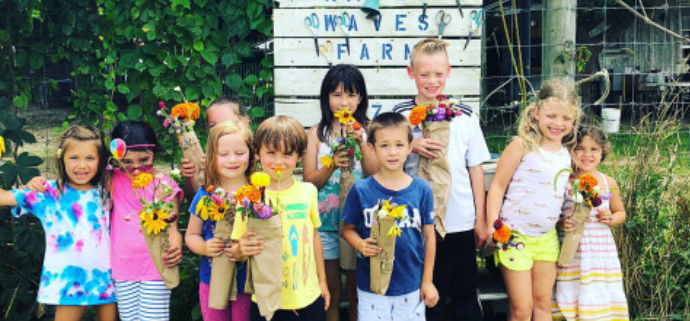 Best Places to Shake Off Your COVID-19 Blues on Long Island's East End
As we prepare to enter the fifth month of the COVID-19 pandemic, it's only natural to worry about the mental and emotional toll the isolation is taking on your child and family. You may yearn for normalcy, but worry about the risks of returning to family fun as usual. Many of the places you used to take the kids are still closed and highly anticipated summer events have been cancelled.
What's a parent to do?
It's important that we shine our inner lights, so our children remember this summer as a time of growth and enrichment, not stagnation. The places we love may be operating a little differently, but in some ways, timing your visit during this low-traffic time makes it better.
To help, we've curated a list of idyllic places to spend a safe, enjoyable summer afternoon on Long Island's East End. Also, we offer the latest scoop on day camps that are running with expanded safety protocols, offering a fun, educational environment that isn't so dependent on parental supervision.
LongHouse Reserve
LongHouse Reserve is a 16-acre sculpture garden dedicated to reflecting world cultures and inspiring creativity. Here you'll find a maze-like environment of giant chess boards, lotus plant ponds, and futuristic solar panel art installations. Two hours should be a good amount of time to take in the surrounding beauty and 60+ works of art.
The garden re-opened to the public on June 17th — but due to COVID-19, visits are by timed ticket reservations ONLY. Day trips are $15 and Twilight Tours $30, but be sure to plan a week or two in advance, as tickets are selling out.  
Everyone is required to wear a mask, except children under two – who must be kept in strollers. Restrooms and water fountains are closed, benches are roped off, INstore is closed, and six-foot social distancing with other groups is advised.  
Bridge Gardens
The five acres of Bridge Gardens provides a welcome respite for birdwatching, painting, photography, and nature study in the heart of Bridgehampton. The mix of community gardens, demonstration plots, and ivy mazes makes it the perfect oasis for picnicking.
Bridge Gardens is open daily from 10-4 with free admission. Out of an abundance of caution, the Peconic Land Trust has switched their tour programming to virtual Zoom meetings instead.
Madoo Conservancy
Established by artist, writer, and gardener Robert Dash, Madoo Conservancy in Sagaponack is a registered historic site replete with fairytale cottages, Chinese ponds, unique artwork, and enchanting gardens.
Madoo Conservancy opened for the season on June 22nd. If you wish to visit the Madoo Conservancy, visits for groups of 10 or less are now by APPOINTMENT ONLY. The garden is open on Fridays and Saturdays from 12-4pm through October 10th, 2020.
All guests are required to wear face masks, which can also be found on-site if you do not have one. Guests are asked to wash their hands upon entering and using hand sanitizer upon leaving.  Strollers are not permitted and there are no public restrooms at this time.
The $10 admission fee is waived, thanks to a generous grant from the Barry Friedberg and Charlotte Moss Family Foundation.
Amber Waves Farm
Amber Waves Farm in Amagansett has received praise for their safety-first approach to produce cultivation during the COVID-19 crisis. Normally, this time of year, there are pizza-making workshops, farm tours, and story hours for kids – but specialty programming has been placed on hold in light of recent events. Even so, Full Moon Suppers are on the calendar starting in August, and you can always stop by for a box of produce and a bite to eat.
The Café opened for the 2020 season on June 13th with breakfast and lunch orders available to-go or to enjoy at their socially-distant picnic tables from 8am to 4pm. Guests are asked to wear masks any time they are on the property, except for when dining. You can also shop the market and order a produce box for next-day curbside pickup online. The staff is required to wear gloves and face coverings while working at the market.
Looking for a safe enrichment environment for your children?

Summer camp for ages 4-11 is a little different this year, with pods very limited in size to keep everybody safe. We have three full days of programming (9:00 am to 2:30 pm), with a few spots left.

Monday outdoor sessions at LongHouse Reserve will meet in two groups of 10, with no other camps on-site. Wednesday and Friday sessions at the Children's Museum of the East End from July 20th through September 4th offers an exclusive opportunity to visit the museum while it is closed to the public.

Beyond the size limitations, Shine educators are strictly adhering to ALL State of New York and CDC protocols. Parents are to stay in the car during pickups and drop-offs. We will ask you a few questions, such as whether anyone in your household has experienced COVID-like symptoms in the past 14 days, tested positive, or come into contact with someone who has confirmed or suspected coronavirus. Campers will have their temperatures taken and wash their hands thoroughly before the day begins. Teachers and counselors will be wearing masks when interacting with children, remaining at a distance whenever possible, and sanitizing surfaces and materials frequently.  

Children will receive the same high-quality Shine programming we've curated for the past six years. Carolina Fuentes and Drumanawé will be stopping by with their unique combination of music and movement. Mondays feature Chris Sahr's fine arts groups and a coach from Super Soccer Stars. Wednesday Workshops bring in local farmers and artisans. Fridays include art with Chris Sahr and fun interactive STEM activities with Snapology.

Shine will be taking summer excursions to all of the places mentioned here. Check out some of the places we've been with the kids so far, from strawberry fields to beaches on our Instagram. We're also working on adding private museum access and guided walks at SoFo in the coming weeks as well. Contact us to inquire about availability and the latest partnerships.
https://shinenyc.net/wp-content/uploads/2019/01/unnamed-3.png
456
690
Shine
https://shinenyc.net/wp-content/uploads/2021/02/Shine-logo-300x220.png
Shine
2020-07-18 23:07:18
2021-10-18 14:03:05
Best Places to Shake Off Your COVID-19 Blues on Long Island's East End