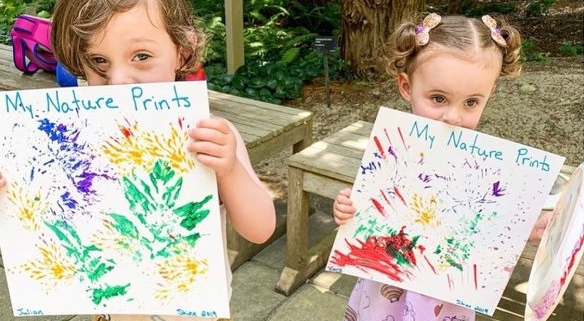 The Importance of Working with Natural Art Materials
The sight of auburn leaves against a crisp blue sky and smells of autumn are enough to make any New Yorker want to craft with nature's finest art materials. Inside your home, you may be stocked up on glitter, pipe cleaners, and pompoms – only to find your children enjoy building rock piles, picking flowers, and collecting acorns just as well. At Shine, nature-inspired, naturally-sourced art materials are among our favorite camp projects. Continue reading to learn how to invite more natural beauty into your lives and get inspired by fall art ideas.
Why We Love Crafting with Nature
Materials are readily available. You don't have to drive to the store to start an art project. You need only go into the backyard or to a local forage-friendly park to find nearly everything you need. Kids often become inspired on a whim, so the availability of natural art materials is an obvious bonus.
Art materials are free of charge. Mother Nature gives to us freely. It's all too easy to spend more than $100 in a craft store. The materials you use may not last forever, but snapping a photo for posterity is all it takes to have those memories last a lifetime.
Natural art materials are ecofriendly. Glue and paint contain a lot of nasty chemicals. Most glitter and tape are nonbiodegradable. The production of art materials leads to greater CO2 emissions, global warming, and transportation-related pollution. All of this can be avoided with the use of nature's art materials. By having your kids create using nature's finest offerings, you are raising a next-generation conservationist.
The supplies are versatile. While it can be nice to experiment with an all-in-one craft kit, there are limitations to the projects you can ultimately make. On the other hand, there is an endless range of crafts that can be made using items like acorns, feathers, flowers, leaves, mud, nuts, pinecones, rocks, sand, shells, sticks, and twigs.
Nature evokes creativity. Henry David Thoreau once said, "It is the marriage of the soul with nature that makes the intellect fruitful, and gives birth to imagination." The mind blossoms when it has to seek out something round for eyes, rather than relying on a generic set of store-bought Googly-eyes. It takes creative problem-solving to get the leaf to stick onto a rock without glue.
It's a healthier way to create. Sourcing from nature forces us outdoors. We could all use a bit of sunlight and fresh air this time of year. Grab a sweater and your favorite basket to start collecting a bin of materials you can use today or during the winter.
Natural Alternatives To Common Craft Materials
Consider replacing some of your most commonly-used craft supplies with natural ingredients:
Paper – Leaves, bark, rocks, sidewalk
Popsicle Sticks – Sticks from trees
Pipe Cleaners – Flexible plant stems
Beads – Shells or acorns
Paint – Clay, berries, vegetable dye, or crushed flowers mixed with water
Ribbons – Long grass or plant leaves
Googly Eyes – Spotty leaves and a hole puncher
Buttons – Branch slices with two holes drilled
Glitter – Red bottlebrush flower, Lilly Pilly flowers, mica
Easy, Nature-Inspired Fall Crafts To Try Today
Fall is the perfect time to enjoy these leaf-based arts and crafts:
If necessary, you can preserve leaves using glycerin or wax paper for better longevity.
Check out our Pinterest board for more fall craft ideas, from Bark Owls to Pumpkin Seed Trees. If you live in the NYC/East End, you can also contact Shine to enroll in one of our classes, workshops, or parties, where you'll find all the materials and instructions needed to make beautiful natural crafts.
https://shinenyc.net/wp-content/uploads/2020/09/67442235_2559868494037697_2236157203490799616_o-1.jpg
326
584
Shine
https://shinenyc.net/wp-content/uploads/2021/02/Shine-logo-300x220.png
Shine
2020-09-30 15:51:30
2021-10-18 14:03:05
The Importance of Working with Natural Art Materials