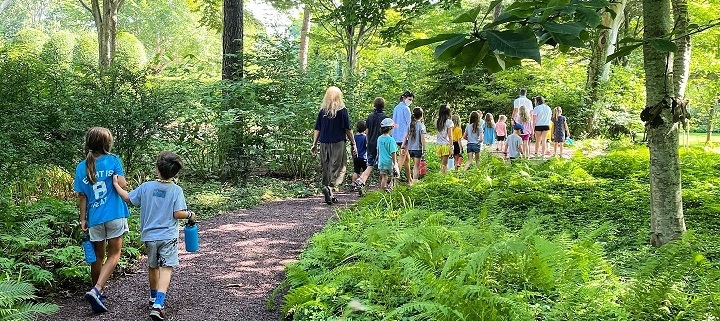 How To Help Your Child Cultivate a Love of the Great Outdoors
Kids who spend time engaged in solitary activities outdoors have the strongest bonds with nature, according to researchers at North Carolina State University.
Parents are often concerned with signing their kids up for sports like soccer, t-ball, or tennis to get them active and out of the house. While highly structured activities benefit kids in their own way, they don't necessarily foster a deep love of nature – the sort that builds confidence, responsibility, creativity, contemplation, attention span, energy, relationships with others, and a spirit of conservationism.
For the study, scientists surveyed 1,285 children ages 9-12 to identify what makes kids feel most comfortable outside. They found that kids had a variety of preferences, but what initiated a strong connection with nature or the desire to pursue a career in environmentalism was a more solitary activity in early childhood.
If you're looking to foster a lover of the environment, consider introducing or encouraging one of the following pursuits identified in the study:
Fishing
Angling can be a great stress reliever. All kids can be taught to fish, but by six they have the skills necessary to be more autonomous. Location is key, as younger kids will want to see the fruits of their labor — the exciting flopping fish on the end of their lines! Consider a fully stocked lake, pond, or river listed on your state's Department of Environmental Conservation website.
Try starting with an ultralight spinning pole with a four pound line, size 8-12 hook, a sinker, a bobber, and bait worms. This setup will be sufficient enough to reel in trout, bass, sunfish, and catfish. When you bring in a catch, take a moment to show the gills, scales, fins, and fish anatomy.
Look out for crawdads, tadpoles, minnows, turtles, and other creatures, sometimes turning over rocks or looking under logs. Turn your eyes up to scour for ospreys. Talk about how each animal plays an important role in the ecosystem and emphasize the importance of leaving no trace behind, picking up all litter.
A few hours is plenty long enough for kids with short attention spans. When they get tangled, let them use your pole as you fix it for them to minimize idle time. Bring plenty of sunscreen, snacks, drinks, sunglasses, changes of clothes, and patience. Heap on the praise and let kids make choices like which spot to fish, which special bait to use, or when to pause and look for critters.
Hunting
You'll know a child is ready to accompany a hunt if he or she is asking a lot of questions. Rather than simply answering questions to satiate the curious mind, take your child along. Kids as young as 10 can take beginner safety courses, while those 16+ will need their own hunting licenses. Rabbit and deer are good first game to hunt, as these animals provide a great meal for the family.
Load up on gear to make the activity more fun. Face paint, camouflage, muck boots, binoculars, hats, and hearing protection are essentials in helping your child have a sense of belonging on the trip. Bring lots of snacks like beef jerky and trail mix, as well as drinks. Consider preparing a tree stand or a ground blind in advance, so you have your own special spot staked out.
Go early and break up the time with periods of walking around. Let your child pack a bag, use a compass, and blood track – which will all encourage independence, a reward in itself. Look for animals prints, deer rubbings on trees, scat, or other signs of wildlife. Talk about shot placement, aim, range landmarks, and other information to help your young hunter. Also take a moment to remark upon the sights, sounds, smells, and feels of the woods.
Exploring
Hiking and camping are perfect activities for encouraging exploration of the natural surroundings beyond the backyard. Plan a day trip or holiday weekend to enjoy as a family. Choose a scenic location with ample wildlife, water features, and relatively flat walking paths. If you're camping, consider venues with family-friendly amenities like ice cream trucks, kayak rentals, pools, and mini-golf.
This kid-friendly book will help your child spot different types of trees, birds, clouds, insects, animals, and flowers along the nature trail. A scavenger hunt game like Go Find It can also be great fun for little ones, encouraging them to find "something bumpy" or "something yellow," for instance. Consider stepping back and allowing your kids to wander freely, within eye sight, to enjoy the thrill of solo exploration.
Silent "sit spotting" is a type of meditation that can really help kids connect with their natural surroundings. Have your child find a place on the walk that feels special. Or, if you prefer, you might bring supplies to build a teepee to create a unique sense of place. Practice sitting crisscross-applesauce with eyes closed, asking your child to listen and let you know what sounds are all around. Then open your eyes and discuss what plants, insects, animals, clouds, shapes, textures, or colors you see. Listen to the birds. Touch the moss. Breathe in the dirt. You might consider tracking your observations day after day. Just five minutes daily is all it takes to experience the benefits of mindful meditation – like calmness, self-awareness, and happiness.
Looking for more ways to get your child out into nature? Try one of Shine's Hamptons camps or mini-camps geared toward ages 2-12. We'll be at the LonghouseReserve, Children's Museum of the East End, and more iconic East End locations this summer.
https://shinenyc.net/wp-content/uploads/2021/05/kids-walking-up-a-path.jpg
353
720
Shine
https://shinenyc.net/wp-content/uploads/2021/02/Shine-logo-300x220.png
Shine
2021-05-17 22:50:10
2021-10-18 14:03:02
How To Help Your Child Cultivate a Love of the Great Outdoors