I just got back from spending spring break in Colombia.  I love traveling Latin America for so many reasons and return at least once a year.  I also like to think of myself as someone who speaks Spanish.  The truth is, I am not fooling anybody.  My Spanish continues to embarrass me, especially after the years I took it in school and in refresher classes afterwards.  I truly wish I had started at a much younger age.  As Sara Farzam, founder and director of Bilingual Birdies, explains in this week's piece, children 5 and under are at the most critical ages for language acquisition.  We now know that success with foreign languages comes from starting early and in age-appropriate ways.  Music, art, food, books… these are some of the best things in life and also some of the best ways to incorporate foreign language at home.  In doing so, we are ensuring that we help to develop truly global citizens.
Continue to shine your light  –
Aaron Goldschmidt, founder & director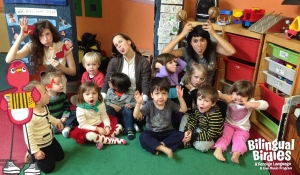 Pablo el pato only speaks Spanish, so we need to all greet him by saying, "Hola Pablo!"
This is how the kids in a downtown Brooklyn preschool greet their favorite cuddly puppet every Tuesday morning. They are learning Spanish with Bilingual Birdies and Pablo el pato, or Pablo the duck, is representative of far more than just a bread-eating feathered friend.  He is a symbol of the changing face of America.  The parents of these children have signed them up for a program which promises to teach the under five population about cross-cultural awareness, compassion, and curiosity through a foreign language and live music curriculum.  Bilingual Birdies offers classes in Spanish, French, Mandarin, and Hebrew.  CDs of educational music are provided for parents to play at home, which reinforces their ability to learn a language when they aren't in class.
A kiddie class with a lasting impression…
Today's parents are facing a whole new set of challenges when they decide which enrichment programs would be best for their infants, toddlers, and preschoolers. Sure, cooking and art-and-craft classes yield endearing centerpieces for the dinner table, but what about a class that leaves a lasting impression? When parents are considering what classes are most beneficial for their children, one compelling issue that should influence their choice is globalization. The world is becoming much smaller and nations are more interconnected than ever before. If we want to see positive advancement in our future, then we need to prepare our young children to genuinely embrace diversity. One of the best ways to do this is to learn a foreign language – the sooner, the better.
More and more emphasis is being placed on the global job market, immigration, the growing Hispanic population in America, and the one billion Mandarin speakers living worldwide.  The Multilingual Children's Association says, "About 75% or the world's population speaks more that one language." Compare this to the only 20% of Americans who speak something other than English. Now is our chance! We have the ability and all the resources to teach our children what it means to be global citizens.
You mean my two-year-old is supposed to sit in a chair for an hour and look at flash cards in order to get a leg up in the new global economy?
Play-based education is the answer to effective learning in the early years.  At Bilingual Birdies, the children learn through live music, movement, dance, puppetry, and exploratory games. The teachers are all bilingual musicians, come from theatre backgrounds and are trained to create a very child-centered classroom environment. The children use instruments such as mini-maracas and manipulatives like parachutes to learn basic vocabulary and short phrases in the foreign language. It's important to make their introduction to foreign language learning an engaging and enjoyable experience.  Scientific research shows that below five years of age is the most critical period for language acquisition. If parents are diligent about providing that opportunity, their children will be off to a profound start. When they're exposed to languages like Mandarin, young children get the chance to learn sounds and intonations that do not exist in English. They are able to repeat words with perfect native accents due to the malleability of their developing brains. The Multilingual Children's Association explains, "Children less than one year old have a 63% chance of learning a second language, versus a 1% chance of learning one as a teenager."  The idea is to get children excited about learning a foreign language so that later in life, they will already have an interest in becoming fluent and communicating with others.
Here are some of my favorite tips on how to encourage foreign language and culture learning even if you are not a bilingual parent:
Play music, DVDs, and read books in the foreign language.
Select weekly themes and "words of the day" that relate to the developmental world of children and repeat them at home.
Identify moments where you can embrace cultural differences and learn about new foods, traditions and art.
Sign up for an age appropriate foreign language program where you can follow the curriculum and celebrate foreign language learning together.
Don't get frustrated. Remember, you're opening the door to invite a love of foreign language learning in your child and increase their abilities to become fluent later in life. If you're excited about it, they will be too!
Today we see it actually takes a global village to raise a child.  As our world continues to shift it's crucial to promote open-mindedness in the hearts of young children. We really are all in this together.
By Sarah Farzam, Founder and Director of Bilingual Birdies
Sarah Farzam is the founder and director of Bilingual Birdies, a foreign language and live music program in New York City. She is dedicated to creating culturally rich content for infants, toddlers, and preschools. Her goal is to reach as many children and families as possible to foster an inspiring community of globally conscious people. Visit Bilingual Birdies for more information.
https://shinenyc.net/wp-content/uploads/2021/02/Shine-logo-300x220.png
0
0
Shine
https://shinenyc.net/wp-content/uploads/2021/02/Shine-logo-300x220.png
Shine
2013-04-03 20:13:53
2021-09-23 18:58:30
Globalizing Your Toddler