5 Best NYC Day Trips For Kids & Parents
Kids don't always share our ideas of fun. For us, long, lazy days of summer are the height of happiness. For them, those days can get a little boring. So this summer, give them something exciting to look forward to and plan a field trip or two to break up the monotony. Check out these five destinations just outside Manhattan that are fun whether you are four or forty.
The Hudson River Museum
511 Warburton Avenue, Yonkers, NY
Distance from NYC: 45 minutes
This turn-of-the-century museum beckons families with creative programming that combines art and science. Art projects geared toward kids ages 7+ include flower pot decorating, planet sculpting, and 3D printmaking. The Early Explorers room, designed for kids under 5, hosts a puppet theater, books, blocks, and a large-scale dollhouse. The gardening program allows children to transplant seedlings to pots, taste fresh-picked beans, and see how vegetables are grown.  Kids ages 5-8 will be awed by the on-site planetarium, which includes live presentations from astronomers, as well as short movies by Sesame Workshops, professional filmmakers, and well-known narrators. A guide will take you back to 1876, as you learn about the Victorian family who originally inhabited the historic Glenview Mansion.
Belmont Park & Race Track
2150 Hempstead Turnpike, Elmont, NY
Distance from NYC: 53 minutes
Start your day with Breakfast at Belmont, a tasty continental buffet, available from 7 to 9:30 am on weekends and holiday mornings at the Trackside Café. Afterward, board the tram for a ride through the stable area, giving kids an up-close view of the horses and the starting gate loading area. Check the calendar for the next Family Fun Day to enjoy bounce houses, a petting zoo, carousels, and carnival games included with your $5 admission. Pack a picnic lunch or take advantage of concession stands in the Belmont Backyard, where you'll also find a children's playground and duck pond. Parents can place their bets on the strangely-named horses, for as little as a dime, at one of the many TV/betting stations. Belmont Park is best known for the Belmont Stakes in June, but there are thrilling races Wednesday through Sunday, through mid-July.
Bear Mountain State Park
Route 9W North, Bear Mountain, NY 10911
Distance from NYC: 1 hour, 23 minutes
It's difficult to compete with the Bronx Zoo, but the Trailside Zoo and Museums at Bear Mountain State Park are still impressive and enjoyable for visitors of all ages. Kids can see wildlife aplenty – from rehabilitating mammals like fox, black bear, coyote, and porcupines, to snakes, frogs, and turtles at the herpetology house, to the magnificent birds of prey like bald eagles, owls, and raptors. Museum space is dedicated to natural history, geology, and human history. While you're there, be sure to take a spin on the hand-carved Merry-Go-Round, and rent a paddle or row boat to enjoy Hessian Lake. Popular summer activities include: lunch in the shaded picnic groves, lake and river fishing, navigating trails with easy hiking and biking, dipping into the swimming pool, and tossing a ball around the spacious play field. An outdoor ice skating rink is open from late October through Mid-March, and Perkins Memorial Drive and Tower are open from April through late November for a spectacular view of the Hudson Highlands and Harriman State Park. Adventurous families with babies in carrier backpacks or teens can hike to the 1,300-foot summit for a day packed with adventure.
The Franklin Institute
220 North 20th Street, Philadelphia PA
Distance from NYC: 1 hour, 47 minutes
While "a penny saved is a penny earned," you won't mind dropping some cash at the Franklin Institute for the day, with its 10 interactive, hands-on attractions and permanent exhibits that never get old. Older kids can experience the thrill of a mirror maze, virtual reality, and two escape rooms, while younger ones will love riding on a full-sized, smoke-blowing, whistling train and "training to fly" in the Wright Model B airplane. Walk through a 220-foot model of the human heart, bike across a high wire 28 feet above the Atrium floor on the SkyBike, see the stars in the Fels Planetarium, run in a simulated race against pro athletes in the SportsZone, or crawl through a "tunnel of neurons" in the award-winning Your Brain exhibit. Temporary displays have focused on kid-friendly artifacts like dinosaurs and mummies. Crafty science carts located around the museum offer paper-making and bridge construction projects that keep both mind and hands busy. Once the kids are done running around, you can settle in for a relaxing IMAX film before grabbing dinner in neighboring ChinaTown and heading home.
Field Station: Dinosaurs
40 Fort Lee Road Leonia, NJ
Distance from NYC: 47 minutes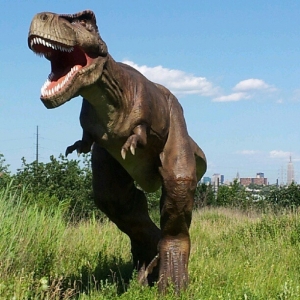 Fans of "Jurassic Park" can play paleontologist for a day at this unique attraction.  A field guide greets you upon arrival, introducing you to the camp and giving you passport books to become "Super Paleontologists" by collecting stamps at each of the exhibits. You'll work your way through fossil excavation, art tents, a nursery with baby dinosaurs, and several research tents. Amphitheater shows include a Dinosaur Dance Party, a T-Rex "Feeding Frenzy", and the Olympic-style T-Rex Games competition. Workshops, games, and movies pack plenty of educational content in with the "wow factor." Of course, no dinosaur attraction would be complete without animatronics! Undoubtedly, the highlight of your trip will be the forested walking trail, complete with 30 full-size animatronic dinosaurs.
Taking youngsters out of The City for a day isn't always easy. There's a lot to plan and pack! But there is a lot for parents to learn about and love in these excursions, and you can be rest assured your kids will be talking about the family bonding time for years to come!
By Jenn Fusion for Shine
Jenn Fusion is a Buffalo, NY based wordsmith with more than a decade of experience researching, writing, and editing informative and insightful articles for business clients. Her work has been featured online and in print editions of USA Today, the Atlanta Journal-Constitution, and The Houston Chronicle, as well as niche publications for vice presidents, celebrities, music, and beer. You may have seen on Huffington Post Live TV or heard her on Minnesota Public Radio. Best of all, she's the mother of busybody toddlers Josephine and Henri.
https://shinenyc.net/wp-content/uploads/2017/07/20170423_111229-scaled.jpg
1920
2560
Shine
https://shinenyc.net/wp-content/uploads/2021/02/Shine-logo-300x220.png
Shine
2017-07-12 21:57:34
2021-09-23 18:58:02
5 Best NYC Day Trips For Kids & Parents