Holiday Photo Tips from Bellamy Blue
In a time when people take their iPhones on vacation or don't have any prints in their apartment because everything's "on the computer and too difficult to print or order," it's nice to remind ourselves that there is something special about taking a classic photograph.
Having an iPhone, I already understand the allure of the camera. It takes great photos, provides cool filters, and easily sends my photo wherever and to whomever with one touch.  But it just isn't the same as what a true photographer can do with a real camera.
The holidays are a great time to do professional family photos. Just don't be pressured into thinking you need to make them seasonal or holiday themed. Make them authentic. And  if you're to busy to round up the gang now pick a time of the year that feels good for your family and commit to doing photos at least every year or two. They are memories you will cherish long after your technology is replaced. Here Belamy Blue gives some tips on holiday photos.
Continue to shine your light –
Aaron Goldschmidt, founder & director
Are you looking to spice things up with your family's holiday snaps this year? Would you like your holiday card photos to really stand out? Try out some of our tips and see how far your creativity takes you!
1. Decide on your look or theme.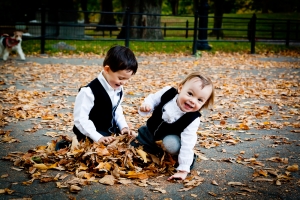 Wear complementary colors and outfits that are cohesive in tone and style but not "matchy-matchy" (e.g. festive attire, jeans in the park, or a pajama party). Try capturing some candid photos. They truly capture a moment in time and have so much more energy than a forced pose. We love to shoot like a fly on the wall, capturing "lifestyle" moments of families playing, laughing, and enjoying sweet moments.
Need inspiration? Here are some ideal holiday photo-ops:
Cooking Thanksgiving dinner
Baking together
Running and jumping in the autumn leaves
Opening presents on any occasion
Play dates in the park
2. Use different angles and compositions in your shots.
Get your camera position high and low in relation to your subject. For photos of little ones, make sure to squat down to their eye level.
Lose the zoom lens and get real close, filling the frame with your subjects.
Don't put your subjects in the middle of the frame; get playful with your composition and place people off center or on the bottom of the image. Even give that camera an off kilter tilt just before you snap!
For bigger groups of people, try to arrange the subjects in a more staggered and relaxed way.  Take a lot of group photos in rapid succession to try and capture everyone with their eyes open and their best smile.
3. Get rid of the flashy look.
For indoor shoots: try turning off your flash in order to capture the environment and natural ambiance of the room.
For outdoor shoots: twilight is the best time of day to shoot especially when incorporating the festive light displays without the loss of natural light. Try using a tripod to get everything in focus without it being a struggle.
4. Give the camera to your little ones.
You'll cherish these "visual diaries" for years to come. Embrace their uninhibited creativity and how easily they put folks at ease (you try not to smile when a 5 year old directs, "say cheese!"). You'll appreciate their quirky angles and low vantage point… it's always a surprise to see what they create!
5. Try using Instagram with your photos.
For all you film lovers out there, the "film" filters add a little something special to those ordinary snaps!
6. Treat yourself – Make sure you're all in the shot!
After you've each had some fun behind the camera, go ahead and treat yourself to a family portrait session. If you want a picture of everyone in the family together (including you) let Bellamy Blue photograph your family this fall and holiday season in our Chelsea studio or on location.
Happy Holidays from Bellamy Blue!
By Bellamy Blue Photography
https://shinenyc.net/wp-content/uploads/2021/02/Shine-logo-300x220.png
0
0
Shine
https://shinenyc.net/wp-content/uploads/2021/02/Shine-logo-300x220.png
Shine
2012-11-07 04:10:13
2021-09-23 18:58:31
Holiday Photo Tips from Bellamy Blue