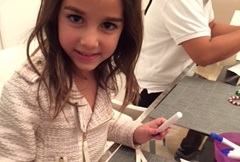 The Benefits of Pretend Play & Holiday Gifts That Inspire
"Play is the work of the child," once said Italian physician and educator Maria Montessori. If you've ever tried to pull a toddler away from a pile of toys, you know what serious business play truly is! Pretend play, in particular, is an integral part of childhood involved in the development of higher cognitive functions – creativity, empathy, abstraction.
The foundation for creative play begins to blossom around 18 months of age with objection substitution, such as pretending a banana is a telephone. The timespan between 3 and 5 is known as "the high season of imaginative play," where children develop the capacity to interact with imaginary environments. They begin to understand the difference between dress-up and role-playing activities, and replica play using small-scale models. To some degree, pretending continues throughout childhood and even into adulthood – with great benefit.
This holiday season, consider gifts that promote learning through fantasy, role-playing, and pretending.
The Benefits of Pretend Play, According To Science
Top Pretend Play Gifts
The possibilities are endless, but you can take inspiration from some of the top-selling pretend play gifts:
Occupational Costumes – Pretend play is about more than princesses and super heroes. Melissa and Doug offer a wide range of occupational outfits, from firefighters, police officers, and construction workers, to chefs, doctors, and airline pilots.
Science Sets – Doctor tools never seem to lose their appeal. For less than $20, your aspiring physician could have a blood pressure monitor, thermometers, stethoscope, otoscope, bandages, glasses, a shot, cell phone, and several other items. Outdoorsy types will love camping all winter long with this tree house tent, camping gear set, and picnic basket. Labcoats, scales, rulers, goggles, clipboards, tweezers, beakers, timers, and magnifying glasses are fun pretend play toys for little scientists.
Play Kitchens – Boys and girls alike can perfect their practical culinary skills in the comfort of their own pint-sized station by Step2. Most units come with a sink, stovetop, oven, refrigerator, microwave, and pantry, but some high-end models add in a supermarket, grilling station, pizza oven, and coffee maker. The kitchens typically come with an assortment of cheap plastic foods, but don't expect much quality there. Melissa and Doug offer a great variety of themed food sets our kids love — like salad, sushi, pasta, pizza, and pancakes. Learning Resources sells worthwhile breakfast, lunch, and dinner themed baskets, too. Along the same line, you'll find diner sets, food trucks, and farmer's markets.
Playsets & Figurines – There are many ways to immerse your child into a miniaturized world filled with communication, problem-solving, and empathy. Playmobil is a tested, tried, and true brand for preschoolers, with sets ranging from zoos, pirates and castles, to farms, dinosaurs, and fairy forests. Their advent calendars are an ideal way to dive right in! Calico Critters is a whimsical brand of animals with their own homes, schools, supermarkets, restaurants, salons, playgrounds, and shops. For the littlest tikes, Fisher Price Little People sets come with bigger, non-choking-hazard pieces. Older kids can combine the love of creation with pretend play using LEGO sets.
Housekeeping – Is it ever too early to warm the kids up to the idea of doing a few chores around the house? Choose from themed sets for laundry, indoor scrubbing, vacuuming, or gardening. Baby dolls and accessories let children explore the idea of being mommies and daddies themselves one day to give back all they love they've received from you.
Vehicle Play – Children love movement, so vehicles are a natural draw. The youngest children will enjoy cruising around the house in a classic foot-to-floor Little Tikes Car, while toddlers will become enthralled by Tonka trucks and train tables, and older kids collect Hot Wheels or ride
How To Encourage Pretend Play
Some children are naturals, while others may need a little more coaching to spark the imagination. Reading is a helpful companion to play, as it gives children fantastical fodder to work with in their pretend realms. You might find it helpful to use stuffed animals, figurines, or puppets to explore real-world challenges you're trying to assist your child with – be it sharing, dealing with transitions, or eating vegetables. Keep an eye on your child's natural inclinations and foster whatever weird whims he or she may have – be it an obsession with astronauts or a love of lemonade stands. Be patient and kind to yourself: it may take you a while to get in touch with your inner child and remember how to genuinely enjoy playing.
Whether you're celebrating Hanukkah, Christmas, Kwanzaa, or Las Posadas, Shine wishes you and your family a wonderful holiday season. If you're looking to enrich your child's life with meaningful experiences that combine education and fun in the New Year, we'd love to help. Contact us to learn more about our classes, workshops, City Adventures, and parties.
https://shinenyc.net/wp-content/uploads/2018/12/image6-2.jpeg
162
240
Shine
https://shinenyc.net/wp-content/uploads/2021/02/Shine-logo-300x220.png
Shine
2018-12-15 21:38:22
2021-10-18 14:03:13
The Benefits of Pretend Play & Holiday Gifts That Inspire