I love the holidays. Aside from the parties, the baked goods, and all the sparkle, they also provide plenty of opportunities for togetherness. And even though Thanksgiving was late and Hanukkah early, I'm still in the midst of decorating, wrapping, baking, ornamenting, lighting, singing, and taking in the infectious holiday buzz here in NYC. One of my favorite ways to bond with students, friends and family during the season is to bake and cook together. Here, Chef and Shine Nutrition Specialist Katie Letts, shares her very easy (and very delicious) recipe for peppermint bark. Whatever you bake or do for the holidays, make sure to do it with some people you love. The memories will last a lot longer than the treats! Have a sparkling holiday and New Year!
May your holidays shine bright –
Aaron Goldschmidt, founder & director
Deck the halls with sweets and candy! Christmas cookies are often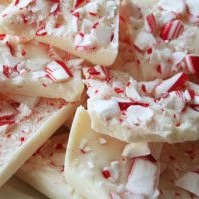 considered the norm to make during the holiday season, especially with your little ones. This peppermint bark recipe, however, is a simple alternative to the typical cookie tradition. Make sure to leave some for Santa on Christmas Eve, too!
Ingredients:
24 oz white chocolate chips
1 tsp peppermint extract
2 cups crushed candy canes
Directions:
Melt the white chocolate chips, slowly, in a double boiler (or a glass bowl sitting on top of a saucepan of boiling water). Being careful not to over-stir, add in the peppermint extract.
Pour the melted chocolate mixture onto a cookie sheet tray lined with parchment paper. Using a rubber spatula, spread the chocolate mixture evenly across the parchment, until it makes a layer about 1/4 inch thick.
Lightly sprinkle the crushed candy canes over the top of the white chocolate layer. Place the warm candy in a fridge to cool for about 30 minutes, or until hardened.
Once the bark is completely hardened, remove it from the parchment-lined cookie sheet tray and break it apart, using your hands, into small pieces.
By Katie Letts, Shine Nutrition Specialist
https://shinenyc.net/wp-content/uploads/2021/02/Shine-logo-300x220.png
0
0
Shine
https://shinenyc.net/wp-content/uploads/2021/02/Shine-logo-300x220.png
Shine
2013-12-18 02:35:17
2021-09-23 18:58:29
Peppermint Bark Recipe