How To Get NYC Kids Excited for the Great American Eclipse of 2017
What are you doing August 21st? Space lovers will be offered a unique opportunity to revel in one of nature's mysteries where the moon positions itself between the Earth and the sun for two-and-a-half minutes. During that time, viewers will notice the 10-15 degree temperature drop, the sun disappear, planets and stars shine like never before, and the thrill of anticipation as time seems to stand still. No other event comes close to capturing the awesome power of the universe and the fragility of man.
According to Joe Rao, an educator at New York's American Museum of Natural History, the Great American Solar Eclipse of 2017 will be "one of the events of the century." In fact, some people have been waiting for an eclipse to pass from coast to coast since 1932. Here are some ways to experience the event with your budding astronauts.
1. Get your solar viewing glasses and hit the road!
"Perhaps a hundred million people will see it," estimates Hayden Planetarium Director Neil deGrasse Tyson. "In a day where everyone can travel, there's no reason why we shouldn't have every single American in the path of totality," he adds. For New Yorkers, the closest spot within the path of eclipse totality would be Columbia, South Carolina – 11 hours away. Lodging is still available at Hilton Columbia Center, Aloft Columbia Downtown, Hyatt Place Columbia Downtown, and the Holiday Inn and Suites. While you're in town, visit the South Carolina State Museum's antique telescope and state-of-the-art planetarium. The Soda City Eclipse Viewing Festival at the Historic Speedway festival grounds will feature food trucks, live music, and a viewing party.
Another option 11 hours from home is the viewing at Great Smoky Mountains National Park. Clingman's Dome is closed for exclusive media viewings, but the trail leading up to it should offer similarly expansive views over the pine forest canopy. Park staff will also be available at Cades Cove and Oconaluftee to serve as your informal guides to the big solar event. Nearby Bryson City, NC will be a flurry of activity all week long, with Farmers Markets, live music at Riverfront Park, petting zoos, bounce houses, bonfires, rafting, and many more activities.
2. Attend a local viewing party to feed off the excitement of a crowd.
Don't despair if you aren't in the market for a spontaneous getaway. New York City will still experience a 70 percent blockage of the sun around 2:44 pm. Even though it's not as dramatic, our eclipse will still be something to see, and there are plenty of places to do so.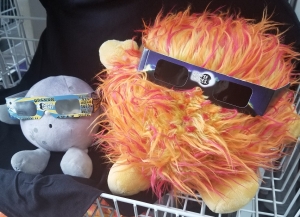 The Hayden Planetarium at the American Museum of Natural History, of course, will be thee place to be for the big viewing in NYC. They'll be entertaining guests from noon to 4 pm with a NASA livestream broadcast, information on eclipses in the Cullman Hall of The Universe, pop-up talks by astrophysicist Brian Levine, and outdoor viewings at the Rose Center for Earth Space and the Arthur Ross Terrace.
Other eclipse viewing parties will be held at:
For a more intimate experience with your family at a less-crowded, scenic spot, try:
Experts say our eclipse won't be dark enough to see stars, but (with the right equipment) you'll spot the partial eclipse, as well as Venus — in the western sky below and to the right of the sun. In addition to the outdoor viewing, you can watch the official NASA livestream to see what other people are experiencing across the country.
Sunglasses are not strong enough for direct solar viewing. However, with advance planning and a couple dollars, you can protect your family's eyes from permanent damage. NASA lists just four companies whose glasses meet international safety standards for the event: American Paper Optics, Rainbow Symphony, Thousand Oaks Optical and TSE 17. Glasses will have a globe logo with the letters "ISO" and the letters "CE" that certify the filters have been adequately tested for safe, direct viewing of the sun. Local libraries will be handing these out. Photographers will need "solar neutral density filters" to protect their camera lenses, too.
3. Have your own solar eclipse viewing party at home.
Here are some "mind-illuminating" activities for your little partygoers:
If you don't see the August 21st Eclipse, you'll have to wait until 2045 to watch the next coast-to-coast solar eclipse – possibly with your grandkids! The next total solar eclipse won't occur in New York until 2079, but you can travel as close as Upstate New York to see a total solar eclipse on April 8, 2024. Until then, shine on, you crazy diamonds!
Additional Resources:
By Jenn Fusion for Shine
Jenn Fusion is a Buffalo, NY based wordsmith with more than a decade of experience researching, writing, and editing informative and insightful articles for business clients. Her work has been featured online and in print editions of USA Today, the Atlanta Journal-Constitution, and The Houston Chronicle, as well as niche publications for vice presidents, celebrities, music, and beer. You may have seen on Huffington Post Live TV or heard her on Minnesota Public Radio. Best of all, she's the mother of busybody toddlers Josephine and Henri.
https://shinenyc.net/wp-content/uploads/2017/08/Screenshot_20170816-153641-2.png
735
1067
Shine
https://shinenyc.net/wp-content/uploads/2021/02/Shine-logo-300x220.png
Shine
2017-08-16 19:49:26
2021-09-23 18:58:02
How To Get NYC Kids Excited for the Great American Eclipse of 2017