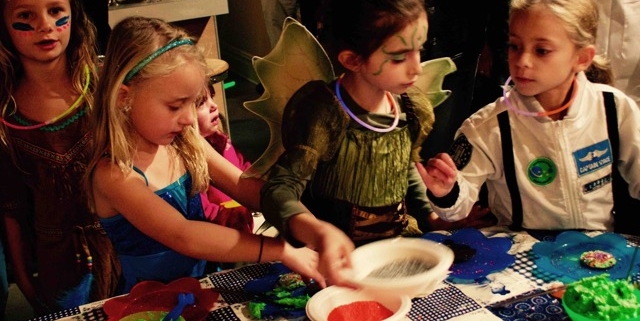 New York City's Best Neighborhoods for Trick-or-Treating
Wondering where to trick-or-treat in NYC? On October 31st, it's a vast wonderland of spooky displays, generous treats, and good old-fashioned gangs of costumed kids. Fortunately, you don't have to live in a particular neighborhood to take advantage of its Halloween bounty. Neighborhood-hopping is commonplace and, in some jurisdictions, encouraged. So here is your guide to our favorite places to celebrate.
Halloween fun is subject to change, of course, but historically, these have been some of the best places for trick-or-treating and festivities in the East End, Brooklyn, and Manhattan:
Elm Street from Hampton to Pelletreau Street (Southampton Village) 
Since 2009, the mayor has ordered the closing of high-traffic Elm Street to traffic from 3 to 6 pm. Last year, Edible Long Island called Elm Street "the best Halloween block party out East." The pet parade and shop trick-or-treating down on Main Street in Southampton is another big draw.
Huntington (Suffolk) 
Newsday called Huntington one of the most "stroller-friendly towns" on the Island, so it's a great spot for taking little ones out. Family-friendly festivities kick-off with the 4 p.m. costume parade at the Huntington Post Office on Gerard Street, followed by trick-or-treating at participating shops and beautifully decorated homes.
Older kids (recommended for 13+) won't want to miss Huntington's Restless Souls Haunted House Complex at Huntington Station, which features "Phantom Plaza" Midway games, an outdoor attraction, "Klownkatraz," and an "Alien Autopsy" escape room. (The proceeds from this Haunted House go to the LGBT-friendly West Hills United Methodist Church.)
Floral Park and Garden City (Nassau)
With over a third of the residents under 18, you can be rest assured there will be loads of little ones filling their sacks with candy in Floral Park, so if you like people-watching, this small village bordering Queens is a must. Homeowners deck out their lawns with spooky displays and put orange lights in the windows of their historic gems.
Garden City is another ideal Nassau neighborhood for trick-or-treating, with majestic homes, towering trees, and wide streets with low car traffic volume. Residents are generous with their candy-giving, and you can hit up the merchants along Seventh Street, too.
Upper West Side (Manhattan)
The huge party takes place on West 69th Street between Broadway and Central Park West, with candy, inflatables, entertainment, closed-off streets, and police patrols for safety. Locals love the traditional door-to-door candy collecting from the historic Brownstones down leaf-covered streets the best. Decked-out prewar buildings on 78th and 79th streets between Columbus and Amsterdam attract crowds. For equally good décor and fewer crowds, you can try 87th or 90th between Columbus and Amsterdam.
Upper East Side (Manhattan)
Historically, the go-to block has been 78th Street between Park and Lexington avenues. Other popular spots include Carnegie Hill's 92nd Street between Park and Madison avenues, which is closed for live music, art projects, candy, and costume / decorating contests from 5 to 6:30. Up North, there are ample goodies in the Brownstone mansions along 94th and 95th streets, between Park and Lexington.
Garden Place (Brooklyn Heights)
Residents are serious about their Halloween displays in Garden Place and Grace Court Alley, with fog machines, life-sized mummies, coffins, and jack o'lanterns aplenty. For a quieter residential experience, head to nearby Remsen and Joralemon streets. Parades and parties take place at Pierrepont Playground at 10 am the Saturday before Halloween.
What Time Is Trick-or-Treating In NYC?
For most residential neighborhoods, trick-or-treating can begin as early as 5:30 and generally wraps up around 8:30. The commercial stretches are different. Little ghosts and goblins arrive as early as 9:30 am to trick-or-treat on Lexington, Third, and Madison. One candy store shopkeeper had refilled her candy bucket four times by 2:30 in the afternoon! Elm Street trick-or-treating goes from 3-6 pm. Upper West Side businesses stop handing out treats at 7 pm due to the rising popularity in recent years.
Looking for More Halloween Fun?
Shine brings structured activities to your Halloween party fun. Whether your kids are six months or 12 years, we've got games, ghost stories, crafts, songs, and cooking that will entertain, instruct, and inspire.  Contact us for details on how we can help you plan the ultimate holiday party. For ideas you can do yourself at home, be sure to check out our Celebrate Halloween Pinterest board.
https://shinenyc.net/wp-content/uploads/2018/10/Halloween-Party-3.jpeg
391
640
Shine
https://shinenyc.net/wp-content/uploads/2021/02/Shine-logo-300x220.png
Shine
2018-10-18 19:46:28
2021-10-18 14:03:14
New York City's Best Neighborhoods for Trick-or-Treating