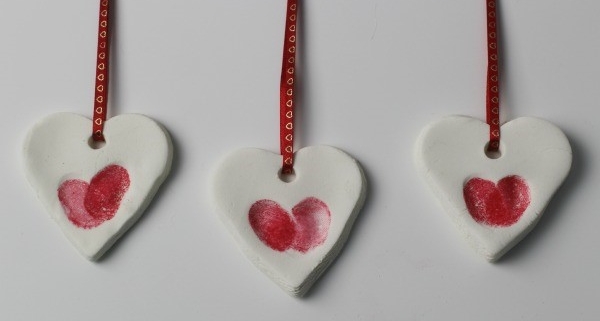 New Crafting Ideas For Kids This Valentine's Day
While you may have a sitter booked for a romantic dinner date with your significant other, you can include your little ones in the celebration of love with a fun afternoon of crafting. The benefits of parent/child craft time are vast. Research shows crafting encourages visual-spatial information processing beneficial to math and reading, coordination of fine motor skills used sports, and improved executive functioning necessary to pay attention, focus, and remember. Of course, the benefits you both reap from the quality bonding time are immeasurable.
Need inspiration? Here are a few favorites.
Personalized Prints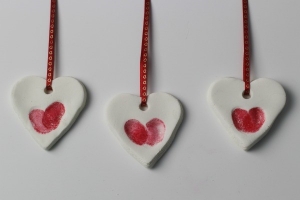 Little hands and tiny feet capture the heart with fleeting adorability. Art using hand, finger, or footprints makes a wonderful keepsake to look back upon as your child grows, year after year. Capture the uniqueness of your child with these Fingerprint Heart Ornaments made from soda clay or homemade salt dough. You'll just need to pick up heart-shaped cookie cutters, decorative ribbon, and an ink pad, then bake the craft in the oven for an hour. If you like salt dough, you can also try making a handprint picture frame using the same method.
Heart-Shaped Animals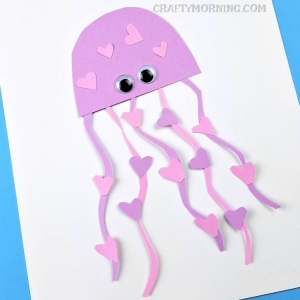 Every kid remembers making heart-shaped animals in school to take home to doting parents. Older kids can practice wielding scissors themselves, while youngsters will enjoy watching how various shapes come together to form charming animal friends. We've seen every kind of animal imaginable, from heart lions and zebras, to heart bumblebees and snails. Perhaps our favorite is this Heart Jellyfish with the whimsical googly eyes.
Light-Catching Window Clings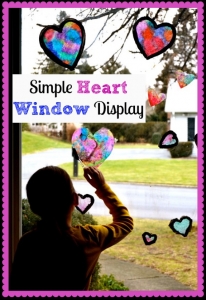 By this time in winter, we could all use some extra color and sunshine. This Simple Heart Window Display is made using water-colored coffee filters cut into hearts and affixed to the window with washable glue stick, and outlined with Tempera paint. A similar craft can be made using construction paper cut into a heart with shapes cut out of the interior and filled in with tissue paper. Another easy variation is to make Tissue Paper Stained Glass using contact paper.
Framed Button Heart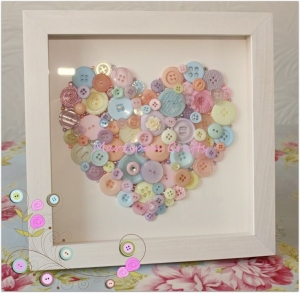 There are many different looks for a Framed Button Heart, depending on your curation of buttons. Little ones love strategically placing the buttons inside the heart template, which makes for tasteful seasonal décor. Glue, buttons, cardstock – it doesn't get much simpler than that. (Well, okay, you can use the template if you're a perfectionist.)
Frozen Hearts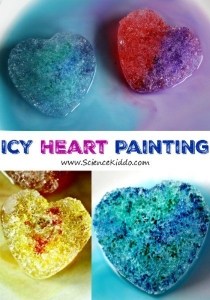 We always like art that seems part science. Why not give the right and the left brain a workout if we can? The look of awe on a child's face is reward enough for your diligence in selecting just the right craft. Sadly, this art won't last forever, but it's worth making an Icy Heart Painting at least once, so the kids can see how salt burrows tunnels into a block of ice to create dazzling paint caves.
---
If you prefer, you can create a Valentine Craft Station for older kids to enjoy less structured crafting by filling a table with Valentine's color construction paper, markers, glitter, crayons, felt, ribbon, wrapping paper, Bingo dabbers, heart stickers, and googly eyes. Or you can make a fun, simple Valentine's Day sensory tub for toddlers using pom-poms, pipe cleaners, felt hearts, and other textured Dollar Store items that will keep the kids busy for hours. For more ideas, contact Shine NYC to see what we can bring to a fun Valentine's themed Crafternoon.
Resources:
https://www.personalcreations.com/blog/valentines-day-crafts-for-kids
http://www.parenting.com/gallery/valentines-crafts-kids
https://teaching2and3yearolds.com/toddler-valentine-crafts/
https://www.huffingtonpost.com/2015/01/27/easy-valentines-day-crafts-for-kids_n_6518196.html
https://happyhooligans.ca/5-easy-valentine-crafts-for-toddlers/
https://www.redtedart.com/valentine-crafts-for-preschoolers/
https://www.popsugar.com/moms/Valentine-Day-Crafts-Toddlers-21553278?stream_view=1#photo-33536790
https://www.craftymorning.com/list-of-diy-valentines-day-crafts-for-kids/
https://lollyjane.com/valentines-day-crafts-for-kids/
https://www.craftymorning.com/valentines-day-heart-shaped-animal/
https://shinenyc.net/wp-content/uploads/2018/02/heart-prints.jpg
400
600
Shine
https://shinenyc.net/wp-content/uploads/2021/02/Shine-logo-300x220.png
Shine
2018-02-07 19:18:29
2021-10-18 14:03:18
New Crafting Ideas For Kids This Valentine's Day