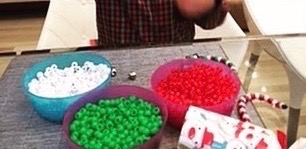 Fun Ways for Long Island & East End Families to Get Into the Holiday Spirit
This time of year, our Holiday Workshops are in full swing. As parents worry how to keep the kids occupied over the Thanksgiving break, Shine steps in to fill the void with a carefully curated selection of activities. 
During our unique sessions, kids ages 5-10: create table centerpieces and decorations for the home; learn to cook a side dish or dessert to contribute to the harvest feast; and engage in educational enrichment activities that discuss the importance of charity and gratitude. It's not too late to sign your child up if you haven't already; simply email Amanda@ShineNYC.net to reserve your spot.
With Thanksgiving falling so late this year, Christmas will soon be upon us. Here are a few other events happening in Long Island and around the East End this month to get you into the spirit of the holidays.
---
Glen Cove Native American Feast
When:Saturday, November 23, 2019 – Sunday, November 24, 2019
Where:Garvies Point Museum and Preserve (50 Barry Drive, Glen Cove NY 11542)
Cost:$8 for adults, $5 for children 5-12, Free for under 5
Website: http://www.garviespointmuseum.com/native-american-feast.php
Thanksgiving is the perfect time to teach your children about Native American culture and a great opportunity for you to check out Garvies Point Museum's treasure trove of Long Island Native American artifacts. Hands-on activities this weekend include ancient method pottery-making, primitive fire-building and cooking demonstrations, tool-making, face-painting with natural pigments, atlatl spear-throwing, stone drilling, and films. Kids especially enjoy the interactive Woodland Village, samples of renowned "popcorn soup," and helping make a 12-foot long dugout canoe.
---
Thanksgiving Weekend Children's Theatre
After the hustle and bustle of Thanksgiving dinner and Black Friday shopping, who couldn't use a breather? The theatre is a nice, relaxing place to spend a few hours and delight in the arts. Choose among the following East End productions over the holiday weekend to delve into the magic of snowmen, elves, and Christmas spirits:
What: "Frosty"
When: Friday 29th (11 am), Saturday 30th(11 am) & Sunday 1st(10:30 am)
Where:Engeman Theatre (250 Main Street, Northport NY 11768)
Cost: $15 
Website: https://engemantheater.com/education-theater/#tabs-ed_rep-tab-2
What: "Harry Connick Jr's The Happy Elf"
When:Saturday, November 23rd, 2019 – Sunday, December 29th, 2019
Where:The Argyle Theatre at Babylon (34 West Main Street, Babylon NY 11702)
Cost:$15
Website: https://argyletheatre.com/event/the-happy-elf-2/all/
What: "Charles Dickens' A Christmas Carol" (Puppet Theatre)
When:Friday, November 29th(11:30), Saturday November 30th(11:30 am, 2 pm)
Where:Long Island Children's Museum (11 Davis Avenue, Garden City NY 11530)
Cost:$9 non-members, $7 members
Website: https://www.licm.org/calendar/event/theater-a-Christmas-carol/
---
Polar Express Trolley
When:Friday, November 29th, 2019 – Sunday, December 22, 2019
Where:North Fork Trolley (96 NY-25, Riverhead NY 11901)
Cost:$53 for ages 2+ includes transportation, a gift for the children, refreshments, and a visit with Santa)
Website: https://www.northforktrolley.com/PolarExpress.php
You needn't dress up for the Polar Express trolley ride; in fact, just like the children in Chris Van Allsburg's "The Polar Express" story, you're encouraged to come in your pajamas for a cozy journey. Enjoy actor Liam Neeson's reading of the tale, musical performances, cookies, cocoa, and character meet-and-greets, while taking a 90-minute excursion to "The North Pole." This year, we're promised "more lights, glitz, and glam." There, you'll naturally meet with Santa and the Elves for an unforgettable holiday party. This year, there is expected to be around 5,000 tickets available. Last year, they had 6,500 and sold out – so be sure to pick up tickets in advance. If you miss out this year, keep your eye on the website come mid-August, when seats first go on sale.     
---
29thAnnual Long Island Festival of Trees
When:Friday, November 29th, 2019 – Sunday, December 1st, 2019 (10 am – 5 pm)
Where:The Cradle of Aviation Museum (Charles Lindbergh Boulevard, Garden City NY 11530)
Cost:$15 adults, $10 children 2-10 (includes admission to festival and museum)
Website: http://www.cpnassau.org/event/29th-annual-long-island-festival-of-trees/
Take a stroll through towering, designer-decorated evergreens, a gingerbread village, vendor gift marketplace, and a Department 56 village display. All trees and gingerbreads are for sale. Santa will be available for photo opps and gift requests. Dancers and choral singers entertain, while the children participate in cookie decorating. Star Wars characters will be visiting on Saturday. For the first time, the event will include indoor ice skating with free rentals. Museum admission is included, so you'll be able to check out the 75 air and spacecraft, including a hot air balloon and Apollo Lunar Module, and the 30 hands-on exhibits. As an added bonus, a portion of the proceeds benefits the Cerebral Palsy Association.
---
2ndAnnual Wantagh Winter Wonderland
When:Saturday, November 30th, 2019 (2-8 pm)
Where:Wantagh Preservation Society (1700 Wantagh Avenue, Wantagh NY11793)
Cost:FREE!
Website:https://www.facebook.com/groups/WantaghPreservationSociety/
You don't have to be Irish to appreciate the sounds of the Wantagh American Legion Pipe Band and the beautiful Irish step dancing. The festive atmosphere continues with a holiday tree and menorah lighting ceremony and a visit from Santa Claus himself. Local upscale vendor shopping, holiday decorations, and baked goods will be for sale. It's a low-key event probably best suited for older children, but a unique spot to begin your holiday shopping.
https://shinenyc.net/wp-content/uploads/2019/11/IMG_0437.jpeg
149
306
Shine
https://shinenyc.net/wp-content/uploads/2021/02/Shine-logo-300x220.png
Shine
2019-11-13 01:55:51
2021-10-18 14:03:08
Fun Ways for Long Island & East End Families to Get Into the Holiday Spirit