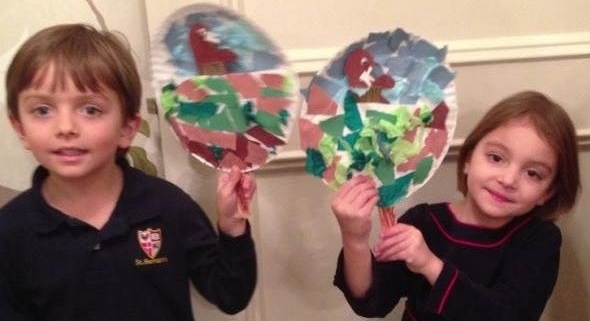 Celebrate Groundhog Day at the Staten Island Zoo!
"To be interested in the changing seasons is a happier state of mind than to be hopelessly in love with spring," once said essayist and philosopher George Santayana. There's no better opportunity to celebrate the changing of winter to spring than with Staten Island's annual Groundhog Day ceremony at the zoo. February 2nd conveniently falls on a Saturday in 2019, making it a good year to get out with your early risers. If that's not your cup of tea, there are plenty of other ways to celebrate in and around New York City.
Staten Island Hosts THEE Groundhog Day Party of the Year
The Staten Island Zoo in West Brighton will open its gates at 6:00 am on February 2nd. The groundhog is slated to make his grand entrance around 7:30 am. Admission to the ceremony is FREE. Human weather forecasters are calling for it to be partly cloudy, with sunrise at 7:05 am. Bundle up: it'll be 25 degrees, with 11 mph winds and a 10% chance of rain.
Guests will be treated to a zoo keeper-led "birds of prey" feeding demonstration with a Kubo, American Kestrel, and Snowy Owl (a delight for your little Harry Potter fans!) in the aviary and fox areas of the zoo from 7:40 to 8:00 am. The "Chuck and Friends Children's Program," geared toward Pre-K through sixth grade students, will run from 10:00 am to 2:00 pm. Musical entertainment will be provided by The Patrick Raftery Rock-A-Silly Band and the PS 29 Chorus.
If you've never taken the kids to the Staten Island Zoo before, there's also an African savannah, tropical rain forest, reptile room, aquarium, Conservation Carousel, and barnyard. The Staten Island Zoo is home to one of the largest rattlesnake collections in the United States – 1,500 serpents, among 350 different species. Keep your eyes peeled for "Grandpa," one of the oldest black-handed spider monkeys in captivity at age 46, who successfully predicted the outcome of the U.S. Open and Super Bowl XLV.
Alternate Events
Who IS The Staten Island Groundhog?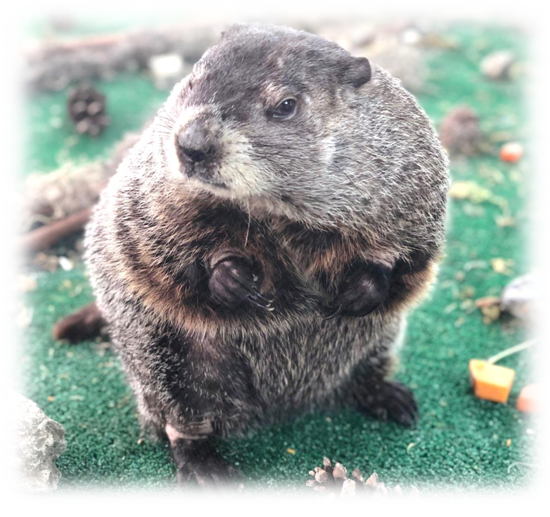 There is some mystery surrounding the true identity of "Staten Island Chuck," our resident meteorologist and "the pride and joy" of the Staten Island Zoo. We've celebrated Groundhog Day with a formal celebration since 1981, but since groundhogs live about 14 years in captivity, the exact animal you'll be seeing will inevitably change.
Not every groundhog is well-suited to the fanfare. One of the male Chucks was described as "reclusive," "focused on his food," and "not the jolliest fellow," according to the NY Times. After the feisty 3-year-old animal bit former mayor Michael Bloomberg through his black leather gloves in 2009, the mayor no longer attended the event and this particular "Chuck" was retired from meteorology.
Mayor de Blasio was equally unlucky. In 2014, the zoo trotted out Chuck's friendlier granddaughter, Charlotte. Somewhat skittish, she leapt six feet out of the mayor's arms and passed away a week later.
The following year, Charlotte Jr. came out of her designer log cabin hutch, complete with elevator and plexiglass. Mayor de Blasio attended the ceremony from a safe distance away, but hasn't attended since. Despite the precautions, her handlers knew her as "a very friendly groundhog" who "enjoyed interacting with her keepers, particularly sitting on the keeper's lap to gobble up some yummy peanuts or yam." The NY Times referred to her as "a curvy lady" and a "social butterfly" who knew how to high-five. Zoo visitors recalled how she used to sit atop her lodge "like Snoopy" and appeared not only "adorable," but "smart," too. Charlotte Jr. passed away from kidney disease last year at the age of six.
There has been no word which "Chuck" will be paraded out this year or whether the mayor plans to attend, but you can expect a decent-sized crowd and fun activities all day long at the very least. The groundhogs are slated to receive a revitalized zoo entrance and new home makeover worth $330,000 in 2021.
How Accurate Is Staten Island Chuck?
While that "spotlight hog" Punxsutawney Phil over in Pennsylvania only has a 30% accuracy rate, our Staten Island groundhog has a whopping 80% accuracy, according to the National Oceanic and Atmospheric Administration.
Past predictions include:
2008 – Early spring
2009 – Early spring
2010 – Early spring
2013 – Early spring
2014 – Six more weeks of winter
2015 – Early spring
2016 – Early spring
2017 – Early spring
2018 – Early spring
Why Celebrate Groundhog Day?
February 2nd falls halfway between the winter solstice and the spring equinox. The Celts celebrated this celebration of spring as "Imbolc." Later, the Christians celebrated "Candlemas," believing that a sunny Candlemas day meant another 40 days of cold and snow. Germans were the first to link the date to badgers and small burrowing creatures seeing their shadow as a harbinger of a long winter. In 1887, newspaper editor Clymer Freas organized the first Groundhog Day celebration in Punxsutawney, Pennsylvania. Today, tens of thousands of spectators flood the small town of 6,000 to see the famous "Punxsutawney Phil" predict the weather.
There are many reasons to consider celebrating with your children:
First, it's an easy annual tradition to create. It could involve crafts, baking, or a trip to the zoo, but you're not locked into organizing an enormous feast or wrapping presents. Groundhog Day is whatever you want it to be.
Kids naturally love animals. Groundhogs are hopelessly cute, furry creatures we don't see too often – unless we know where to look. Promoting nature, exploration, and discovery helps your child be more observant and take an interest in science.
For some, it fosters a sense of identity. If you have Celtic, Christian, or German roots, you can express pride in your heritage by celebrating Old World holidays in modern fashion.
For all of us, Groundhog Day provides a sense of hopefulness and anticipation. Groundhog Day is a good way to talk to your kids about weather, changing seasons, hibernation, internal clocks, and the mysteries of Mother Nature. Ultimately, we pin our hopes on the groundhog because we yearn for warmer, sunnier days ahead.
---
More Groundhog Day Resources:
https://sunshinehouse.com/blog/7-ways-celebrate-groundhog-day-your-family
https://kids.lovetoknow.com/groundhog-day-activities-kids
https://shinenyc.net/wp-content/uploads/2019/01/1896868_718444161513482_125127741_n-2.jpg
328
590
Shine
https://shinenyc.net/wp-content/uploads/2021/02/Shine-logo-300x220.png
Shine
2019-01-30 16:42:31
2021-10-18 14:03:13
Celebrate Groundhog Day at the Staten Island Zoo!